Khloé Kardashian Just Gave A Sweet Life Update About True & It's Almost Hard To Believe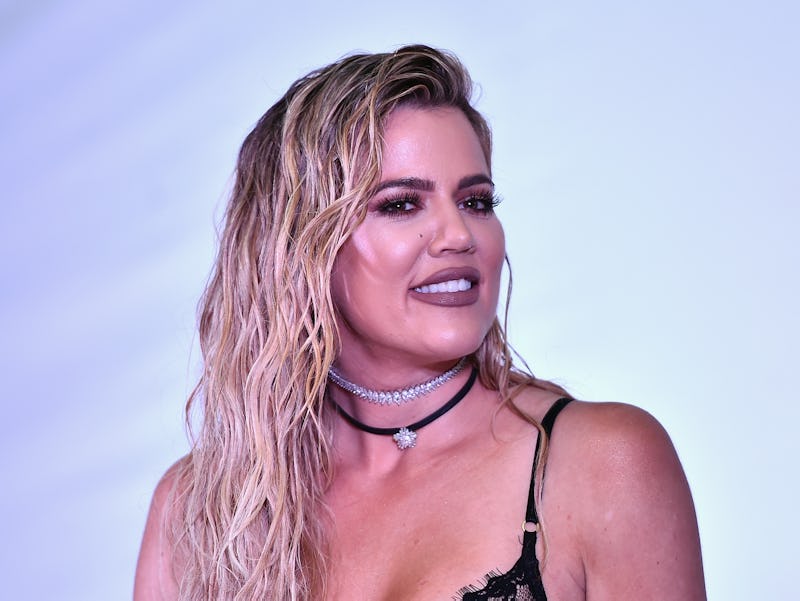 Alberto E. Rodriguez/Getty Images Entertainment/Getty Images
Here is some exciting news that's proves time goes by super fast: Khloé Kardashian said True talks now, because, you know, she's basically an adult now. Seriously, how did she become so grown-up already? According to E! News, the Keeping Up With the Kardashians star revealed on her app that her baby girl has said a word that's actually pretty common.
So what was one of True's first words? Khloé wrote on her app,
"I can't believe my baby is seven-months-old! True now has three teeth and she's going to crawl any second. She also smiles constantly, but I still can't get that little munchkin to laugh unless I tickle her. Maybe I'm just not funny, LOL. She also says 'dada,' but I think she means 'mama.' [wink emoji]"
Yep, True has said "dada." Tristan Thompson is probably thrilled that his daughter is now calling him by name. Soon enough, she'll be saying "mama" and Khloé won't be able to stop smiling. From True saying words to her having teeth to her getting ready to crawl, it's hard to believe how fast she's changing. It just seems like yesterday Khloé became a first-time mom.
Actually, in November, the Revenge Body host shared an Instagram post expressing disbelief over True growing up so quickly. Next to two pictures of True with her cousin, Penelope Disick, Khloé wrote,
"My soul is complete because of you. Please, Father Time, can you slow down just a little. I love being an Auntie and a Mommy."
Before Khloé knows it, True will be walking and running around with her cousins, which will make for even cuter photo ops.
It's no secret that becoming a mom has completed Khloé. Simply by looking at her photos of True, you can tell how in love she is with her daughter and how much joy motherhood has brought her. Like she wrote on Instagram on Oct. 9 next to the sweetest photo of True, "I probably dreamt about you my entire adult life. You have exceeded every expectation I had of you! This is LOVE."
On Wednesday, Khloé shared even more images of True sitting in a huge purse. She captioned it, "Nothing can change this love." Yeah, she loves her just a little bit.
Despite whatever hardships may come with motherhood or however busy her schedule is, Khloé enjoys every single moment being True's mom. In July, she tweeted, according to the Daily Mail, about parenthood,
"Honestly it's amazing! Of course it's an adjustment but it's so beautiful! Sometimes I don't know what day it is or I don't get a shower LOL. But she is finally on a great sleep schedule so I get adult time which is awesome!"
Khloé and True have a whole lifetime ahead together, so her just starting to talk is only the beginning. Even though she may want time to slow down, Khloé is also probably looking forward to every single moment in the future, including the day True finally says "mama." Let's just hope she shares a video, because that's one cute moment fans will definitely want to see.