Khloé's New Pics Of True & Penelope Will Put The Biggest Smile On Your Face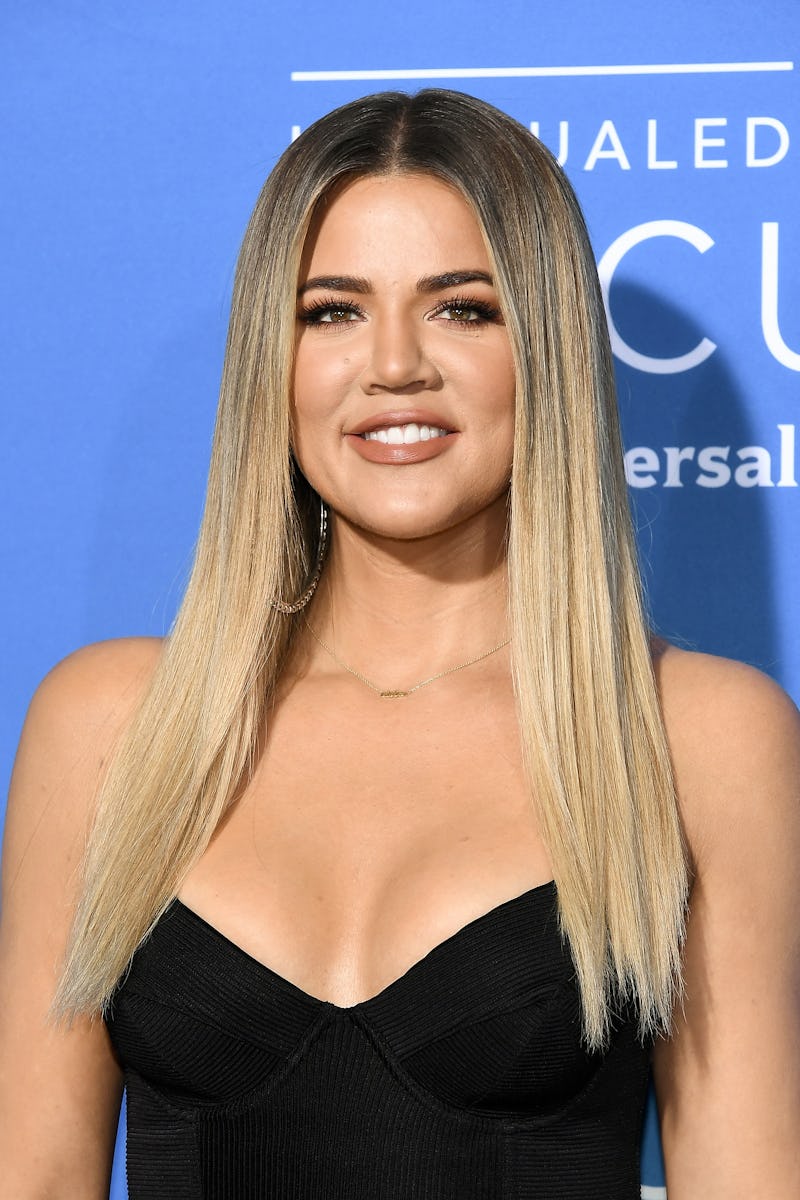 Dia Dipasupil/Getty Images Entertainment/Getty Images
Here's your daily fill of cuteness. On Instagram on Thursday, Khloé Kardashian shared new photos of True and Penelope that will put a huge smile on your face. If you've been following Khloé's journey as a mom, then you know just how sweet True is. And just wait until you see the newest pictures of her, because you won't believe how fast she's growing up. Yes, she's not even one yet, but if you compare the following images to older ones, you can see there's a huge difference.
As you can see below, True and 6-year-old Penelope are sitting close together on the couch. Penelope is adorably holding up True and giving her a little squeeze. True can't stop smiling and is wearing the cutest outfit and a huge pink bow around her head. She's clearly having the best time taking pictures with her older cousin.
Khloé captioned the set of photos,
"My soul is complete because of you. Please, Father Time, can you slow down just a little. I love being an Auntie and a Mommy."
She's right, where did the time go? True is so big already! Believe it or not, but in a short five months, she'll be a year old. Time definitely flies by, doesn't it?
This past August, the Keeping Up With the Kardashians star posted a series of pictures of Penelope and True on Instagram. Khloé captioned them,
"These are the moments I've been waiting for!!! 😍😍😍 how blessed am I?!?! P is an incredible photographer! And True is a very good baby model lol (she sort of had no choice)"
Look at True in the below images and then go back and look at her in the above pictures. See? There actually is a big difference from her at four months and at seven months.
One other thing that's apparent as Khloé continues to share photos of her daughter is True just keeps getting cuter every single day. There's no doubt her mom cherishes all of these moments, too.
For Halloween, the Revenge Body host even dressed up True in multiple costumes. Khloé shared on Instagram on Oct. 31, "Happy Halloween!!!! It's our first Halloween together!!!! She's too cute to spook!! (Don't judge me, I have more costumes to post lol)." On Oct. 14, she also tweeted about True wearing costumes,
"I can't help but dress my baby True up!! It's our first Halloween together! More costumes to come lol God thank YOU! She's just perfect to me."
Well, no argument there. She really is "perfect."
Ever since the reality star returned to Los Angeles, she's been so happy to watch True grow up around her cousins. That's one of the reasons Khloé was excited to move back home after giving birth to True in Cleveland, Ohio in April.
In July, she wrote in a post on her app (via Entertainment Tonight), "I'm over the moon about being home! Of course, I missed my actual house immensely while I was in Cleveland — there's nothing like enjoying your own home." She added, "I'm most excited about being so close to my family. Getting the kids together and having True do all of her classes with her cousins is a great feeling!"
It looks like True is enjoying time with her cousins just as much as her mom is. Just think, when Khloé posts photos of True next week, she'll probably be even more grown up. She's basically a teenager now.