Khloé Kardashian's Adorable New True Photo Includes A Caption That'll Make Your Heart Burst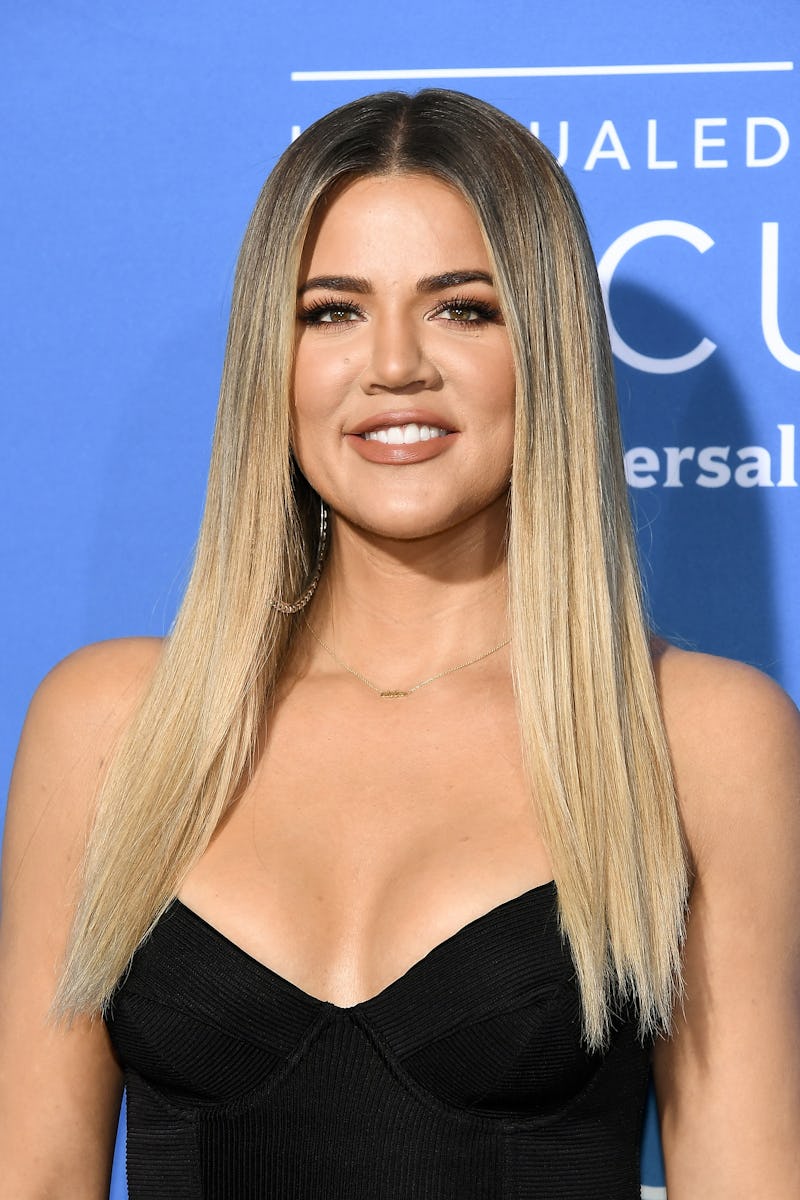 Dia Dipasupil/Getty Images Entertainment/Getty Images
There will always be a curiosity surrounding Khloé Kardashian's personal life, since she's spent so much time in the spotlight. While she does keep some aspects of her life private these days, there's one thing she's very open about: her love for motherhood. Khloé Kardashian's new photo of daughter True includes a caption emphasizing how much she's enjoying motherhood.
On Oct. 9, Khloé shared another adorable photo of her daughter on Instagram, along with a genuinely heartwarming caption. She wrote,
"I probably dreamt about you my entire adult life. You have exceeded every expectation I had of you! This is LOVE."
Fans know that she's been through so much, in a very public manner, so it's nice to see Khloé find such great happiness in being a mother. If anyone deserves to be ecstatically happy, it's Khloé Kardashian.
She hasn't said much the elephant in the room (i.e. the cheating allegations about boyfriend Tristan Thompson that spread during the same week that little True was born), aside from an occasional clapback on social media. (As for Thompson, he has not commented publicly on the matter. Bustle previously reached out to reps for the couple, but did not hear back.) Yes, True was born during a chaotic time in the midst of a very public scandal, but the baby has brought some love and positivity into Khloé's life.
Everyone has been rooting for Khloé. Aside from friends and family, her fans just want the best for the reality star and her personal life. It's clear from her own posts that motherhood is one of the best thing she's experienced thus far, and it's so sweet to see. Khloé has been gushing over her strong love for True and how much happiness she's brought into her life ever since the baby was born.
Khloé's mom Kris Jenner made the post even sweeter with her own comment. She wrote, "That's exactly what I feel about you my bunny @khloekardashian!!!" Khloé replied, "I love you mommy!!! You would tell me but it's hard to understand." What a sweet full circle moment.
Of course, every photo Khloé shares of baby True is adorable, but it's really her captions that make them so heartwarming. On Sept. 27, Khloé posted a photo of baby True rocking a pastel bathing suit and a bright yellow head wrap. True looked like a ray of sunshine and her mom captioned the photo, "I've Got Sunshine On A Cloudy Day. Talking About My Girl."
That post wasn't the first time that Khloé referred to True as her "sunshine." The reality TV star deemed True her "only sunshine" in an Instagram post that she shared on Sept. 11.
On Aug. 13, Khloé posted a photo of True rocking a gold dress and a princess crown on her head. Once again, she pulled at the heart strings with her caption, referring to True as her "best friend for all eternity."
Back on Aug. 15, Khloé posted a photo of True being a "baby model" while Kourtney Kardashian's daughter Penelope Disick took photos of True with a pink polaroid camera. Khloé admitted, "These are the moments I've been waiting for!!!"
Her Instagram posts make one thing very clear: Even after going through some hard times, Khloé is truly thriving as a mother.