Khloe Kardashian Says Her Lips Changed During Pregnancy, Officially Silencing The Haters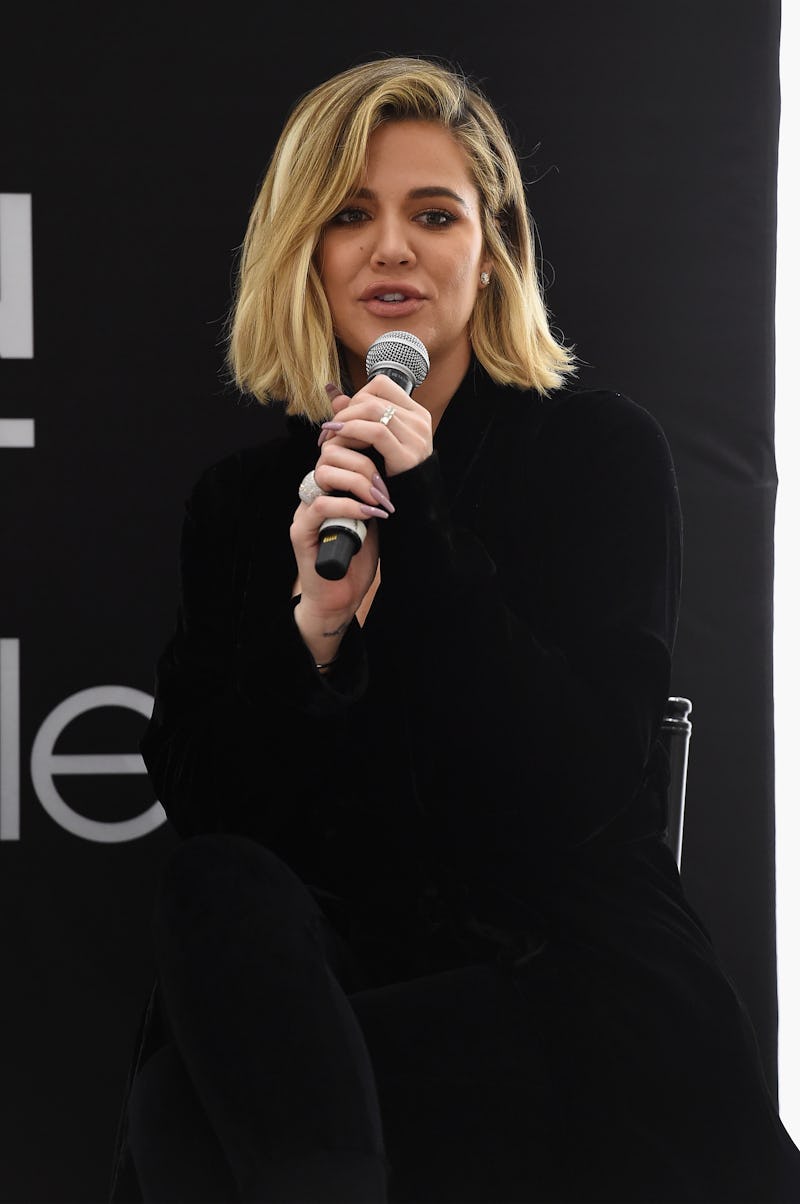 Jamie McCarthy/Getty Images Entertainment/Getty Images
She is the realest ever. Seriously. Khloe Kardashian opened up about the changes her body and face went through during her pregnancy. The reality star and Good American guru gave birth to her first child, adorable daughter True Thompson, back in April. She effectively silenced the possible haters and the potential barbed comments about her "pregnancy lips" by defending all pregnant women and the bodily changes to which they adjust. It was refreshing, empowering, and body positive AF.
Much of the new season of Keeping Up with the Kardashians appears to center on the strife between Kourtney and Kim and Kourtney and the family's fame. But Koko, who was pregnant during filming, posted a comment to her Instagram story last night ahead of the new episodes. She noted that pregnant women go through so many changes — herself included.
Koko has always been one of the most outspoken members of the Kardashian crew. She speaks her mind when responding to criticism of her and her family — especially when it's misinformed. But she's taken up the cause beyond her fam.
She wrote, "I was pregnant during this entire season of KUWTK" and noted that her lips "look crazy and massive." She added, "A lot of wild sh*t happens to your body and face while pregnant. It's out of control."
Khloé also reminded her followers that most people don't endure such changes in front of cameras like she has. While that is part of the deal when someone is a reality star, a public figure, and a member of one of the most famous families in America, that shouldn't and doesn't give the public license to hurl mean comments or to assume she got lip fillers. She asked fans to watch the show and to be kind about the changes she goes through in front of the cameras. She was also honest in admitting that she struggled with many of her physical transformations, like swollen lips, during the gestation period.
Koko finished her note by saying that pregnant women should be off-limits to criticism. Again, while some people out there may disagree with that statement in relation to the KarJenner fam due to their fame, her point is a much larger and more critical one.
Khloé, who recently debuted a stunning, face-framing, and blunt bob, didn't simply shut down people making comments about her. She also explicitly reminded everyone that pregnant women experience a lot of changes while they are carrying a child. Often, those changes are unique to each person. Therefore, it is not fair or right to make rude comments or assumptions.
Koko's strong statement about her own pregnancy as a notion that applies to many others reminded us of Chrissy Teigen recently sharing images of her "mom bod." The model revealed that that her body confidence is a work in progress.
Chrissy and Khloé's recent declarations are impactful because they demonstrate things that new moms go through and assert that body shaming is never OK, no matter who you are.
They also echo Khloé's recent tweets of support to all moms and of their journeys.
Amen to that. Peace out, haters!