Here's How Khloé Kardashian Might Confirm Her Pregnancy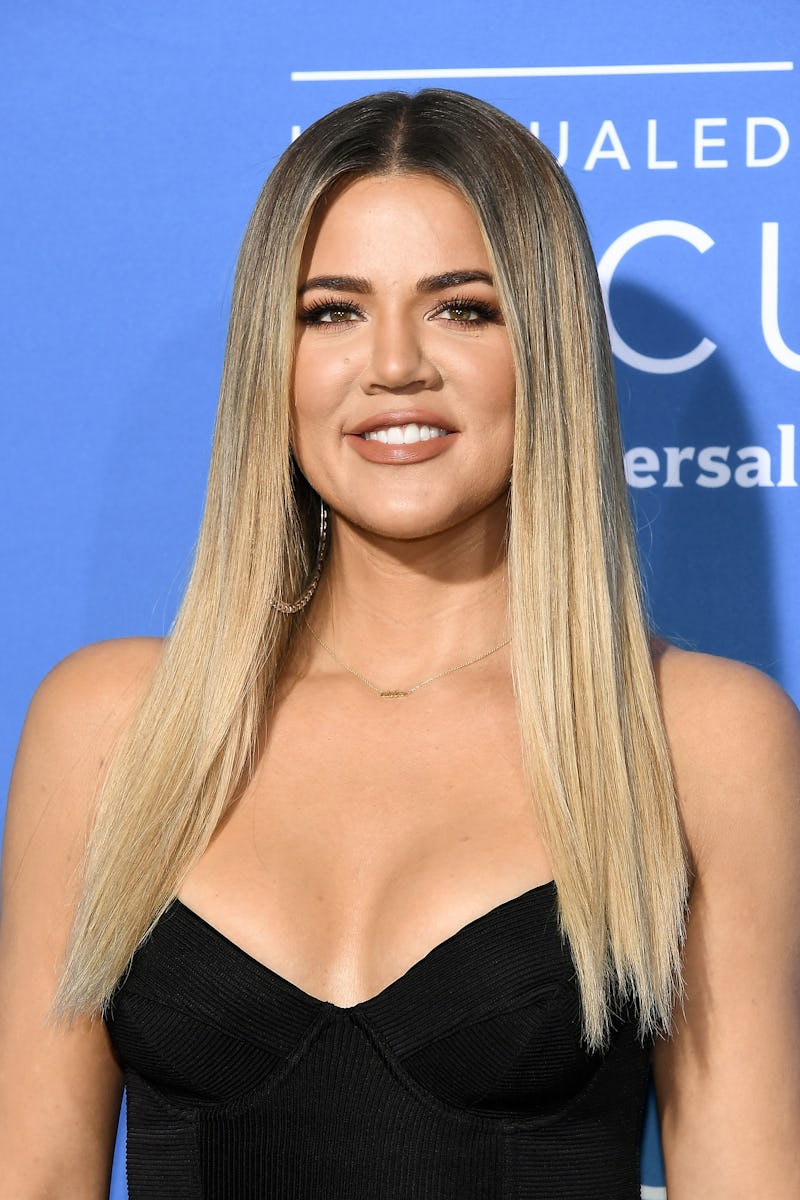 Dia Dipasupil/Getty Images Entertainment/Getty Images
Word on the street is that Khloé Kardashian will reportedly announce her pregnancy soon, at least according to a source at Us Weekly. Rumors started swirling back in September that Khloé and boyfriend Tristan Thompson were expecting, but ever since then, the entire Kardashian-Jenner clan has been super tight-lipped when questioned by the media.
When talking to Ellen DeGeneres earlier this month, Kim Kardashian West dodged the question. "This is how we work in the family," she explained when asked about both Khloé and sister Kylie Jenner's reported pregnancies. Kim continued,
"When there are lots of rumors, we have these family group chats, and we threaten each other's lives if we speak for the other one, so for the safety of my life ... We just decided there's so much that goes on that we respect each other's right to speak for ourselves. So I will speak about myself, and hopefully, they can come on and address whatever rumors you might have."
Even when pressured yet again — this time by James Corden during a game of "Spill Your Guts or Fill Your Guts" on his late-night show — Kim drank a sardine smoothie instead of confirming the rumors. Now that's loyalty (and/or fear, if what Kim told DeGeneres is true).
Since clearly no one's going to get anything out of Kim, fingers crossed that fans get the news soon from Khloé herself. In the meantime, here's a few theories about how she and Thompson might make the big announcement.
With A (Double?) Pregnancy Plotline On Keeping Up With the Kardashians
This is far and away the most obvious option. Especially, as TV Guide's Sadie Gennis points out, if you consider the show's episodic timeline versus present-day reality. The Kardashians have a long history of addressing major family news via dramatic KUWTK plot lines (see: Kim's weddings to Kris Humphries and Kanye West, respectively; the Paris robbery; the very graphic birth of Kourtney's daughter, Penelope; etc.), so why would the rumored announcement of Khloé's impending pregnancy be any different?
Plus, per Gennis and Us Weekly's analysis, Khloé and Kylie are reportedly both due in February, which could make for a very special episode (or two). Double the drama, double the ratings.
Break The Big News With Some On-Brand Baby Gear
While an on-air announcement may be the most likely, it's probably not the most Khloé way of doing things. Ever the outspoken rebel, it wouldn't be so surprising if Khloé opted to go in a different direction — like, say, with a super on-brand baby gear reveal via social media, perhaps? Think: an itty-bitty Good American baby bodysuit, or a pint-sized Cleveland Cavaliers jersey. This is definitely the more adorable option. (Us Weekly speculated that Kris Jenner confirmed Khloé and Kylie's pregnancies in a similar fashion, as per this picture of a few-too-many pairs of kids' pajamas.)
Break Out The Bump(s) For The Famous Kardashian Christmas Card
The thematic/dramatic reveal of the Kardashian-Jenner's annual Christmas card has always been a news-worthy event, in-and-of itself. (The lack of last year's card was akin to waking up with coal in your stocking.) Would it be so farfetched to imagine that they'd make this year's theme "All About (New) Babies"? A source at Radar claims that Khloé is set on a Christmas card reveal, but if all of the Kardashian-Jenner baby-related reports are true, the extended clan will be expecting not one, not two, but three tiny tots in 2018. And we all know that three (soon-to-be-born) heads are better than one.
No matter if, when, or how Khloé chooses to break the news, there's no doubt that the big reveal will be, well, big. And on the eve of Thanksgiving, that's certainly something to be thankful for.