Khloe Kardashian Had A Baby Shower & The Photos Are Glamorous AF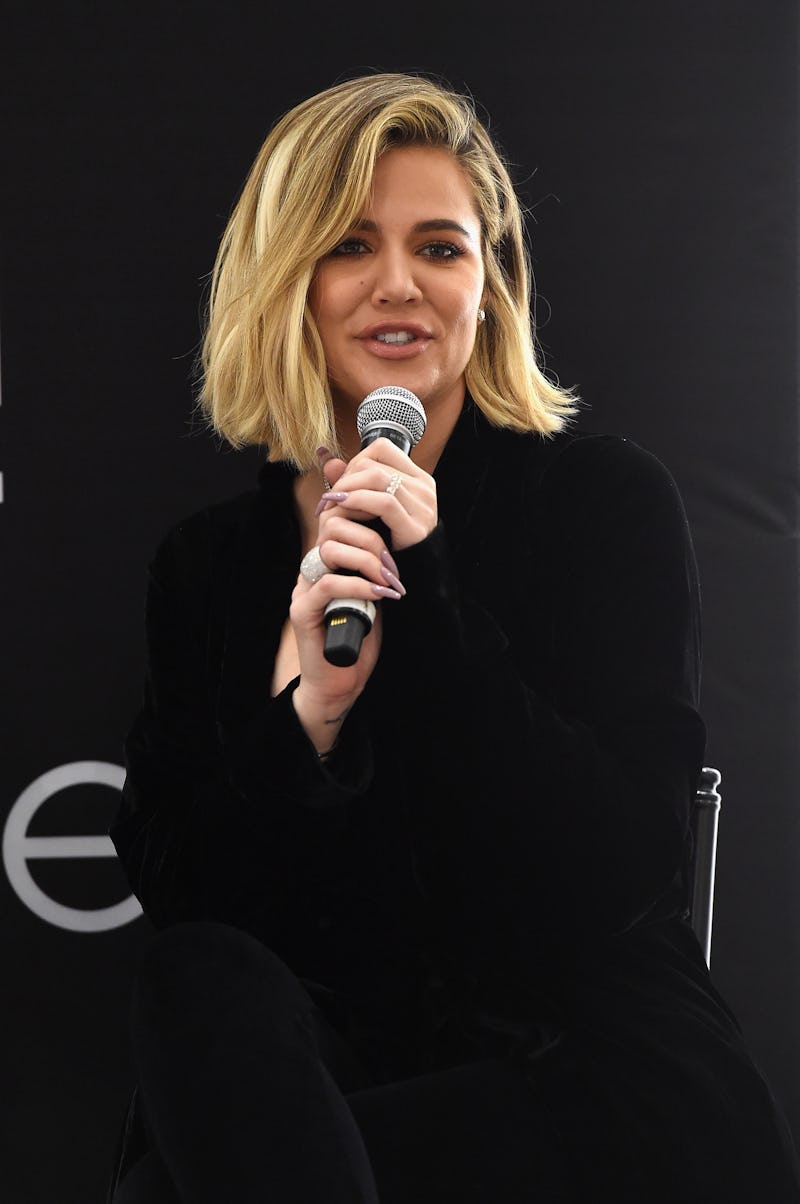 Jamie McCarthy/Getty Images Entertainment/Getty Images
Ain't no party like a Kardashian-Jenner party, and now there's another one to completely fawn over. These photos from Khloe Kardashian's baby shower prove that when they throw a party, they go all in. On Saturday, March 10, Khloe posted photos and stories to Instagram that showed off the event, which was at least co-sponsored by Amazon. She shared a cute one of herself and sister Kourtney, and one outtake with Kourtney's daughter Penelope moving blurrily in the foreground. The shower looks pink, feminine, and luxurious, with lots of silk robes and seasonal blooms and all the girliest things imaginable. It's really, really cute. To be honest, it looks like it would be a fun party to attend. Only Khloe Kardashian could host a party that looks like the sleepover of your childhood dreams, but make it fashionable and elegant.
Khloe is expecting a baby girl with NBA player Tristan Thompson. Khloe's siblings posted Instagram stories from the baby shower, and Kylie Jenner's best friend Jordyn Woods posted a shot of herself on her Instagram account. Khloe's always wanted kids, and seeing her surrounded by the strong women in her family could just make your whole heart burst. The thought of Kim's daughter Chicago, Kylie's daughter Stormi, and Khloe's baby-to-be all growing up together? How soon is too soon to start filming Kardashians: The Next Generation? Khloe is expecting a baby girl with NBA player Tristan Thompson.
These are some of the best photos from Khloe Kardashian's baby shower. Khloe and Kourtney posed together in front of this lavish flower display.
Woods posed in front of the gorgeous round table.
There was even a glowing sign celebrating Baby Thompson.
As you can see, some of the best pictures of the event came from the hostess herself. She meticulously documented the gorgeous affair, and fans are grateful for it.
Every feature of Khloe's baby shower is better than the last one. There's a pit filled with balloons in various shades of pink, animal statues, and cute unicorn cakes for days. Kourtney, who has had three children and is probably a veteran of the baby shower scene, posted lots of videos to her Instagram story, and it looks like the party of the year. The guests in attendance included Kendall Jenner, Kris Jenner, Kris' mom, MJ, and more. Kim Zolciak-Biermann from Bravo's Real Housewives franchise was even there to celebrate Khloe's baby.
The sparkly pink realness looks dreamy AF. It's like a dollhouse for grown women. There were "Tristan + Khloe" signs, pink heart-shaped lights, and more.
Khloe hasn't revealed the name of her daughter publicly, at least. The items at her baby shower were all labeled "Baby Thompson," so fans at least know that Khloe will give her daughter Tristan Thompson's last name. The multiple unicorn cakes were for Khloe's best friends, twins Malika and Khadijah, and Jen Atkin, their hair stylist — it was all of their birthdays! Khloe celebrated her friends' birthdays at her own baby shower. With candles and singing and everything. Awww.
The makeup artist behind Anastasia Beverly Hills was present as well, and she managed to capture video of Kris' speech on Snapchat. In a video captioned "Kris got emotional," fans can hear the Kardashian matriarch say the following:
"It's an amazing blessing that we are here today to celebrate Khloe, but on a lighter note, I was here 40 years ago, almost to the day, for my wedding shower to Robert Kardashian that Joyce Kraines gave me, so we go back a really long time. I've also probably had a couple of baby showers here, a couple of wedding nights, you know."
Amazing. All in all, it looks like a joyous, memorable, and distinctly gorgeous Kardashian occasion.