Khloé Kardashian Revealed Her Family Once Said Her Weight Was Hurting The Brand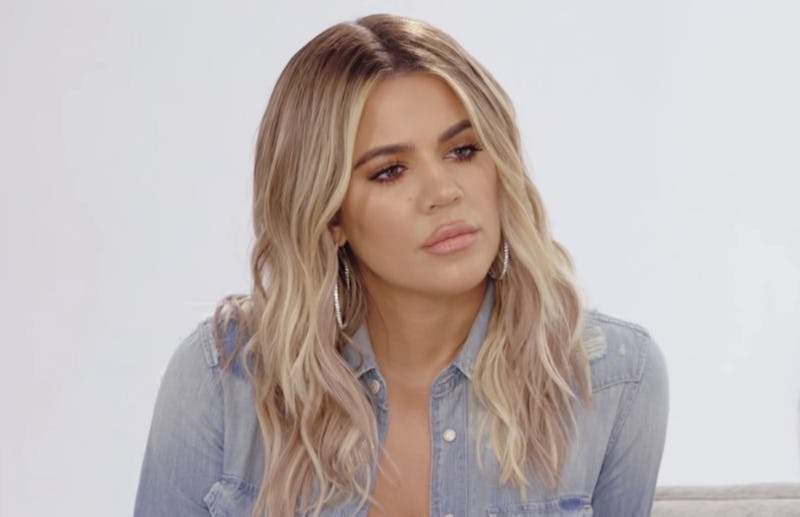 Revenge Body/E!
Here is some disappointing news involving the Kardashians: During the Revenge Body (executive producer: Larissa Matsson) Season 2 premiere, which airs Sunday, Jan. 7, it was revealed Khloé Kardashian's family told her to lose weight. While talking with a participant on the E! series, Kardashian said that her family once told her when they were first becoming successful, "'Khloé, you got to lose weight cause you're really hurting the brand.'"
As shown in the below clip, the 33-year-old reality star added, "I'm a huge believer of it's not what you say, it's how you say it." Though, as upsetting as it was to hear that, especially from her loved ones, Kardashian told the contestant, "I understand that was coming from my management side of my family, but it does hurt."
What Kardashian said her family told her clearly hasn't caused much friction between the Keeping Up With the Kardashians (executive producer: Kris Jenner) star and her family, because, well, they have a super close relationship. Furthermore, Kardashian seems happier ever than ever, especially since she's dating the love of her life, Tristan Thompson, and is expecting her first child with him. (Bustle reached out to a rep for the Kardashian family for comment, on Kardashian's statement, but did not receive an immediate response.)
However, fans of the series are none too happy with what Kardashian revealed. They've taken to Twitter to express their thoughts and show how much they have her back now more than ever.
She Has All The Support
Her True Beauty Is Loud And Clear
She's Never Been More Relatable
Her Happiness Is All That Matters
It's A "Sad" Situation
It's Heartbreaking
She's Beautiful No Matter What
Kardashian is someone who's always been vocal about her weight and the criticism that she's faced because of it. For example, the Strong Looks Better Naked author opened up to Glamour in September about how brands wouldn't partner with her. "The truth is that I was heavier then too, so not a lot of endorsements were coming my way," she said about the beginning of KUWTK (executive producer: Farnaz Farjam). "Brands would prefer to align themselves with [sisters] Kim or Kourtney, which I was totally fine with because I was still along for the ride. But it's also a very sad thing to realize that most brands are interested only in pretty, cute, in-shape girls."
She's encountered much body-shaming, but it didn't really start until KUWTK (film editor: Lisa Trulli). In an October 2017 chat with W magazine, she said, "I didn't know that I was bigger or different than them until I started doing our TV show." She added, "I never knew I wasn't an ideal weight."
Kardashian also opened up to W about how her family treated her regarding her weight, and it differs from what she said above. "My family never made me feel less than," she said. She continued, "My sisters and I all looked different. No one ever made me feel like I was chubby. I mean, they put me in more sports than the rest of my sisters, but I was more athletic than the rest of my sisters." Of course, Kardashian could have been referring to a time when they were less famous.
She elaborated a bit more about how she never felt like she couldn't wear what her sisters wore. "I started to be in the public eye and people were able to pick me apart... I really commend my mom and my sisters for never making me feel less than." Kardashian added, "Everyone always said, 'How do you have so much confidence?' I was like, 'I don't know, it is just the household I grew up in.'"
When it comes to her body and how she's handled everything thrown her way, Kardashian has inspired many women and has made them feel comfortable in their own skin. As she told Entertainment Tonight in January 2017:
I don't believe that a weight defines you. I don't weigh myself, because I don't care what number I am. I think to be happy comes from within… There's so many miserable people that are thin and they're hungry!
Throughout it all, Kardashian's fans continue to have her back and think she's beautiful no matter her shape or size.