Khloé Just Celebrated A Pregnancy Milestone With Some Super Sweet Instagrams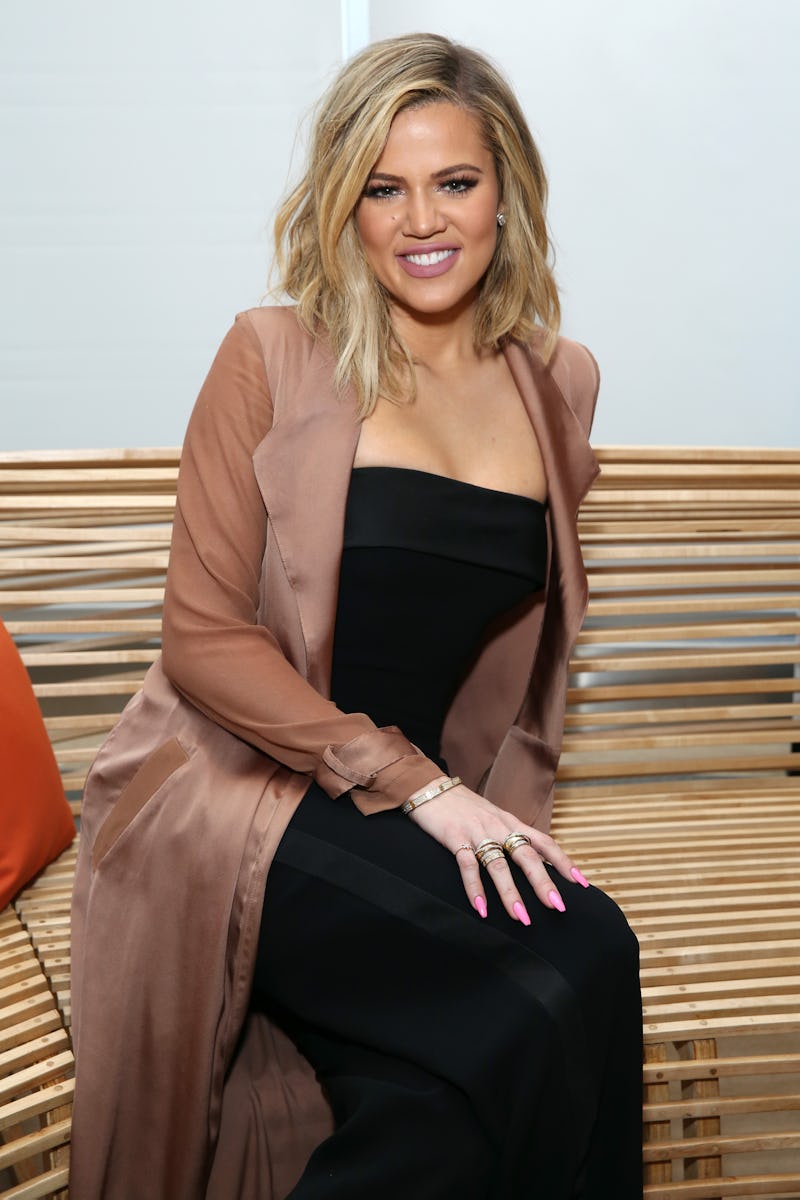 Cindy Ord/Getty Images Entertainment/Getty Images
She kept quiet for a long time, but no more. Khloé Kardashian is celebrating being six months pregnant. On Instagram Tuesday, the Keeping Up With the Kardashians star commemorated her six-month mark with some of her sweetest pregnancy photos yet. The first one shows the 33-year-old reality star solo with her hand resting gently on her baby bump. She captioned it, "Officially 6 months". The second one is of Kardashian and Tristan Thompson kissing. He also has his hand on her belly and she wrote next to it, "Mom and Dad". Yes, it's all as adorable as it sounds.
Kardashian didn't confirm her pregnancy until December 2017, three months after pregnancy reports originated. Since fans were kept in the dark for so long, it's exciting to actually see the Revenge Body star pregnant. The fact that she is now sharing her journey as a soon-to-be-mom on social media shows how ready she is to be more open about her pregnancy now that she's made it known to the public.
She's only shared a few pregnancy photos on Instagram, and they have been absolutely stunning. The first picture she shared of her baby bump was when she confirmed she is pregnant. It showcased her bare belly with both her and Thompson's hands resting on it. "My greatest dream realized! We are having a baby! I had been waiting and wondering but God had a plan all along. He knew what He was doing. I simply had to trust in Him and be patient," she wrote next to it.
Kardashian also explained how important it was for she and her NBA player boyfriend to keep their next step as parents private for awhile. "I know we've been keeping this quiet but we wanted to enjoy this between our family and close friends as long as we could privately," she wrote. "To enjoy our first precious moments just us [heart emoji] Thank you all for understanding. I am so thankful, excited, nervous, eager, overjoyed and scared all in one! But it's the best bundle of feelings I've ever felt in my life!"
As for Thompson, he is thrilled about becoming a dad again (he has a child with his ex-girlfriend, Jordan Craig), as he commented (via People) on Kardashian's pregnancy announcement Instagram in December, "My love, thank you for [allowing] me to be a part of your journey in life and allowing to share this moment with you this is something [I'll] always cherish. Girl you look better now."
It's clear how overjoyed they are about becoming parents together — as you can see below.
On Dec. 25, Kardashian wished her followers a "Merry Christmas" by sharing an Instagram of her "#BabyBump" and a video of it, too. "Merry Christmas!! May you sparkle and shine this festive season, may all of your wishes and dreams come true. I pray that we all may feel this happiness all year round. God bless you!", she captioned the post. If you weren't aware yet, her pregnancy style is on point, too.
Similar to how she's been sharing more photos, Kardashian has also been giving more details about her pregnancy on Twitter. On Christmas Day, she casually revealed how far along she is. And a few days before that, Kardashian confirmed her pregnancy announcement will be see on KUWTK. As she told a fan, "It all happened during production so yes! Super cool to have that documented."
It's wonderful to be able to follow Kardashian's pregnancy journey right alongside her. Plus, she's has never seemed happier and who doesn't want to partake in that?