Khloé Kardashian's Latest Tweets Are All About Just How Much She's Changed This Year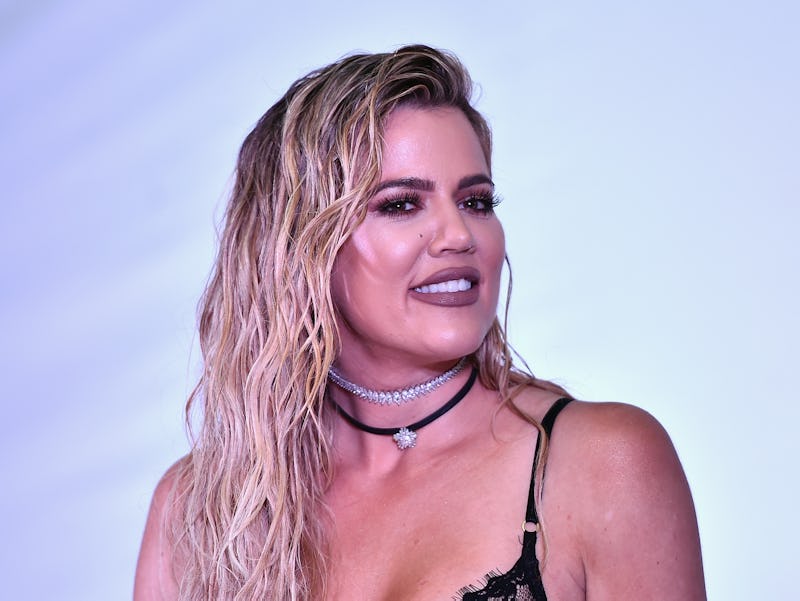 Alberto E. Rodriguez/Getty Images Entertainment/Getty Images
OK, has everyone been keeping up with Khloé Kardashian's Twitter account these last few days? Fans of the reality star and Good American co-founder were in for a philosophical treat Saturday night, Oct. 27, courtesy of Khloé Kardashian's latest tweets, dispensed out to the social media masses in a wonderfully candid, stream-of-consciousness format.
After returning from what KoKo's Instagram followers know was an exceedingly spectacular family vacation to Bali — with baby True in tow, of course; Khloé told one fan that she "wouldn't have been able to go emotionally" without her — the star took to Twitter with a lengthy series of messages reminding fans to enjoy the present and keep a close eye on the future.
"I'm thankful for every moment I have!" wrote Khloé, penning the first of seven paragraph-style tweets that eventually made their way onto the social media platform late Saturday night. And while it's definitely no secret that the Kar-Jenners have lots to be grateful for (the mansions, the clothes, the scenic getaways, etc.), Khloé's message still feels like an important read, mostly because the anxieties she's talking about here are, in essence, pretty widely relatable. Continuing, the KUWTK veteran opened up about her past struggles to stay in the present — especially in the face of upsetting circumstances — and the freedom she felt after overcoming them:
"I didn't used to be present enough to truly reflect on the beauty of it all! The highs, lows. I was simply going through the motions of life! Im thankful that I'm in a place where I truly appreciate every experience."
Those Twitter users who've parsed through the bulk of Khloé's latest string of life lessons know her personal revelations weren't necessarily tied to any particular incident. (Of course, there's always the possibility that they might have been, though it really sounds like her tweets were at least primarily motivated by some kind of internal shift in perspective, rather than an external change.) That said, whatever the motivation behind them, Khloé's uplifting, thoughtful messages will probably resonate with lots of internet-faring folk, even the ones who might not have expected it.
"Be patient, tough and have faith," wrote Khloé, starting off the second tweet included in Saturday evening's impromptu wisdom train. Again, definitely easier said than done. But, as the rest of this particular tweet went on to explain, "getting there" is mostly all about the process, anyway. As for how to get that process jump started? As Khloé's next tweet went on to say, it's all about learning to embrace the journey, even the ugly parts:
"Someday ur pain/struggles will be useful to you. Don't be afraid to fall apart or fail. Cuz, 1day, the situation will open an opportunity for you to grow and rebuild yourself into the brilliant person you are capable of being."
So, if there's anyone out there who's been feeling stagnant, anxious, or otherwise generally uninspired, perhaps consider heading over to Khloé's Twitter account for more hard-earned wisdoms like these. Learning how to embrace each and every moment definitely isn't easy, but in the plight toward eventually doing so, it sounds like KoKo's late-night life lessons could make for a pretty solid start.