Khloé's Photos Of True's Halloween Costumes Are So Cute That They'd Win Every Contest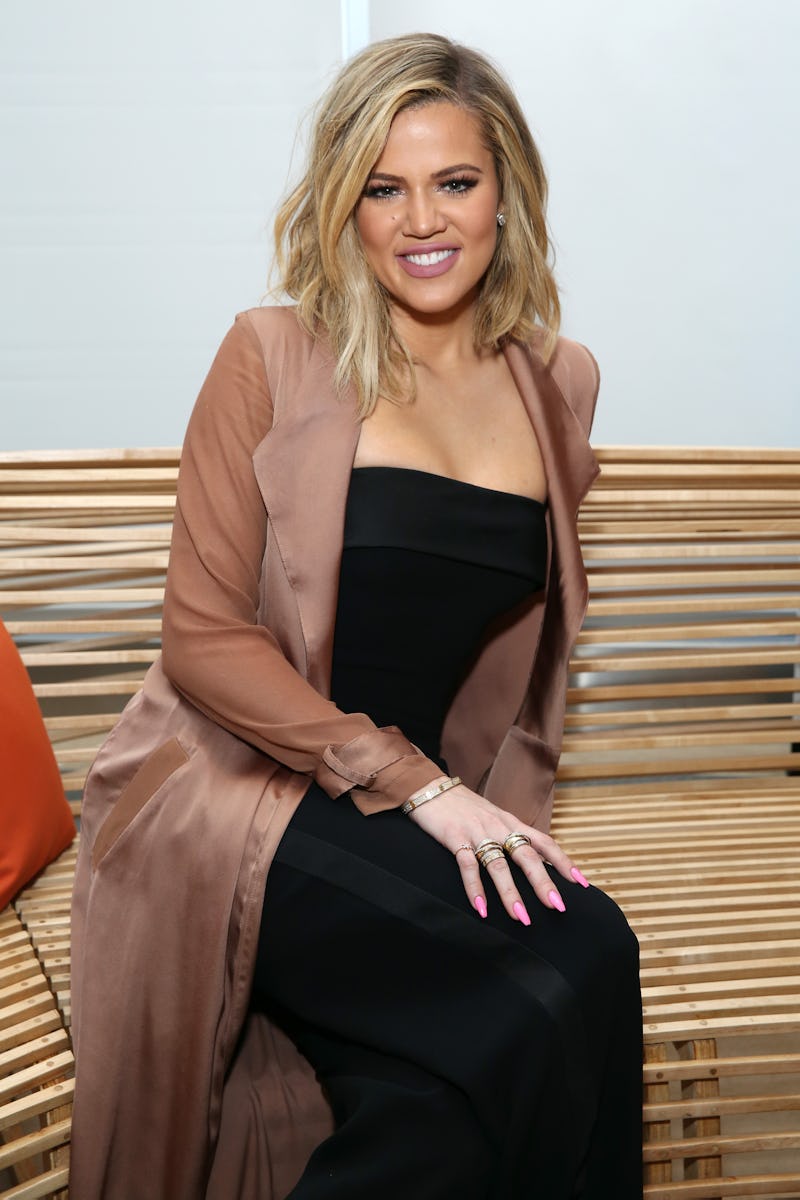 Cindy Ord/Getty Images Entertainment/Getty Images
Here is the official winner of Halloween 2018. Khloé Kardashian posted photos of True's Halloween costumes, and they are so cute, you won't know what do with yourself. Next to a series of pictures shared on Instagram on Wednesday, the Keeping Up With the Kardashians star revealed what True was dressing up as this year. Actually, Khloé showed two of her daughter's many costumes — yes, she has multiple. So far, the ones the reality has posted are beyond adorable.
Khloé teased on Instagram,
"Happy Halloween!!!! It's our first Halloween together!!!! She's too cute to spook!! (Don't judge me, I have more costumes to post lol)"
When you see exactly what True is wearing and her sweet face, you'll totally understand why Khloé dressed her up in more than one costume.
The first six photos (yes, six!) show Khloé and True in matching unicorn costumes. In the very first and very pink image, True is sitting in her mom's lap and they both have never looked more content. In the second picture, Kim Kardashian and Kanye West's third child, Chicago West, joins her Aunt Khloé and cousin in on the fun by wearing a unicorn headband. The remaining unicorn photos are just as lovely and show how overjoyed Khloé is to be celebrating True's first Halloween. It's a big moment for the mom, and she's enjoying the milestone the right way.
As for the last four photos, True transforms from a unicorn into the fluffiest panda bear ever! How does it get cuter than this? In two of the pictures, True even sticks her tongue out, like she's known to do from time to time. Once you see her as a panda, you won't want Khloé to ever take off the costume.
On Oct. 24, Khloé posted of an Instagram of True wearing a unicorn headband. She captioned it, "I always knew unicorns existed." Either the Revenge Body host had always planned to dress up True as the mystical creature or she fell so in love with the magical look, she decided True just had to be a unicorn on actual Halloween. Whatever the case, she made the right choice for her baby girl.
If that's not enough, before this year's Halloween, Khloé even shared pictures of True as a pumpkin. On her Instagram Story, the reality star posted several snaps, and wrote, "I couldn't resist!!! My little pumpkin!!!! One of many costumes to come."
On Twitter on Oct. 14, Khloé also gushed about True wearing costumes. She tweeted,
"I can't help but dress my baby True up!! It's our first Halloween together! More costumes to come lol God thank YOU! She's just perfect to me"
Khloé definitely wasn't teasing when she said she had more costumes for True. Based on her latest Instagram, she's going to be sharing even more photos of her daughter dressed up. You better stayed glued to her Instagram, so you don't miss out. You can bet True is going to be just as cute in whatever other costumes Khloé put on her, just like she is as a unicorn and panda.