Khloé's Tweets About Tristan On 'KUTWK' Show She's Only Worried About One Thing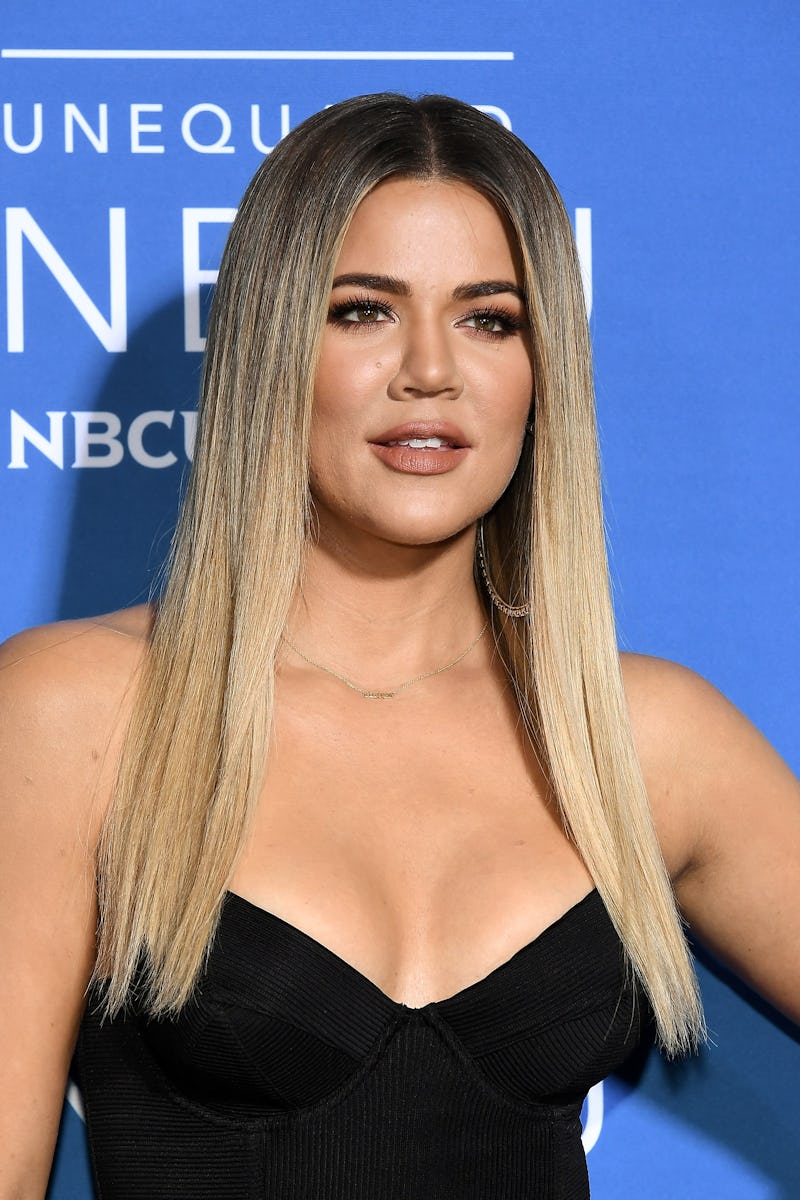 Dia Dipasupil/Getty Images Entertainment/Getty Images
The last Keeping Up With the Kardashians episode was very emotional for the family and even the fans. It should have been a very joyous interview when Khloé Kardashian gave birth, but it wasn't. There was a major elephant in the room and his name was Tristan Thompson. Luckily, Khloé Kardashian's tweets about Kim's response to Tristan change everything; it's not that serious.
A lot of outsiders questioned Khloé's decisions to have Tristan in the delivery room and to continue her relationship with Tristan after the allegations that he cheated on her. All of her fans wanted to know what she was thinking during such a tough time and she gave them a lot of insight through this week's Keeping Up With the Kardashians episode and her live tweets during it.
Khloé tweeted, "Regardless of what Tristan did to me, I was never going to take that moment away from True or Tristan. She should not be punished for his actions. He is her father and they both deserve to love one another as deeply as They possibly can #KUWTK."
It's not just the fans that were very vocal about the situation. Khloé's sisters Kim and Kourtney Kardashian were as well and they were all in the delivery room.... with Tristan, Kris Jenner, and Khloe's best friend Malika Haqq. That room was all sorts of crowded.
Khloé truly had a lot to juggle, as if giving birth to her first child wasn't an intense enough task. Her sisters were not happy with Tristan. She wanted the best for Tristan and True's relationship. She had so much to work through in regard to her own relationship with Tristan. There was truly a lot for her to "keep up with."
Even so, Khloé just continued to be the great person that we all know and love and showed respect to everyone involved while she gave birth and with her live tweets.
A fan praised Khloé for refusing to make "permanent decisions off of temporary reactions." Khloé agreed and emphasized the importance of considering the bigger picture.
Even though Khloé tried her best to do right by everyone in her life, she couldn't help admitting that she was "disgusted" by Tristan's actions. That is a perfectly valid reaction. She is such a strong person to prioritize her daughter's relationship with her father above all else. Even before True was born, Khloé was already a great mother.
The episode also showed the behind-the-scenes footage of Kim preparing for her interview with Ellen DeGeneres. During the show Kim said, "Poor Khloé." She also remarked, "Like, I don't even know how to describe it besides it's just so f*cked up." She called Khloé immediately after the interview to tell her what she said. Instead of addressing the comments Kim made during the interview, Khloé just tweeted that Kim is "THAT b*tch." She is.
The other major part of the episode wasn't actually caught on camera, but it was referenced. Tristan had a private conversation with all of Khloé's sisters about everything that had gone down. Of course, Tristan did not intend to be on a reality TV show, but as Khloé pointed out on social media, he made this "so public," so it makes sense that her sisters would want to express their opinions on the show.
Khloé has been through so much in such a public manner. Thanks to the show, she had to relive that troubling time, too. On the bright side, she does have footage of the birth and all of the love and support True had on the day that she was born. Everyone is rooting for Khloé, from the fans, to her sisters, and most importantly, it sounds like Khloé is really looking out for herself and her daughter. Being so vulnerable on the show and in her live tweets shows just how strong she is —  something that everyone truly appreciates.