All The Updates About Tristan Thompson Reportedly Cheating On Khloé Kardashian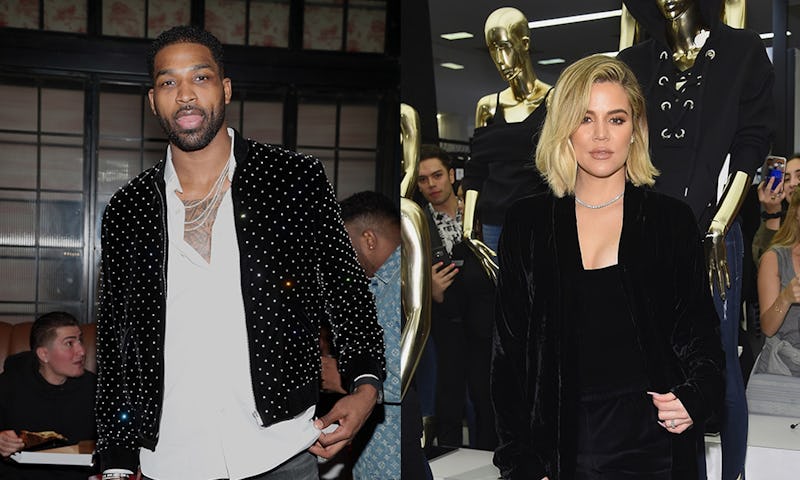 Cassidy Sparrow/Getty Images Entertainment/Getty Images; Jamie McCarthy/Getty Images Entertainment/Getty Images
Fans have been up in arms over the recently released videos that appear to show Tristan Thompson cheating on Khloé Kardashian. The rumors first started swirling on April 10, and Kardashian — who is nine months pregnant with Thompson's child, and is currently in Cleveland preparing to give birth — has yet to publicly comment on Thompson's reported infidelity. (Bustle reached out to Kardashian's reps and Thompson's agent for comment on the reports, but did not receive an immediate response.)
In fact — and, in Kardashian crisis-mode fashion — all of the Kardashian-Jenners have been staying silent in regards to the drama. More than that, sisters Kim, Kourtney, Kendall, and Kylie have been going about their social-media-posting business-as-usual in the midst of the allegations.
Kim and Kourtney — who were recently on vacation together in Turks and Caicos — have continued to post tons of tropical snaps ever since the news first broke. Kendall appears to have gone sky-diving with Scott Disick on the day the rumors began, and Kylie has posted several pics promoting her new Lip Kit colors in the wake of the videos.
As for Thompson, his team, the Cleveland Cavaliers, are set to play the New York Knicks in Cleveland, Ohio, on Wednesday night where Kardashian is currently preparing to give birth. This will be Thompson's first public appearance since the cheating scandal first broke, according to Us Weekly.
Fans are anxiously waiting to hear something from Kardashian, and as new information about the situation becomes available, this post will be updated. Until then, here's a timeline of what's gone down so far.
April 11, 2018
TMZ reports that Kardashian is experiencing early contractions and that some of her family members are making plans to fly out to where she is in Cleveland.
That night, Thompson played in an NBA game with his basketball team, the Cleveland Cavaliers. The team lost to the New York Knicks, 110-98, at Quicken Loans Arena in Ohio, where several fans reportedly booed Thompson, according to several media outlets (The Daily Mail, People, and E!). According to Twitter, one fan held up a sign in support of Kardashian at the game.
April 10, 2018
Kardashian's friend Khadijah Haqq seemingly responds to the scandal on Instagram.
April 10, 2018
Thompson's ex-girlfriend, Jordan Craig, responds to the rumors of Thompson's infidelity with some seemingly supportive words for Kardashian on Instagram, according to Us Weekly. "If you respect yourself and you respect others, you would never make light of the misfortune of anyone, nor would you feel indemnified when it comes at the expense of others," Craig wrote. "Wishing peace to everyone."
Thompson and Craig broke up when she was six months pregnant with their first child, and he was soon with Kardashian. The two welcomed a son together in December 2017, according to People.
April 10, 2018, 6:42 p.m. EST
TMZ obtained yet another video of the 27-year-old Cavaliers player, this one showing Thompson appearing to enter a hotel with an unidentified woman in New York on April 8 — just a few hours after the Daily Mail's April 7 video of Thompson was taken. Around the same time, The Shade Room posted pictures of Thompson entering the hotel with the woman, as well.
April 10, 2018, 6:33 p.m. EST
TMZ releases a video reportedly showing Thompson's infidelity, said to be taken from surveillance footage at a Washington, D.C. hookah lounge back in October 2017. The black-and-white video is considerably grainy, but TMZ reports that the footage shows Thompson getting intimate with two different women.
April 10, 2018, 2:36 p.m. EST
The Daily Mail releases a video of Thompson partying at a New York City club. In the video — which was taken on April 7 — Thompson is seemingly getting close to an unidentified woman. The angle of the video makes it difficult to confirm if Thompson was kissing the woman, as reported.
April 9, 2018
Kardashian posts a sweet pic with Thompson on Instagram while waiting to go into labor. "We are ready whenever you are little mama," Kardashian wrote the day before the rumors began.
March 15, 2018
Kardashian arrives in Cleveland, Ohio, where a source told Us Weekly she will reportedly remain until the birth of her child with Thompson.
January 4, 2018
During an appearance on Jimmy Kimmel Live!, Kardashian tells Kimmel that she plans on giving birth in Cleveland, Ohio where Thompson resides, E! reported.
December 20, 2017
After months of speculation, Kardashian finally confirmed her pregnancy in an Instagram post. "My greatest dream realized! We are having a baby!" she wrote.
September 26, 2017
Rumors of Kardashian's pregnancy first started surfacing after a source told Us Weekly that she and Thompson were expecting.
Kardashian and Thompson were first spotted out together in September 2016, with a source telling People that they'd "been seeing each other for a little bit." On October 31, 2016, Kardashian confirmed their relationship with an Instagram-official Halloween snap, and in January 2017, Kardashian revealed to James Corden that she was in love.
Over the next several months, Kardashian and Thompson seemed smitten as they spent time together in their respective hometowns, and while reports of Kardashian's pregnancy started circulating as early as September 2017, the couple officially announced they were expecting in December.