Khloé & Kourtney Kardashian's Latest Pic Together Perfectly Captures Their Goofy Bond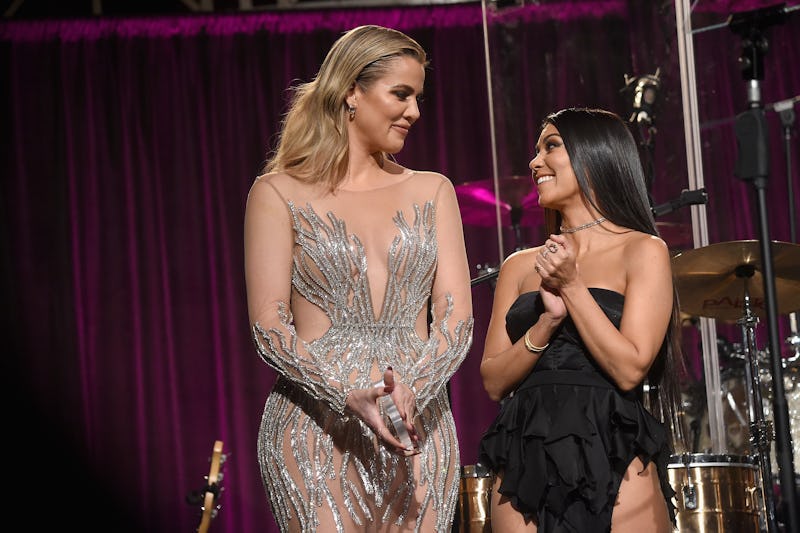 Jamie McCarthy/Getty Images Entertainment/Getty Images
The Kardashian family's resident Yolanda and Towanda are back at it again. In a new Instagram photo, Khloé Kardashian and Kourtney Kardashian's close relationship was put on full display on Tuesday. And their silly snaphot just shows that they're truly redefining #SisterGoals, while also putting to rest any recent drama from their reality show.
Khloé and Kourtney had some fun during their night out on the town. Thankfully, they captured the good times to show off their bond on social media. The Revenge Body host wrote that they weren't at all worried about posting a silly photo of themselves. She captioned the stylishly hazy snap with, "Yes, we are completely aware of how obnoxious we are when we are together. NO, WE DO NOT CARE!!!"
Surprisingly enough, their carefree photo may not have even been the best part of the post. The sisters had a good-natured disagreement in the comments section of the post. Kourtney originally wrote, "Should i post the video ?" There's no telling what the video entails, but just based on Khloé's reply, it definitely seems like there were some silly antics that went down during the pair's latest hangout. She replied to her sis with, "oh my god you can NOT." OK, now fans will really be dying to know what's in the clip.
If you're a fan of the Kardashians, you'd already know that Kourtney and Khloé have an amazingly strong bond. In fact, they're so close that they've (jokingly) taken ownership of every dynamic duo name under the sun, a fact that their sisters, Kim Kardashian and Kylie Jenner, recently learned. In June, Kim posted a photo of herself and Kylie in matching outfits in a Ford Bronco. She captioned the Instagram post with a simple, "Thelma & Louise." Their siblings had a little something to say about that phrase.
Kourtney commented on the post and brought it to sister's attention, "Oh wow @khloekardashian look who's stealing our names." Khloé had a very cheeky reply to this friendly sibling drama, "@kourtneykardash we should be flattered." But, the KKW Beauty mogul wasn't going to let her sisters get away with this slander. She told her sisters, "WAIT A MINITE you & Khloe are Yolanda and Towanda! Stop hating!" Kim certainly tried it, but Khloé had her reply at the ready. She responded, "babe- kourt and I are all the famous duos!!! Name any and kourt and I embody them!"
You heard her, Kim. This dynamic duo is the great Yolanda and Towanda, the Thelma and Louise, and even the Batman and Robin of our time.
In the latest season of Keeping Up With the Kardashians, Kourtney and Khloé haven't exactly embodied their true dynamic duo status. In fact, they even explained during a sister therapy session that there had been some awkwardness between them.
But based on this goofy pic of the two of them, and their recent interaction with Kim and Kylie, it appears that Yolanda and Towanda are back to cementing their status as the very best sister duo.