How To Help Refugee Children — And Get Some Amazing Bookish Prizes In The Process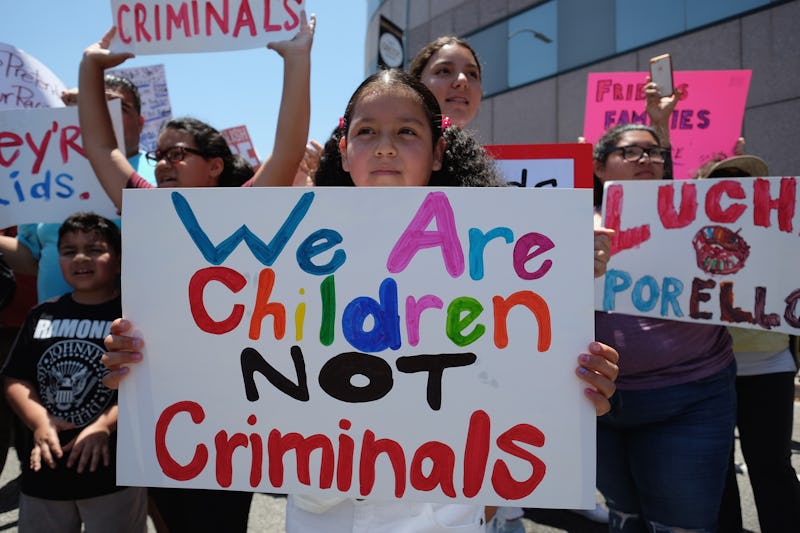 Sarah Morris/Getty Images Entertainment/Getty Images
Ever since the Trump administration began separating refugee families under its strict zero-tolerance immigration policy — one that the president ended via executive order following immense political pressure — people all over the country have been looking for ways to help the refugee parents and children affected by the cruel practice. Over the past two months, activists and average citizens have been doing everything from signing petitions and calling their legislators about immigration reform to raising money for the legal defense of separated families and participating in nationwide Families Belong Together protests. Now, authors, artists, and publishing professionals have come together to create Writers for Families Belong Together, an inspiring online fundraiser featuring incredible bookish raffle prizes and auction items that will make bibliophiles and aspiring writers swoon (not to mention empty their bank accounts.)
Launched in June, the Kid Lit Says No Kids in Cages is a fundraising project that supports the "fight against the cruel separation of kids from their families at the U.S. border, and the work of reuniting families," according to the official Writers for Families Belong Together website. It offers two different ways for book-lovers to contribute to the important cause: raffles and auctions. In both categories, incredible prizes include everything from manuscript critique and query advice to signed book sets and author visits.
Here's how it works: to enter the raffle, go online and donate to Kid Lit Says No Kids in Cages. Look through the list of incredible prizes, and fill out your name, contact info, and proof of donation under the raffle of your choosing. The best part? You don't have to pick just one, because you can enter as many as want, up to the dollar amount that you have donated.
For as little as $1, Becky Albertalli fans can enter to win a deleted scene from Leah on the Offbeat that features the original, uncut version of Simon and Blue's promposal. For $30, aspiring writers get the chance to chat with bestselling authors — including Kass Morgan, Renee Ahdieh, Tamara Ireland, Sandhya Menon, and Kris Waldherr — about writing, editing, querying, publishing, and more. For $100, new writers are entered into a raffle where the winner gets a 50-100 page critique from published authors including Marieke Nijkamp, Kat Cho, Erin Entrada Kelly, and more.
While the raffles are a great chance to win cool prizes, the auction offers a way to bid on specific prizes — and a chance to donate even more money. Each item starts at $25, and if you are interested in bidding, all you have to do is leave your name and email address along with your bid in the comments section of the prize you are interested in. The deadline to enter is 11:59 p.m. on Saturday, July 15.
Like the raffle prizes, auction items include everything from book critiques and author phone calls to query help and signed book sets. Have you ever dreamed of having Prep author Curtis Sittenfeld look at your short story manuscript? With the right bid, you can. What about getting your hands on the first-ever We Hunt the Flame ARC, signed and personalized by the author Hafsah Faizal? You can bid on that, too. Are you an aspiring picture book author looking for guidance? Then bid on a critique from Bloomsbury Kids editor Allison Moore, who will take a look and offer feedback.
Writers for Families Belong Together was created by authors Maria Andreu and Kelly Loy Gilbert. "So many people were horrified when the news of children separated from their parents at the border started to filter in," Andreau, who crossed the border between Mexico and California as a child and recently wrote about her experience in Teen Vogue, told Publishers Weekly. "For me, having crossed that same border with my mom when I was eight, the desperation was visceral. I wanted to do something." Together with a community of writers, authors, agents, publishers, editors, and other publishing professionals, she launched the Writers for Families Belong Together. "I began to collect items for an auction to benefit the kids, and connected with Kelly, who had independently begun to do the same. We put together a quick site, and are up to hundreds of auction items being bid on and raffled off."
If you want to enter to win a raffle or bid on one of the hundreds of cool auction items, you have until Sunday, June 15 at 11:59 p.m. to do it.