Here's Why Showtime Decided To Renew Jim Carrey's 'Kidding'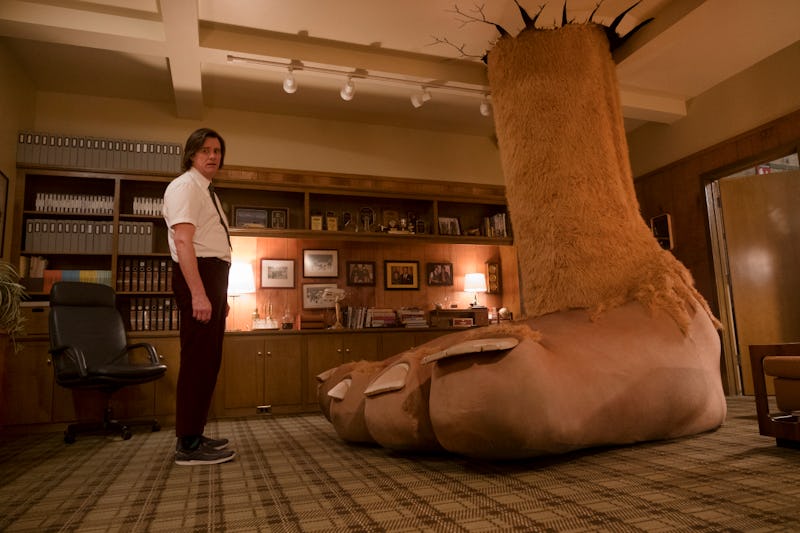 Erica Parise/SHOWTIME
Jim Carrey is no stranger to either comedy or drama on the big screen, but the announcement that his Showtime series Kidding has been renewed for a second season proves that the actor is also comfortable developing a good character for TV, too. Kidding's second season order confirms that he'll continue to dive into the many dark corners of Jeffrey Pickles — and the final episodes of Season 1 set a new bar for violence and dark comedy in the bleak series.
No premiere date has been set for season but Showtime's President of Programming, Gary Levine said in a statement, according to Deadline, "Kidding has established itself as one of the most endearing and inventive shows on television. I feel like I have been watching Mr. Pickles my whole life, and I look forward to being entranced by his unique blend of hilarity and heartbreak in Season 2."
Kidding, which is Carrey's first television role since starring in In Living Color from 1990 to 1994, is about a man who has a super famous children's puppet show called Mr. Pickles' Puppet Time. But when his son dies, he starts to (understandably) breakdown. It's sad, weird, and charming — sort of like Carrey himself. He told ET of the role, "There's not a lot of acting that has to go on here. It's right there. This is kind of me, in a weird way."
Kidding marks the first collaboration between Carrey and director Michel Gondry since their work together on the Oscar-winning film Eternal Sunshine Of The Spotless Mind. Gondry told Variety that he aimed to capture "the Jim that's a little bit sad and touching" in both Kidding and Eternal Sunshine, but the Showtime series has something that their film collaboration lacks — sudden bursts of violence and the death of an Olympic gold medalist. Yea, it's pretty out there.
The second-to-last episode of Season 1 of Kidding features a surprising moment where the show, whose violence had always been more emotional than physical, features a bloody mishap on ice. During a Mr. Pickles On Ice, the throat of real-life Olympic figure skating champion Tara Lipinski, who is playing herself, is sliced open and blood begins to pour out onto the ice. Now, obviously the real Lipinski is alive and well, but the show's willingness to bring a brutal end to a real-life figure playing themselves in the middle of what is supposed to be a piece of children's entertainment is pretty shocking and even triggering.
It's a gruesome scene that would even make Game Of Thrones fans cringe with its suddenness and the sheer horror of watching a stadium full of children bear witness to such a horrifying moment.In subsequent seasons, this kind of dark humor (if one can really even call it that) is sure to continue.
The Season 1 finale will show how this moment affects Mr. Pickles, and will tease what the future of the series will look like. Will Mr. Pickles be expected to try and help children make sense of a senseless accident? Will Mr. Pickles rise to the challenge of caring for his audience, or will he give in to his darkest, most self-serving impulses and abandon the audience that has come to rely on him?
Jeff Pickles hasn't been the best person during Season 1 of Kidding — which isn't entirely his fault, as losing a child is bound to have a dramatic effect on someone's worldview —but Season 2 of Kidding may find Jeff learning that no matter what he does, there's no way to prevent children from the tragedies of the world, both intentional and random.