Kim Kardashian's Remark About How Marrying Kanye West Changed Her Is Kinda Disappointing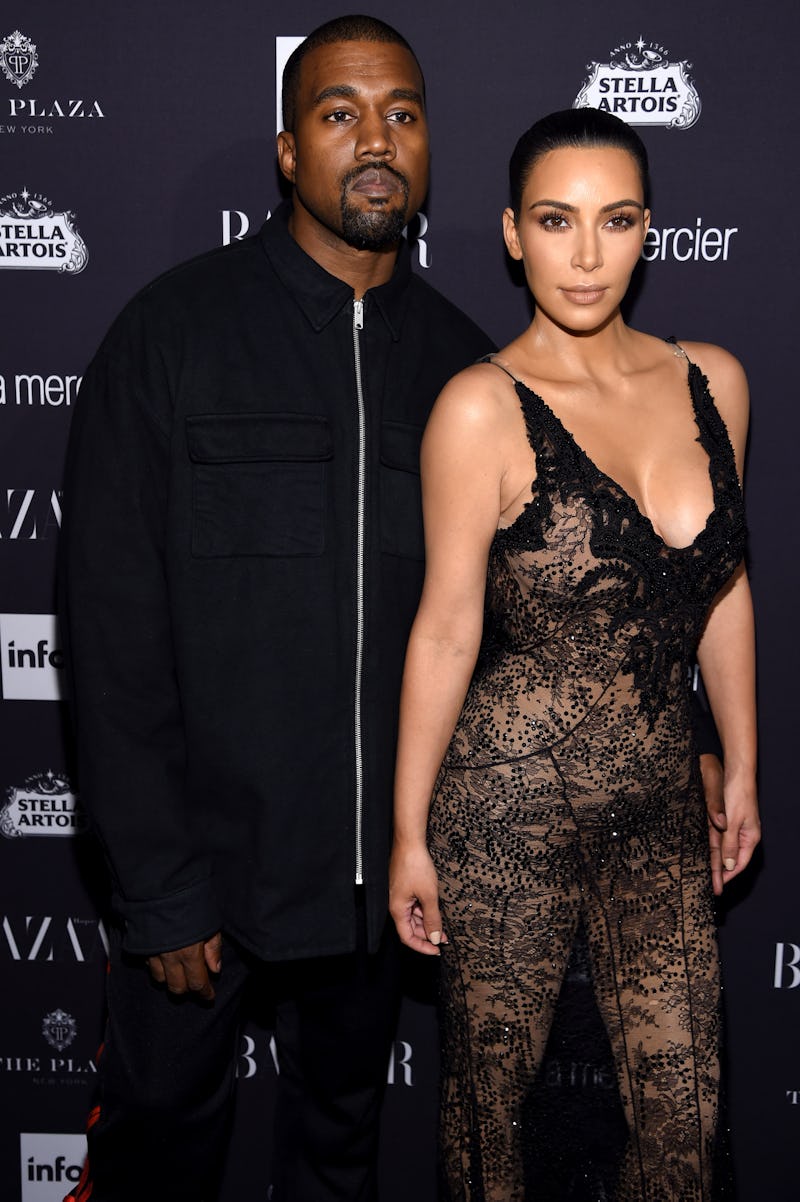 Dimitrios Kambouris/Getty Images Entertainment/Getty Images
There's no denying the Kardashian-Jenner family is made up of successful, determined, and hardworking women. That said, here's a statement that might disappoint fans. Kim Kardashian admitted she gave up her independence after she married Kanye West. While chatting with The Alec Baldwin Show for the Oct. 21 episode (via Us Weekly), the Keeping Up With the Kardashians star revealed that when you marry someone like West, apparently giving up your independence comes with the territory.
As the KKW Beauty founder told host Alec Baldwin,
"I think being with a man like Kanye, you have to learn how to be a little bit not-so-independent. I've always been so independent, and working, and [had a] schedule, and when you get married and have a husband with a career and kids, your independence … you have to let it go. I had to learn that being with a man like Kanye."
It's hard to hear those words, especially coming from Kardashian, who was once on the cover of Forbes magazine in 2016 for turning her mobile game, Kim Kardashian: Hollywood, into a huge financial success, in addition to being named of the highest-paid celebrities of 2017 by Forbes and making an estimated $14.4 million after launching KKW Beauty in June 2017.
Do her words about giving up her independence with West means she's not a hard worker or hasn't earned everything she's worked for? Absolutely not, but to hear the 38-year-old say she thinks when you marry a man with a career and have children together means you have to let go of your independence isn't exactly empowering.
Granted, when you get married and have kids (West and Kardashian are parents to North, Saint, and Chicago), your life changes. Now as a married individual and parent, your focus isn't completely on yourself. Rather, you have a partner and children you worry about and have to take care of, in addition to yourself. That said, just because you marry someone who has a successful career and then you become a mother doesn't mean you "have" to let go of your independence or make yourself less of a priority.
During her chat with Baldwin, Kardashian also admitted West influenced her to become a more private person. "Most of it started with Kanye, because he lived a more... his work life is very public but then when he was off, he was very private." She added, "Now I'm like, 'Where are the locations that I could go eat, go on vacation where no one will see us?' All I want is privacy, and I never thought I'd ever be to that point."
Her comments about losing her independence also don't sound like the Kardashian fans know and love, aka the one who once said in Interview magazine in August 2017, "You can say a lot of things about me, but you cannot say I don't work hard. I don't sing. I don't dance. I don't act. But I am not lazy."
Based on what Kardashian shares in interviews, on social media, and through reality TV, it sure doesn't seem like she's any less of an independent person than she was prior to marrying West. Maybe she just feels like part of her independence has disappeared, because her life transformed in huge ways once she said "I do" to the rapper and became a mother of three. Understandably, those are two major life changes. But, if she really does feel like she had to get rid of her independence some because of West and his busy career, well, that's definitely not a good thing.