Kim Kardashian Said Marrying Kanye Actually Helped Make Her A More Private Person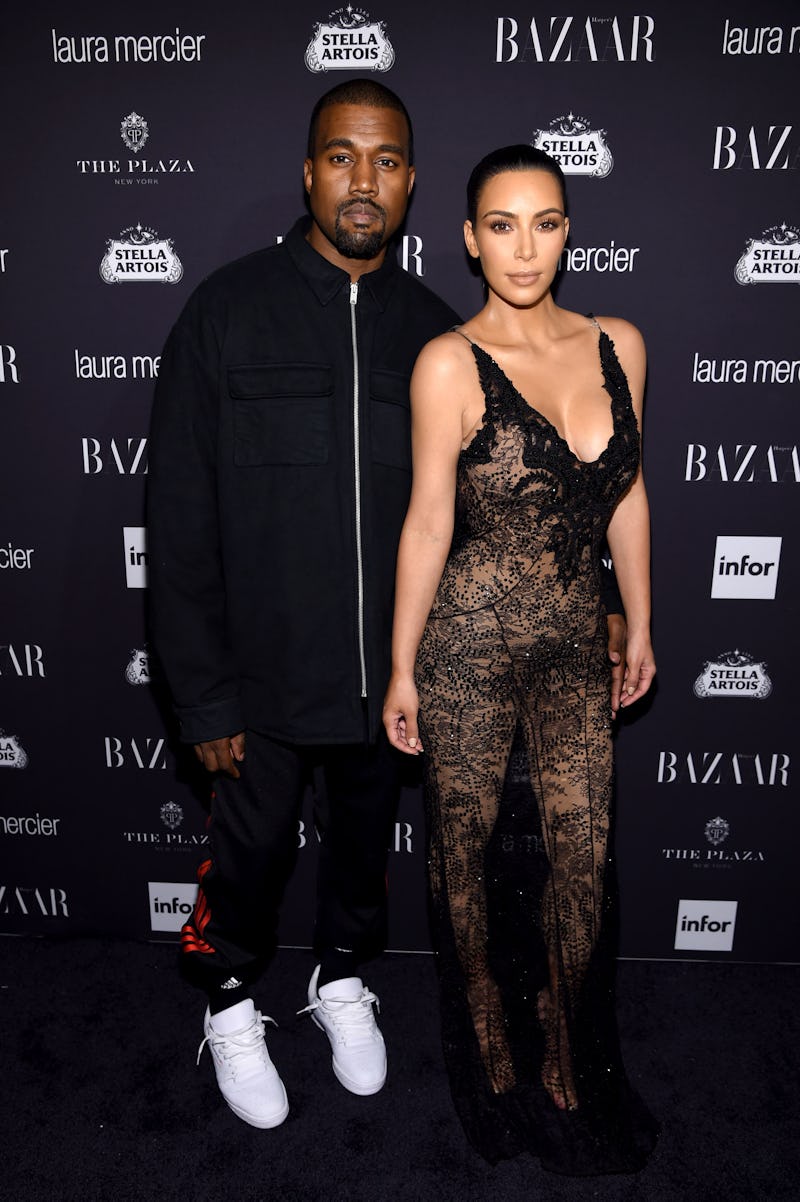 Dimitrios Kambouris/Getty Images Entertainment/Getty Images
It might seem strange to hear from one of the most famous people on planet earth, who's married to another of the most famous people on planet earth, but Kim Kardashian said Kanye West has made her a more private person. In an interview with Alec Baldwin for this Sunday's episode of The Alec Baldwin Show, Kardashian said that her husband helped her change her outlook about living in the public eye, according to People. (Not that they could ever fully disappear from it — that wouldn't be very Kardashian.)
Kim K sat down with Baldwin to talk about her life before and after starting a relationship with West in 2012. According to E! News, the 37-year old said that pre-Yeezy, Kardashian wanted to see and be seen 24/7/365. She recalled,
"We'd get our hair and makeup done filming... and when we'd be done I was like, 'What is the hottest restaurant in Hollywood? Where can I go? Where can I be seen? Who's there? What are they doing? Oh my God! Is my car washed?'"
"Everything had to be public for me back then," she added, in order to, as Baldwin put it, "feed the machine."
But all that changed with West. "Most of it started with Kanye, because he lived a more... his work life is very public but then when he was off, he was very private," she explained. So she had to re-orient her thinking about how to keep her family life somewhat private (though she has lived almost her entire adult life on television) for the sake of her and West's three kids, North, Saint and Chicago.
"Now I'm like, 'Where are the locations that I could go eat, go on vacation where no one will see us?' All I want is privacy," she said, "and I never thought I'd ever be to that point." Pretty sure her fans never thought she would be either, but life is strange.
And while Kardashian says West has made her more private, the interview about privacy was taped on a night of one of West's most recent public outbursts. In an interview with The Hollywood Reporter, Baldwin said he and Kardashian sat down the same weekend that West went on an off-air rant in a MAGA hat at the end of Saturday Night Live. Baldwin said he teased her about it, telling THR, "'She said, 'I don't necessarily have to believe all my husband's opinions to support him. He's entitled to what he [believes and] he's very passionate.' And I'm like, 'Uh-huh.'" Passionate is definitely one word for it.
Nevertheless, Kardashian has been pretty successful in keeping one incredibly important aspect of her life private: motherhood. According to E! News, in 2013 when she was pregnant with her first baby, North, Kardashian wrote in a blog post addressed to her fans:
"I have learned to understand the importance of privacy and boundaries, something that I haven't really learned to embrace before."
This past year when she and West had a third child via surrogate, Kardashian did all she could to respect her surrogate's privacy and keep her out of the public eye.
But if you're worried that means Kim Kardashian is going to fade into the background, don't fret. She could never do that to her fans. In fact, Season 15 (wow, 15) of Keeping Up With The Kardashians is airing now.