Kim Kardashian Got A Princess Jasmine Makeover Complete With Gigantic OMG-Worthy Eyebrows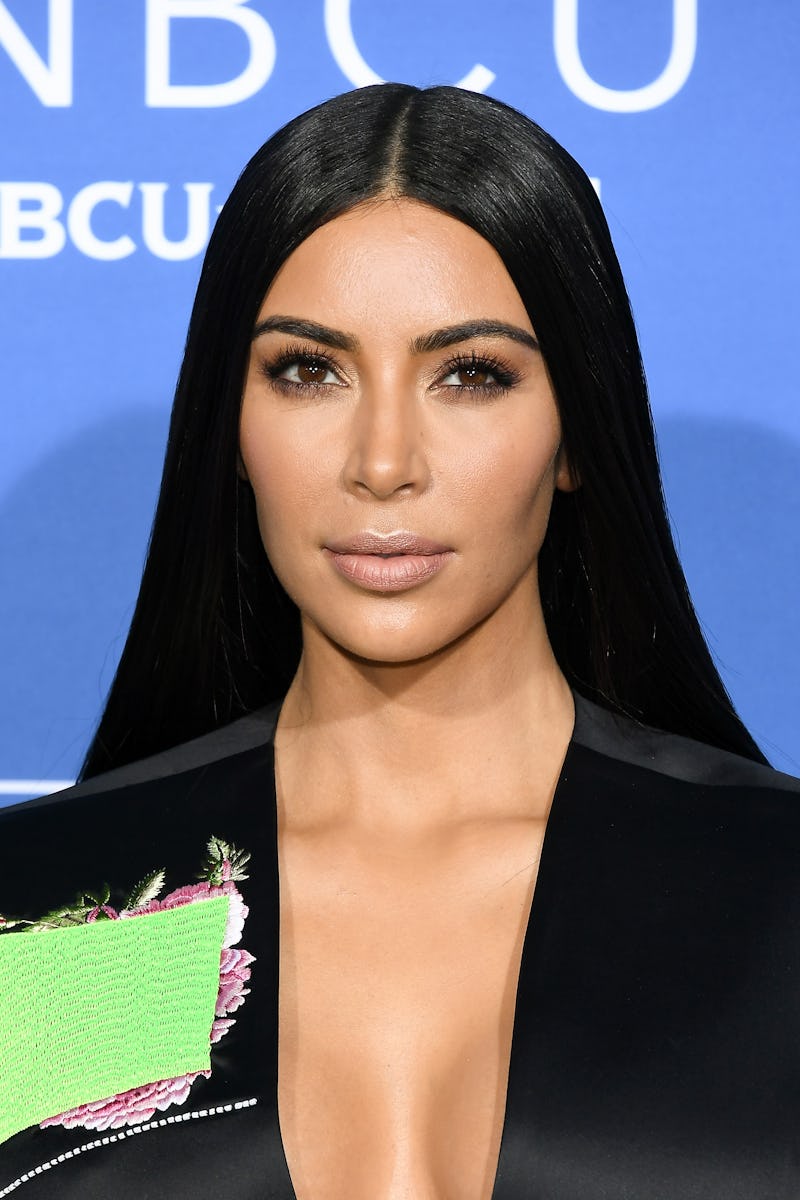 Dia Dipasupil/Getty Images Entertainment/Getty Images
Get ready for a whole new world of Kardashian. According to the social media star's Instagram stories, Kandee Johnson turn Kim Kardashian into Princess Jasmine. If the sneak preview is any indication, this is one video that you won't want to miss. Everything from the hair and accessories to the brows — dear lord, the brows —looks exactly like the character. You won't be able to look at Kim K the same ever again.
At first glance, there's no denying that Kardashian and Princess Jasmine have some similar features. Apparently an hour with Johnson, a makeup artist and YouTuber, and she's full on ready for the silver screen. Kardashian posted a sneak peek video with full character makeup, wig, and outfit, and it is something to see.
The likely drawn-on eyebrows are so character like that it's scary. Just like Jasmine's, they curl up at the front to really get the expression across. Add to that the oversized gold earrings, perfectly quaffed wig, and even the light blu two-piece that you know and love, and you have one in-life princess moment.
Unfortunately, you'll have to wait a bit longer to see the full tutorial though. According to the Instagram stories video, the full step-by-step look will be available on Johnson's YouTube page sometime soon.
Kardashian has been hopping on popular YouTubers' channels since the launch of her KKW Beauty line. She has showed up on Patrick Starr's, Jaclyn Hill's, and Desi Perkin's page so fan. This is the first time that she's done a Disney character tutorial though. There's no word yet on if it was Kardashian's or Johnson's idea.
This isn't the first time that Kardashian has dressed up as Jasmine though. Kardashian had a Halloween post in 2016 where the entire family got into the Aladdin spirit. Kim and North dress as Jasmine and Saint was Aladdin. They even had a magic carpet on the floor, according to People.com.
"Now you know Kim loves Halloween. She couldn't disappoint North once she found a Princess Jasmine costume from back in the day," Rob Kardashian wrote on his sister's website back in October 2016.
"North is crazy into Princess Jasmine right now. So being the good mommy she is, she wore her old princess Jasmine costume to match North! They got a magic carpet, lamp and Saint had to be Aladdin. Kourt threw a Halloween dinner for the fam. This will be my life next Halloween!"
Kardashian also dressed up as the character for Halloween in 2009. That's four years before North even came along. She rocked it every single time, but the two times before Johnson's upcoming tutorial were a lot less glam. Kardashian opted for a full face of makeup, but kept her own brow shape.
Fans are dying to see the entire tutorial form start to finish. People are also eager to see if North loves the look. If it's anything like the last time that Kardashian rocked the Disney look, my guess is that she did. Here's what people have to say about the first look at the tutorial.
She's already a princess, so this already makes so much sense.
Even Jasmine herself can't believe it.
This look is almost too good.
She looks more like Jasmine than she does herself.
All the heart-eye emojis to her.
People love the tutorial and they haven't even seen it yet.
When the emoji explains your feelings perfectly.
If the hype around the sneak peek video is this good, then you can only imagine it's going to be a fan-favorite when it comes out. It looks like Halloween has come early.