The Internet Trusts Kim K So Much, They'll Buy Her New Perfume Without Being Able To Smell It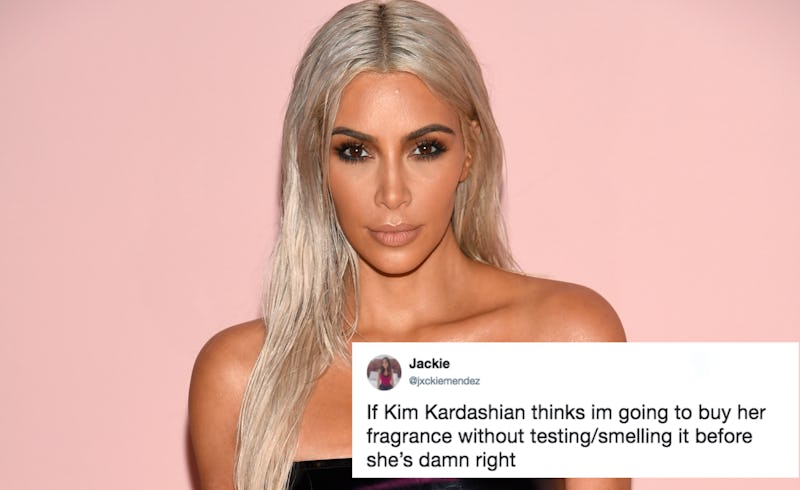 Dimitrios Kambouris/Getty Images Entertainment/Getty Images
You can now bathe your body in the scent of pure royalty. Kim Kardashian West just released three new scents as part of her inaugural KKW Fragrance launch, and the beauty mogul is using quite a unique business model to sell the trio of perfumes. Though finding the perfect fragrance often relies on smelling a ton of samples to find The One, Kim K's perfumes are being sold via sheer celeb power alone. That's because you can't even smell these fragrances before you buy.
The fragrances are being sold completely online, meaning customers have to throw caution to the wind when purchasing. After all, the product is something they've never touched, smelled, or experienced IRL. But fans seem to have little problem completely trusting Kim with $65 bucks in exchange for a crystal-shaped perfume they haven't vetted with their own nostrils.
With a limited supply of each fragrance and a promise of a one-and-done sale, Kim has created a pretty brilliant business model for her perfume launch. According to WWD, only 300,000 bottles of the fragrances are in existence, shaking out to 100,000 units per scent. For fans, this means that purchasing the product as soon as possible is the only way to be a part of a special club that can claim the exclusive fragrances as their own. Kim K's supporters are so afraid the fragrances will sell out in an instant that they are scooping them up on an impulse, no sniffing required.
But while you can't actually smell the scents, customers aren't totally in-the-dark when it comes to what they are buying from the KKW empire. Kim K and her beauty krew have given buyers a pretty comprehensive break down the three different scents and how they differ.
The original scent, Crystal Gardenia, features top notes of gardenia, water lily, Anjou pear, and pink grapefruit. Crystal Gardenia Oud includes floral notes of lavender, rose, and jasmine, and gets an woodsy kick from bergamot, oud, patchouli, and amber. Lastly, Crystal Gardenia Citrus is a lighter option, mixing citrus and musk together.
Even with this nifty scent guide, people are still amazed at Kim's genius marketing scheme for the launch — and amazed that she's still making bank with no brick-and-mortar sales platforms. Twitter users, who tend to be the most vocal people in existence, are sounding off on the genius plan with both admiration and eye rolls.
You have to respect the business brilliance of the Kardashians.
I mean, even if it isn't your scent, you are owning a piece of Kim K. history.
Sure, it's weird. But it's a Kim Kardashian product. She's going to make a sale no matter what, simply because her empire is involved.
You can't, Naomi. And that's definitely part of Kim K's evil plan.
After dropping almost $80 bucks, this fan is declaring the scents her new go-to fragrances without even a sniff. Now that is loyalty.
If Kim likes it, it has to be good. Right?
No matter what the perfumes smell like, the people know they will finally smell like a Kardashian — and that means they will smell like more than $1 million bucks. More like millions and millions and millions. A mere $65 is worth every penny for that opportunity.
To get in a gardenia and crystal craze, head on over to KKW Fragrance to scoop up a pretty glass bottle before the limited edition perfumes are all gone. If you hesitate simply because you can't smell the scents IRL, you might miss out on the exclusive fun. But make no mistake, that's exactly how Kim Kardashian intended it to be.