Kim K & Kanye Are Getting Flak For Meeting With Another Controversial President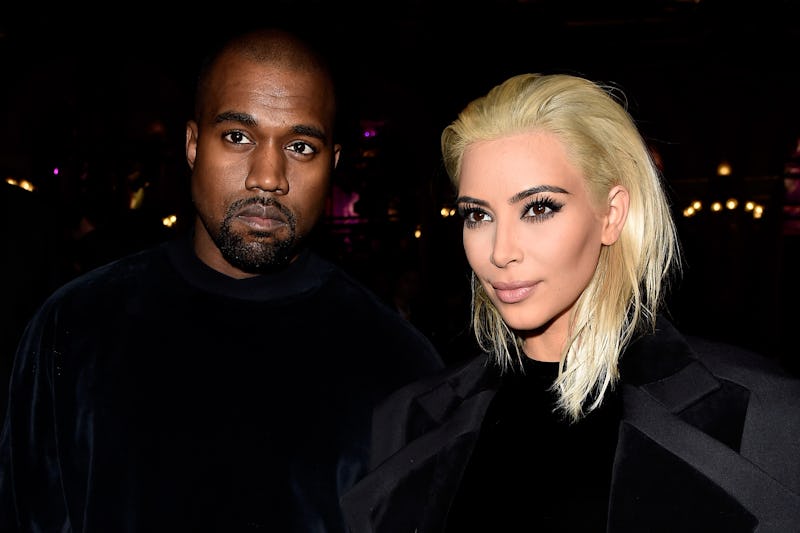 Pascal Le Segretain/Getty Images Entertainment/Getty Images
One of Hollywood's most famous couple's visit to Uganda is under public scrutiny. According to a TIME report, Kanye West and Kim Kardashian's meeting with Ugandan president Yoweri Musevini was slammed by critics who expressed concern about his sordid record on LGBTQ rights and political freedom.
The celebrity couple's trip to Uganda took place on Monday where West gifted Museveni a pair of white sneakers from his Yeezy product line. At the time, the musician said, "We're not here to take a photograph and look like we're doing something positive. This is going to be like Jurassic Park." The rapper didn't elaborate what he meant by that.
The meeting between the celebrity couple and the Ugandan president brought Museveni's politics into the spotlight. In 2014, for instance, Museveni introduced the Anti-Homosexuality Act, which would penalize homosexuality by sentencing gay Ugandans to life in prison. Later on in the same year, it was invalidated by the Ugandan Constitutional Court.
On Twitter, Museveni — who has been the president of Uganda since 1986 — said that he "welcomed" the celebrity couple to the country and praised the apparently productive conversation they had. "I welcome American entertainment stars Kanye West and @KimKardashian to Uganda," he said. "I held fruitful discussions with the duo on how to promote Uganda's tourism and the arts. I thank Kanye for the gift of white sneakers. Enjoy your time in Uganda. It is the true Pearl of Africa."
While the Ugandan president may have been glad to meet the couple, others condemned the exchange. In one example, Queer Eye's Jonathan Van Ness tweeted, "Hopefully Kim and Kanye are in Uganda advocating for its LGBTQ citizens who face a government that has one of the worst records on LGBT rights and safety anywhere in the WORLD, giving President Museveni a pair of shoes, while he advocates for gay men to be burned in public."
According to TIME Bobi Wine, a Ugandan musician-turned-politician, said that it was "immoral" of the Hollywood couple to "rub shoulders" with the Ugandan president. Wine said West was "hobnobbing with a president who has been in power now for 32 years and restricts any freedom, a country where opposition activists are tortured and imprisoned."
The politician has a longstanding disagreement with Museveni. According to a Guardian report, Wine was detained in northern Uganda in August where he was reportedly severely beaten for campaigning against Museveni. The Ugandan government denied accusations that its forces injured Wine.
Human Rights Watch's director for Africa, Mausi Segun, also told TIME magazine that despite the Ugandan Constitutional Court invalidating the Anti-Homosexuality Act, members of Uganda's gay community continue to face repression.
"People who express LGBT sexuality in public have received threats and intimidation," Segun told TIME. "The general homophobic tendencies in the Ugandan public still exist."
The power couple could use their influence for good, Segun added. "If Kanye and Kim would use their popularity and their access and the platform that they have to push for human rights, we would welcome that," she told TIME. "The big issues are repression of activists and political opposition leaders. A lot of this has been really violent."
Although Museveni noted that he discussed tourism and arts with West and Kardashian, reports did not reveal the exact remarks between the Ugandan president and the couple.