Kim K's Birthday Photo Of Kanye Is The Most Adorably Extra Photo You'll Ever See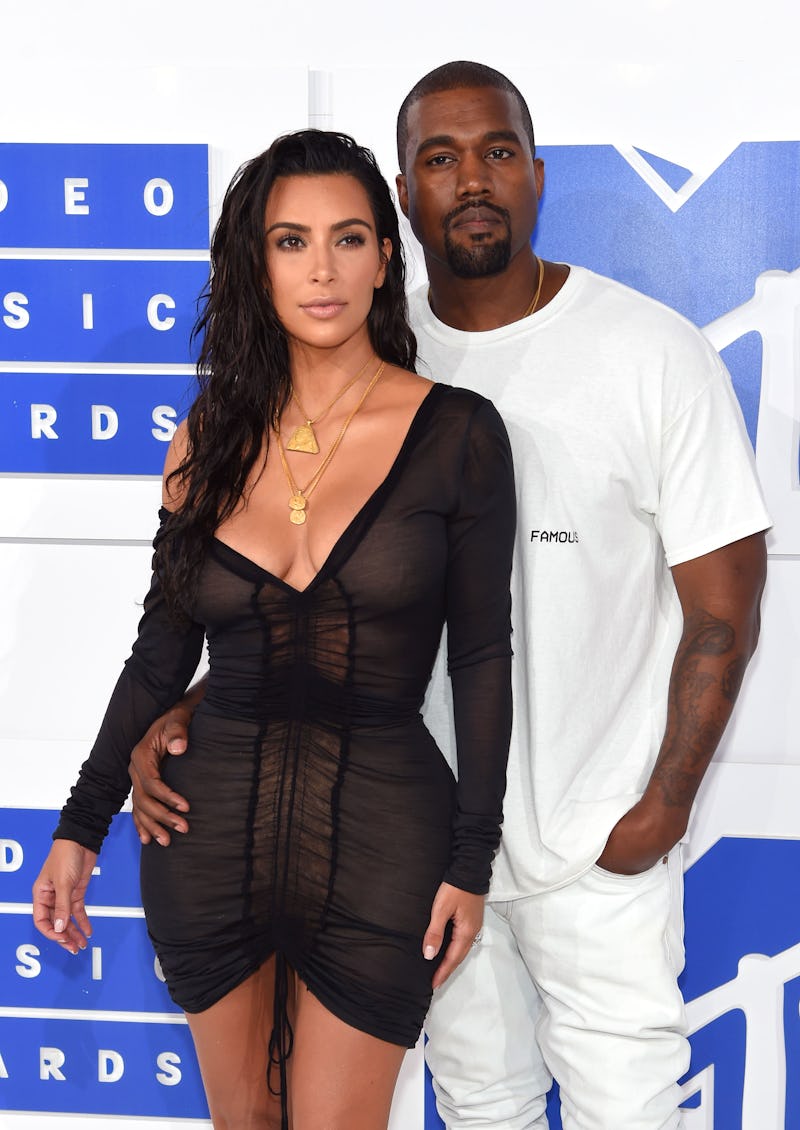 Jamie McCarthy/Getty Images Entertainment/Getty Images
You might want to put on some heat resistant goggles, because some piping hot Kimye kontent is headed your way. Last June, Kim Kardashian surprised Kanye West with a trip to Japan for his 40th birthday. It sounded like the two had a tremendous time. And on Thursday, Kimmy K surprised the planet with a #TBT photo of Kanye on the way to his birthday vacation. It looked like Kanye had a tremendous time.
"Throwback to that time I surprised Kanye with a trip to Japan for his birthday!" Kim tweeted. "He had to guess where we were going based on the snacks and magazines I had the plane stocked with! He was happy!"
And she has the picture to prove it. Foodstuffs, a private jet, a pile of reading material, and a visibly delighted Kanye are all present and accounted for. His smile is so warm, it could probably melt that ice rink that Kris Jenner put up in her backyard for the Keeping Up with the Kardashians Christmas special. Man, this picture rules.
By all accounts, it seems as though Kimye's getaway was a blast. When she appeared on The View last summer, Kim talked a bit about her and Kanye's birthday excursion. She told the hosts,
"I surprised him on a trip to Japan, a place that he loves to go, to get away and get inspiration. And it was great for me because I'd never been. We'd always talked about how we really wanted to go together. When you can sneak away on a trip and have no media and have nothing there. We took the train, we did all of this stuff that was so… no one bothered us. It was great."
Is putting Kanye on a Japan-bound plane full of snacks for his 40th trip around the sun not the most Kimye move, or is not the most Kimye move? First of all, it's an elaborate and creative birthday surprise, which calls to mind moments like that party Kanye threw for Kim at the movie theater with the fake baby bumps. And as for the heaps and heaps of snacks? If those photos from the baby shower Kim threw for Chrissy Teigen prove anything, it's that Kimmy K sure brings the heat when it comes to facilitating an A+ grub situation. And as far as taking a loved one on a trip without giving them the full scoop beforehand goes? Do you remember when Kanye and Kim boarded a plane, flew to San Francisco, went to AT&T Park, and got engaged? ...That's a rhetorical question. Of course you remember that legendary moment.
Also? Don't forget that Kimye went to Japan after they celebrated Kanye's birthday with their family in the Bahamas. Last June, E! News reported that Kanye, Kim, their kids, and some pals rented out a villa at Baker's Bay Golf and Ocean Club for some early b-day festivities. E! News' source claimed,
"Kanye wanted to plan this vacation for their family as it's been awhile since they have taken a vacation together as a whole. Kim really needed time to relax and wants to spend quality time with Kanye and he is going out of his way to make it special."
You know when you've reached the tail end of an incredible vacation but you aren't ready to go back to real life? Imagine someone being like, "Surprise! Vacation time is not only not over, but you're about to start a second vacation in another location." And imagine that someone is Kim K. And imagine you are Kanye. And now you're smiling as hard as Kanye's smiling in that picture.