The Latest Kylie Jenner Pregnancy Clue Involves A New Kardashian Family Christmas Photo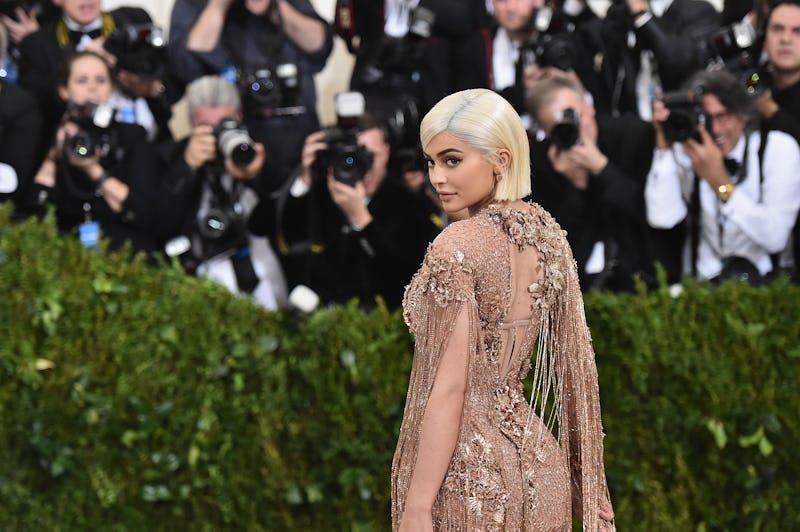 Mike Coppola/Getty Images Entertainment/Getty Images
For weeks now, the internet has been on edge, waiting for Kylie Jenner to confirm the pregnancy that has been rumored for weeks. And while that hasn't happened just yet, we might have another clue. On Monday, Jenner was missing from the Kardashians' new Christmas photo, and, according to a source reportedly close to the famous fam, she didn't ice skate with them, either. Hmm. Very interesting, Jenner. (Bustle has reached out to her reps for comment, but did not receive an immediate response.)
Don't worry, this isn't the official Christmas photo — just one that the family took while filming a new Keeping Up With The Kardashians holiday special that will air later this year. But, still, it's very telling that Jenner was absent. After all, it would make perfect sense for her to sit out the ice skating portion of the day if she felt like it wasn't safe while she's with child. Or, to be fair, she could have sit out because she just doesn't like ice skating, but who doesn't like ice skating? Especially when it's Christmas themed?
Kris shared the photo on Twitter, and, despite the fact that it's October, you'd think the picture was taken on December 25. Everyone's there — including legendary Olympic figure skater Nancy Kerrigan and Santa and his elves — except for Jenner. Well, and her older brother Rob Kardashian, but it's pretty normal for him to skip out on family events these days.
An insider told People that not only did Jenner not ice skate, but her sister, Khloé — who is also reportedly pregnant — was especially careful. "They taped a Christmas special at Kris' house," the source claimed. "Kylie was there, but didn't ice skate. She kept in the background, but seemed great. Khloé took it easy as well. It was a scheduled taping."
Even though we don't have confirmation on what's going on with Kylie or Khloe yet, this new development definitely adds to the pile of clues that fans have been searching for. And since neither of them are talking, clues like this one are all fans have to go by until they clear things up. Hopefully, by the time this special airs, all will be revealed.
Kim also mentioned the Christmas special on Twitter. Although she didn't mention Jenner's absence, she did explain that they have to film it early so it's ready to air during the holiday season, and that the special will include the prep that goes into their family gatherings at that time of the year. With such a big family, it has to be exhausting.
Unfortunately, Kardashian didn't go into any more detail than that (other than the fact that she's trying to get her family together to shoot their traditional Christmas card photo), and she definitely didn't drop any hints about her younger sister.
Then again, it's not like we really need hints from Kardashian, because we're getting plenty from Jenner herself — kind of. Even though she's not addressing the issue directly, lately Jenner has been sharing social media posts that seem to be her way of teasing fans before she sets the record straight on whether or not she's pregnant. Between photos of cinnamon rolls, pink and blue phone cases, and captions that involve the word "baby," it's like she's trying to keep us guessing.
It's hard to tell if Jenner (or anyone else in her family) is expecting without an official announcement, but, knowing this family, she probably has something amazing up her sleeve for when she finally decides to make the big reveal. Until then, all we can do is keep analyzing her Instagram and Snapchat photos like we're all turning into Nancy Drew.