Kim Kardashian West's Emmys Dress Was Basically A Repeat Look From Last Week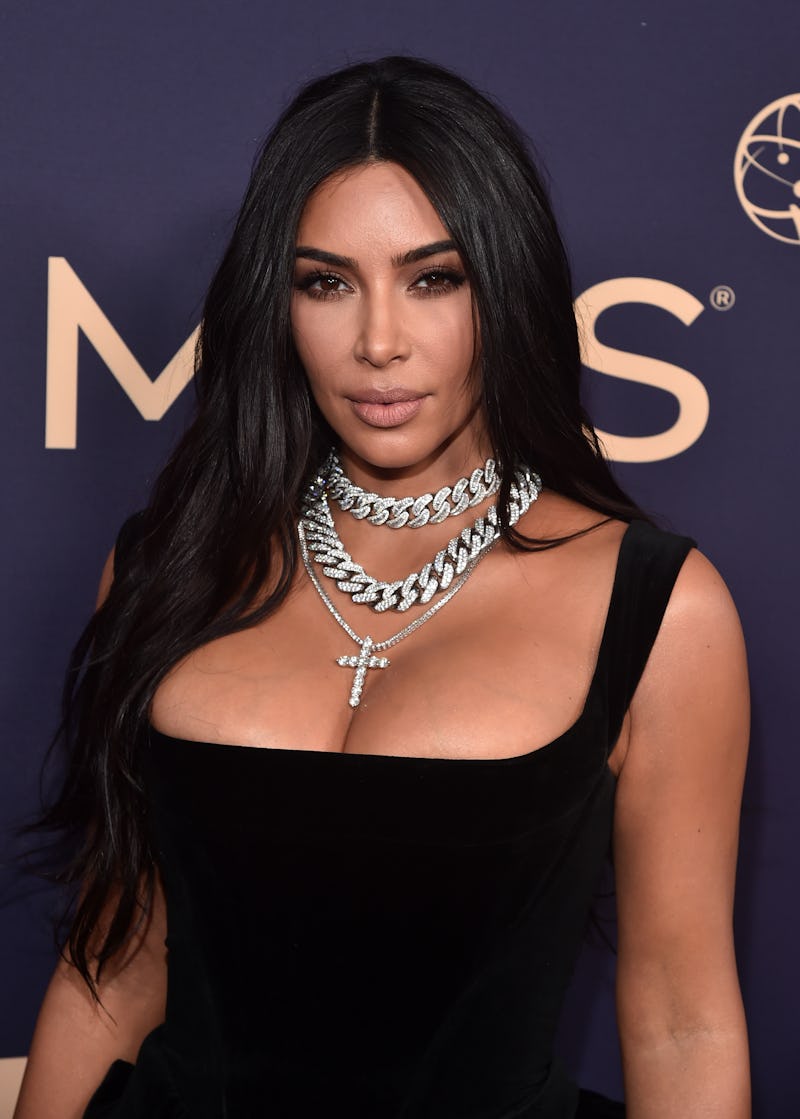 Alberto E. Rodriguez/Getty Images Entertainment/Getty Images
The queen of reality television has arrived at TV's biggest night — and of course, she showed up with a sophisticated bang. For the 2019 Emmys, Kim Kardashian West wore a long, black, velvet gown by Vivienne Westwood and lots of silver jewelry. Both on and off the red carpet, Kardashian West has been favoring black and silver outfits lately, so this look was quite in line with her recent MO. In fact, it was almost the same outfit she wore to the Creative Arts Emmys a week before.
Kardashian West was added to the list of presenters during the week before the show. She also tweeted about the gig just few hours before the red carpet started. In the tweet, she shared photos from the other two Emmys ceremonies she's attended: once in 2010, when she sang with Jimmy Fallon during the show, and once in 2009. While Kourtney and Kris accompanied her for those carpets, respectively, her younger sisters Kendall Jenner — who is also presenting during Sunday night's event — joined her this time around. While their dresses were completely different (Jenner's Richard Quinn number featured a red floral with a black, leather, turtleneck at the top) they coordinated just enough to complement each other while being interviewed on the carpet.
Though it's been a few years since KKW attended the Primetime Emmys, she did make an appearance at the 2019 Creative Arts Emmys on Sept. 14. For that show, Kardashian West also wore a black velvet gown, though this one was a one-shouldered, column dress. And, of course, her entire makeup look, created by artist Mary Phillips, was done with KKW Beauty products, according to a press release from the brand.
While the look isn't identical to the dress Kardashian West wore on Sunday night, it's certainly close enough to make viewers do a "Wait, was that an outfit repeat?" double take. While the beauty mogul let the dress speak for itself at the Creative Arts Emmys, for the Primetime ceremony she amped up the look with chunky, silver necklaces that fans on Twitter were fully obsessed with. Her makeup was KKW again, though this time it was done by her longtime glam go-to, Mario Dedivanovic. According to a press release, Dedivanovic prepped her skin with Tatcha products, then used items from her KKW x WINNIE and '90s Mattes collections to create the look. Kardashian West wore her long hair down and slightly wavy, similar to her 2019 Met Gala 'do — though certainly not as wet. "Since she was wearing an elegant dress we wanted to keep the glam soft and classic," her hairstylist Chris Appleton (who used ghd hair tools to get the look) explained in a press release.
While presenting the award for Outstanding Competition Series (which RuPaul's Drag Race won) on Sunday night, the reality star sisters got a chuckle out of the audience when they claimed to be "real people, just being themselves" on their own show. Sure, their lives might look a little different (or, you know, completely and entirely different) from most of ours, but would we even be watching if they weren't? And when they look this good, I know that I, for one, am glad to be keeping up.