Even Kim Kardashian Can't Keep Up With Kylie Jenner & Travis Scott's Relationship Status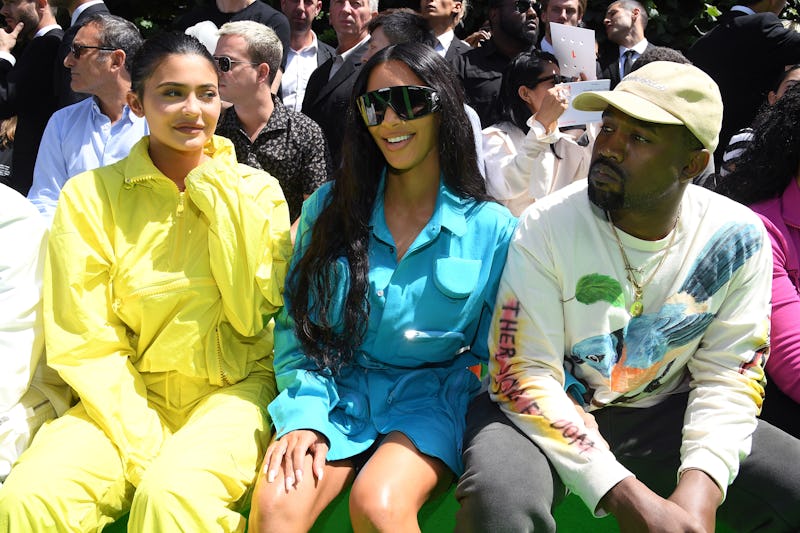 Pascal Le Segretain/Getty Images Entertainment/Getty Images
What is going on with Kylie Jenner and Travis Scott? Are they engaged? Are they married? Or are they just really into using "husband" and "wife" as pet names? There are no definitive answers at the moment. Even Kim Kardashian admitted she has no idea if Kylie and Travis are engaged or married in a recent interview with Entertainment Tonight. Yes, even her own sister is struggling to keep up with Kylie's relationship status. (Bustle reached out to Kylie and Travis' reps for comment, but did not receive an immediate response.)
Kim explained to ET, "You know, I literally need to ask her." Wait, how has she not asked her already? Then again, she's clearly a busy woman. The reality star revealed,
"That is going to be my next question on our group chat. We were chatting on the way over here and I think we all think that's like, you know, what they call each other. But I have no idea."
However, Kim did add, "I don't know if I'll share the news with you guys, but I'll have to ask myself." Fair enough. In comparison to her other famous family members, Kylie really does like to keep her personal life pretty private. She hid her pregnancy until after she gave birth to Stormi Webster in February. If Kylie is married, she might not acknowledge the milestone for years — if at all.
Kylie has the unparalleled ability to keep her life under wraps, but not completely private. She teases just enough to keep people guessing and constantly intrigued. She and Travis constantly drop hints that they are engaged or married, or at least that's what it seems like to her fans... and possibly Kim.
The rapper and the makeup mogul are just all about the (possibly misleading) pet names these days. Travis referred to Kylie as "wifey" when he posted about her birthday in an Aug. 10 Instagram post.
In an October Instagram Story, Kylie shared a photo of Travis performing on Saturday Night Live and wrote "hubby" as the caption along with some heart eye emojis.
At his Nov. 17 concert, Travis paused his performance for a second to give Kylie and Stormi a shoutout. As seen in fan videos on Twitter, he told the crowd, "My beautiful wife, she came out. My beautiful daughter, she's here too. I love y'all so much." He even said "wife," instead of wifey. But even so, that's still not an official confirmation.
Meanwhile, Kylie called her man as "hubby" in the caption for a photo she posted backstage from his concert tour on Nov. 27.
Then on Dec. 3, Kylie shared a romantic photo of the two of them on her Instagram Story. She also included a diamond ring emoji. Does this means that he gave her a ring?
As per usual, no one knows for sure. But it's worth noting that sources have denied engagement and marriage rumors in the past. In August, a source told E! News, "They are not engaged right now but have talked about it, and it's only a matter of time."
Neither Kylie nor Travis has confirmed the engagement/marriage rumors. However, they haven't denied the claims either. Instead, they're just living their best lives. Is it a coincidence that they've kept the speculation going with their nicknames and emoji usage? That's up for debate, but it's very clear they've piqued people's curiosity about their relationship status, even their own family members.