Kim Kardashian's Favorite Drugstore Skin Care Products Include A Face Mask That's Only $3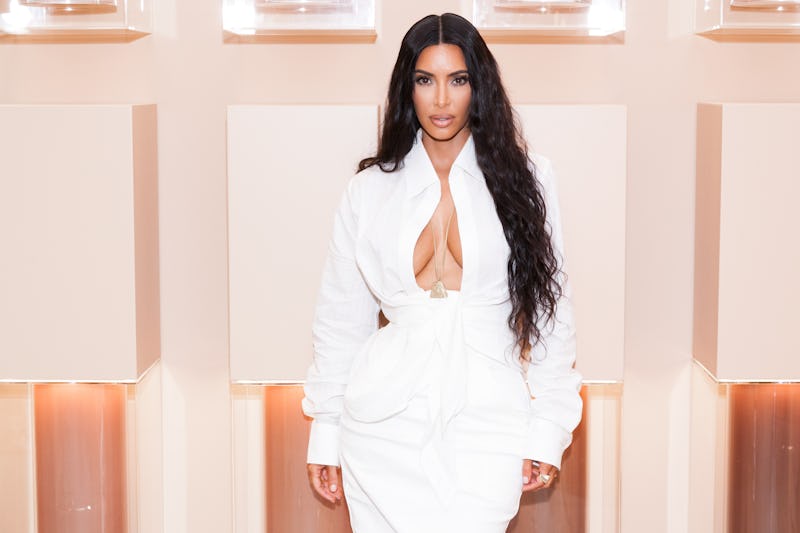 Presley Ann/Getty Images Entertainment/Getty Images
Celebrity skin care is expensive. That's not exactly shocking. If you've watched a pre-red carpet special about how stars get ready for red carpets, their skin care costs will make your student loans look paltry. As it turns out, though, Kim Kardashian's drug store skin care products are affordable, and yes, she seems to actually use them. Just how cheap are these goods she swears by? There's a sheet mask that only costs $3. Yes, really.
According to Kardashian's Twitter, this week on her app, she's dedicating her content to skin care. In doing so, she's dropping some serious product recommendations. While not all of them are exactly budget friendly, there are some options that we peasants can afford to shop. Whether you've got a Target, a Walgreens, or a CVS nearby, you can try to mimic Kardashian's skin care routine. You know, minus the La Mer and Guerlain (unless you can snag those, too, in which case, lucky you!).
As it turns out, Kardashian's got a drugstore favorite for nearly every step of a typical skin care routine. From cleansing to masking to moisturizing, she's got you covered if you're looking to start your own affordable routine. What are some Kardashian's most affordable recommendations?
According to InStyle, Kardashian's picks don't even reach $100 total making them far more attainable than many other products she's talked about using in the past. The most wallet-friendly option, though, is actually a sheet mask from classic brand Pond's.
The Pond's Hydrate + Glow Sheet mask rings in for only $3, but if you shop the product at Target, it comes with a bit of discount and will only run your $2.49. According to Target's site, the mask is both a brightening and hydrating formula (hence, it's name) that's phthalate and paraben free. Like most sheet masks, it requires no rinsing and features an adhesive quality that means you can still walk around your house and not have to worry about it slipping off onto the floor.
If you want to embrace Kardashian's recommendations with a product perfect for pampering yourself, this one seems to be it.
If you're looking for more of the basics, though, and don't think your routine is quite ready for extras like masks, Kardashian also has drugstore products on her list that could make up even the most simple of routines. One of them is actually a cult favorite cleanser.
The Cetaphil Daily Facial Moisturizer is Kardashian's recommendation for a face wash, and given its popularity, her choice makes total sense. Not only does her little sister Kylie Jenner use the brand's moisturizer, but the face wash was also declared one of CVS's best selling beauty products of 2017.
As for what the wash claims to do? It's a non-irritating formula that would work for even those with sensitive skin. It won't strip the skin but does help to control oil. Plus, if you end up loving the product, there's also one formulated to be used on both face and body.
Kardashian's drugstore skin care products expand all the way into the world of retinoids for anti-aging purposes like the RoC Retinol Correxion Deep Wrinkle Anti-Aging Night Face Cream. She's also got some oils mixed in as well, like Bio Oil for $15 that help take care of scarring and stretch marks.
What about basic skin care like moisturizer and eye cream? She's got you there, too. Kardashian chooses the Olay Daily Regenerist Whipped Facail Moisurizer for $30 and the Neutrogena Hydro-Boost Eye Gel Cream for only $20.
Yes, everything is quite a steal. With everything retailing for less than $100, this is one time that you'll be able to emulate Kardashian and her beauty routine without breaking the bank.