Kim K's New Pic Of Saint & Chicago Shows Just How Much They Love Each Other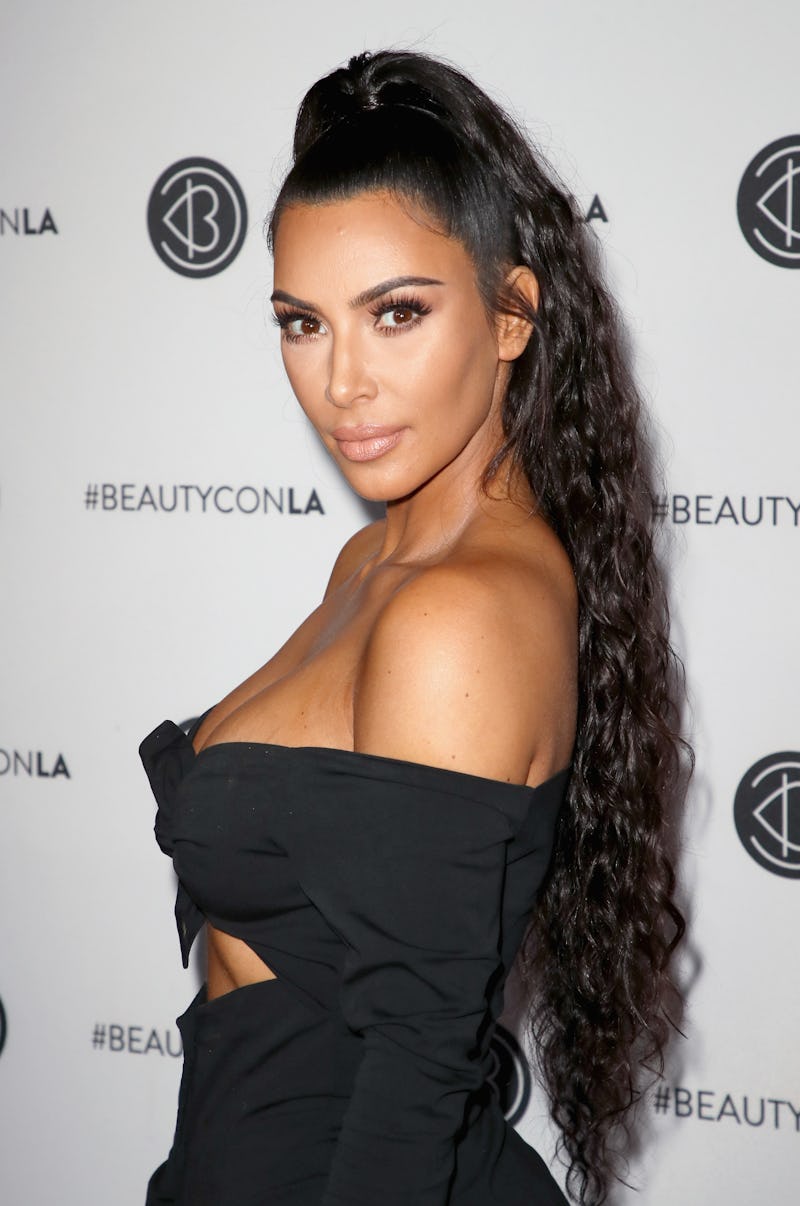 David Livingston/Getty Images Entertainment/Getty Images
Keeping up with Kim Kardashian's kids is a pretty adorable task. Just scroll through Kim K's Instagram feed and you'll learn that rather quickly. What you'll also learn from her latest post is that Saint and Chicago West are the ultimate BFFs.
On Sunday, Sept. 2, Kardashian shared a sweet photo of baby Chicago sitting on two-year-old Saint's shoulders. The little boy is all smiles as he hold on to his little sister's foot. And she also seems pretty happy with her position. Don't worry, though, Kardashian was also there to make sure nothing went wrong. "Don't worry I'm holding her up from the back," Kim K wrote in the caption of the shot of her two youngest, likely in hopes of holding off the mommy-shaming that has often been aimed at her before.
This isn't the first time Kardashian has posted photos of these best buds who also happen to be siblings. Last month, Kardashian shared a photo of Saint and Chicago together sitting side-by-side in nearly matching outfits and expressions. "These two are inseparable," Kardashian wrote. Perhaps, not all that surprising to hear since a few months after Chicago's birth she posted a photo of Saint kissing his baby sister with the caption: "He loves her so much." From the looks of this latest photo, he still very much does.
Kardashian must be very happy about how well Saint and Chicago are getting along, especially since her eldest daughter North West hasn't always been so chummy with her little brother. Kardashian has said over the years that North and Saint have a sibling rivalry that was rather frustrating for her. When visiting Live With Kelly & Ryan last year, Kardashian said that North "does not like" Saint, admitting that "it's so hard for me."
A few months later, Kardashian would amend her comments telling People, "Obviously North loves Saint, she just is still jealous." But don't worry, North's working on it. Back in May, Kardashian shared a cute photo of North and Saint taking a bath together, which showed these two can get along. Not to mention the fact that these two have nearly identical smiles. Or, at the very least have the same smile when their mom is forcing them to pose for a picture that they don't really want to take while they're rub-a-dub-dubbing.
When Kim K spoke with Ellen DeGeneres on her daytime talk show in April, she said that in a "shocking moment" North offered Saint a snack. North "literally had a can of popcorn and was like, 'Saint do you want some?' She does not share with Saint," Kim K explained, "she does not hardly talk to Saint. So that was such a big moment in my household yesterday."
Another big moment was North and Chicago sharing some quality time together. In July, Kim K shared a Snapchat clip of North bonding with her little sister Chicago. "You guys are so cute," Kardashian says in the clip of North holding Chicago.
Everyone in the Kardashian-West family seemed to be getting along this weekend. On Kim K's Instagram Story, fans could see her, North, and Saint playing football on the beach. Maybe it's why there are rumors that Kardashian and Kanye West are thinking about having another child.
Us Weekly recently reported that the couple were thinking of using another gestational surrogate for baby No. 4. Neither Kim K or Kanye have confirmed this, but from the looks of how well North, Saint, and Chicago are getting along, any baby would be lucky to have them as their older siblings.