Kim K Fired Back In An Instagram Amid Controversy Over Her Cornrows & Naked Photos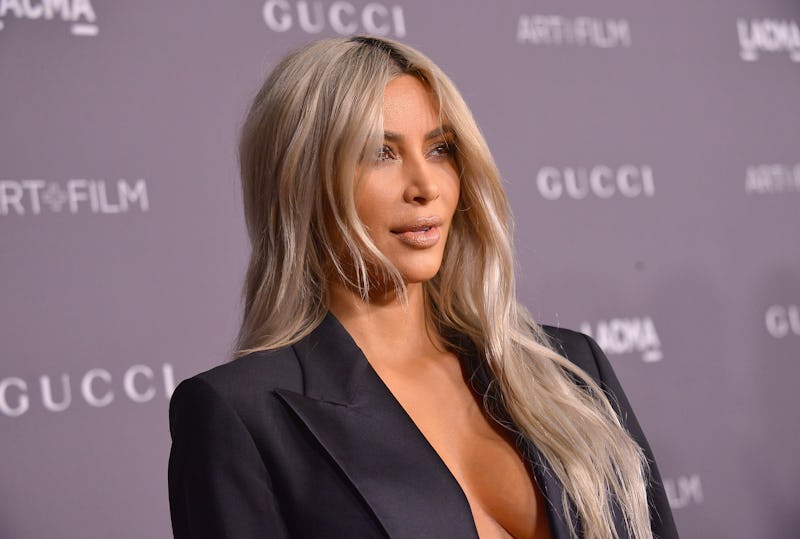 Charley Gallay/Getty Images Entertainment/Getty Images
New year, new attitude. It looks like 2018 is going to be the year of "zero f*cks" for this mogul mom-of-three. On Jan. 29, Kim Kardashian posted a bunch of topless photos on Instagram, all of which put her new, controversial cornrows on display. Out of the six total pictures Kardashian shared, only two of them have captions. She captioned the first photo of the series, "BO WEST," a shout-out to actor Bo Derek. In another photo, Kardashian is sitting on a bed in a fur coat with a phone up to her ear, and the caption reads, "Hi, can I get zero f*cks please, thanks." Sure thing, Mrs. Kardashian West. We'll send someone right up with that.
While it's not really clear what the "zero f*cks" caption is in reference to, there's a chance that it could be Kardashian's way of hitting back at her cornrow hairstyle haters, according to the Daily Mail. On Jan. 29, Kardashian debuted her new 'do via Snapchat with the caption, "Bo Derek braids," and immediately faced backlash from a few different angles. People criticized Kardashian for, one, calling cornrows "Bo Derek braids"; two, attributing the hairstyle to Derek — a white actor — instead of giving credit to the actual originators, African people; and three, for even choosing to wear her hair like that in the first place, deeming it a blatant form of cultural appropriation. (Bustle reached out Kardashian's rep regarding the backlash, but did not receive a repsonse at the time of publication.)
On the other hand, the "zero f*cks" caption might not be about the cornrow critics at all. Well, not specifically. The "zero f*cks" caption could just be in reference to any and all of Kardashian's critics, in general. Critics, haters, nay-sayers, exes, and/or shunned former in-laws. Even though we're only one month into 2018, it already kind of seems like Kardashian is maintaining a "zero f*cks"-given mood for the year.
For example: That time on Jan. 18, when she checked Lamar Odom on Twitter, clarifying that his marriage with her sister Khloé Kardashian ended after "the second or third brothel" — not "when [Khloé] was on her second or third NBA player," as Odom had said during an appearance on BET's Mancave. Zero. F*cks. Given.
Example No. 2: That time on Jan. 29 — the same day she posted the nude photos and cornrows pics — when Lindsay Lohan commented "I am confused" under a photo of Kardashian, to which the reality star replied, "@lindsaylohan you know what's confusing.....your sudden foreign accent." Zero. F*cks. Given.
Also, just out of curiosity, where might one be able to order f*cks from? Kim, can I get that number from you? I kind of love how, in the photo where she's sitting on the bed in a fur coat, Kardashian is ordering "zero f*cks" from a landline, while focusing intently on the cell phone in her hand. It's almost like she's got a browser pulled up on her cell phone, and she's looking at all the different variations of f*cks available to order. She knows that she definitely wants to order the "zero f*cks" — no question about that. But, should she also order a few more? Take your time, Kim. Get as many f*cks as you need.
We'll probably never know whether or not the "zero f*cks" caption was, in fact, Kardashian's way of hitting back at the cornrow critics. The reality star has yet to formally comment on the "Bo Derek braids" backlash, and perhaps she never will. No matter the reason behind the caption in question, fans will just have to wait and see if Kardashian decides to maintain her "zero f*cks" mood for the rest of 2018.