Kim Kardashian's Labor Day Festivities Included Familiar Faces & Tequila-Filled Watermelon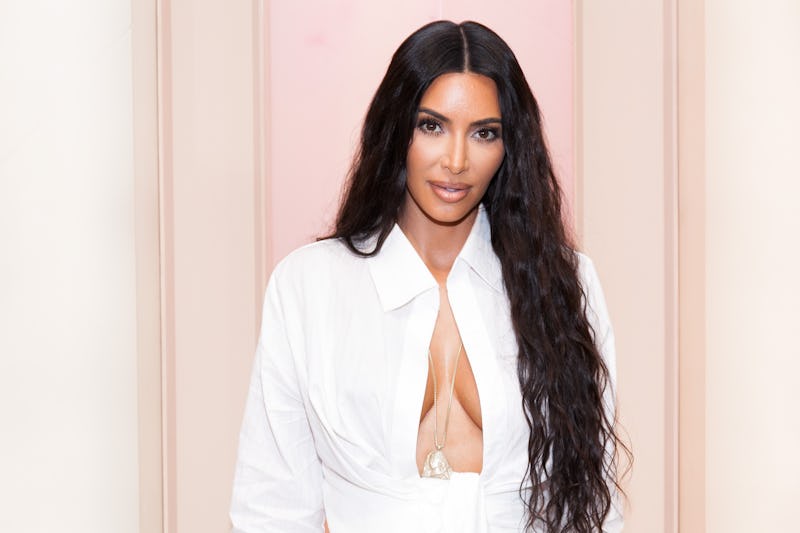 Presley Ann/Getty Images Entertainment/Getty Images
For many middle-class Americans, Labor Day plans might include eating hot dogs, grilling food, and visiting with friends and family. But low-key holiday plans can't hold a candle to the Kardashian family's Labor Day celebrations (no surprise there). Kim Kardashian's Labor Day Instagram Stories will probably make you jealous — but then again, a lot about the Kardashian family's lives probably will.
When she wasn't clarifying that she's definitely not Drake's Kiki, Kim spent the weekend at the beach with her family. Kim shared videos of her children playing on the beach over the weekend, and it's all super cute.
Later on Monday, though, Kim added videos to her Instagram Story that showcased her family's Labor Day food spread. The Keeping Up With The Kardashians star was quick to credit her family members and friends for their various contributions to the feast, too. She zoomed in on Kourtney Kardashian's impressive homemade guacamole, and she praised model Bella Hadid for her watermelon-cutting skills.
Kendall Jenner, celebrity hairstylist Jen Atkin, and grown-ish actor Luka Sabbat make appearances in Kim's Instagram posts, too, as do several other friends. There's also a video of the group cutting a hole in the side of a watermelon to fill with tequila, though Kim didn't share how effective this drinking strategy actually is.
Kourtney also shared a photo of the guacamole on her own Instagram Story, explaining that she used her mom's recipe. She also wrote that Kendall is apparently the biggest fan of Kris Jenner's signature guac, which appears to be garnished with black olives and tomatoes. Kendall, for her part, also shared images of the guacamole and of Hadid cutting the watermelon, as well as a sweet video of Sabbat playing outside with a dog. (And a game of beer pong, because, well, why not?)
It's not super clear if Kylie Jenner was at the party with the rest of her family members. She shared Labor Day photos of a pool and a basketball court, but nothing about the beach (or tequila-filled watermelons). Khloé Kardashian doesn't appear to have been at the party, either. She and Tristan Thompson, along with their daughter True, as well as Kris Jenner and Corey Gamble, are on vacation together.
And as for Bella Hadid's apparently excelling watermelon-dicing abilities, it looks like that's not the only food prep the model did this weekend. Hadid posted a photo of a whisk and cookie dough on her own Instagram story, followed by a shot of the finished cookies on a set of baking sheets.
Based on Kim, Kourtney, and Kendall's Labor Day Instagram Stories, it looks like the Kardashian family's holiday was filled with plenty of fun and relaxation. And even though not all of it is attainable for most of us, some of their Labor Day ideas are easy enough to replicate. If you really wanted to try putting black olives on top of guacamole, for instance, you might like it as much as Kendall apparently does. And while I can't vouch for the taste (or safety) of the tequila watermelon trick, that's definitely possible to try at home, too.