Kim Kardashian Just Posted A Brand-New Photo Of Baby Psalm Napping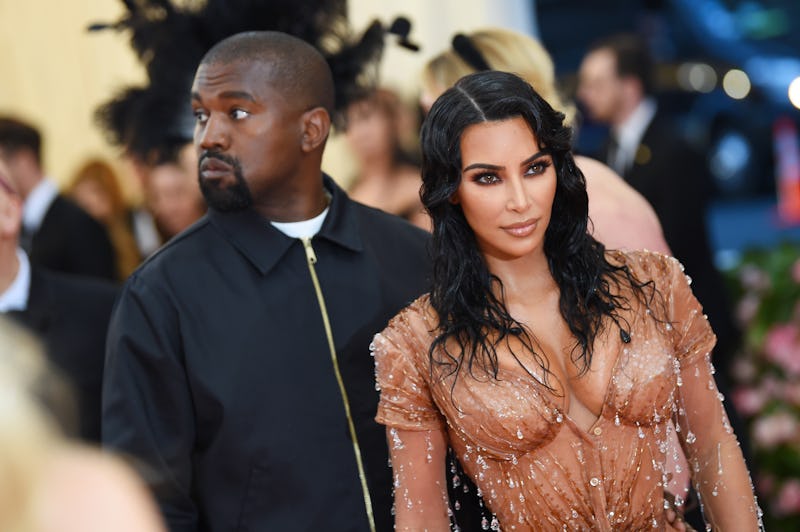 Dimitrios Kambouris/Getty Images Entertainment/Getty Images
Almost exactly one month after Kim Kardashian and Kanye West welcomed their fourth baby into the world, they're finally giving fans a glimpse at the adorable new addition to the family. On Instagram, Kim Kardashian posted a new photo of Psalm West that shows just how much he looks like his big sister, Chicago West. Additionally, the reality star's caption for the cute snap may reveal her little one's meaningful middle name.
On June 10, the Keeping Up With the Kardashians star shared an incredibly sweet photo of her son taking a nap, which just so happened to be one of the first snaps she's shared of her baby (she previously shared another photo of Psalm napping, but has since deleted the Instagram post). In the photo, you can see that Psalm is the spitting image of his sister, just as Kardashian previously said via Twitter.
As you'll recall, on May 10, the reality star revealed that her fourth child had arrived via surrogate by writing, "He's here and he's perfect!" Additionally, she let her fans know that her son looked just like Chicago, as she said, "He's also Chicago's twin lol I'm sure he will change a lot but now he looks just like her."
Interestingly enough, Kardashian's caption may just reveal her baby's middle name. She captioned her post with a simple, "Psalm Ye," which could mean that his name ties back to his dad's very own nickname. It would certainly be special if Psalm's middle name honored his father. But, the couple has not confirmed whether or not "Ye" is indeed part of Psalm West's official name.
It would be pretty major if Psalm did have a middle name, especially as Kimye's other children, North, Saint, and Chicago do not have them. You might recall that Kardashian did caption a photo of baby Chi back in July 2018 with "Chi Noel," with Noel also being the makeup mogul's middle name, but she later revealed on her website that it is not her child's official middle name just yet (as per Cosmopolitan UK).
She also said that she may just give her daughter the middle name of Noel after all. "I'm going to add one", she continued. "I haven't really been into middle names but it's like I really wanted a name that was short." She continued to revealed just why Noel may be perfect for Chi (despite what West says),
"A one syllable name. Noel is my middle name and it's not a one syllable name but it's short. Like I love the name Noel. Kanye does not. So I unofficially instagrammed Chi Noel and I was like I'm doing this because I want her middle name to be Noel."
So, if Psalm's middle name is indeed "Ye," it wouldn't just be a special tie back to his father, it would also be a big departure from Kardashian and West's previous naming trend. On the other hand, maybe the KUWTK star is just trying out the "Ye" name to see if it fits, just as she did before with baby Chi.
Whether or not Kimye's son does actually have a middle name, one thing is for certain: Psalm (Ye?) West is the cutest little addition to the Kardashian-West family.