The Middle Name Of Kim K's New Baby Remains A Mystery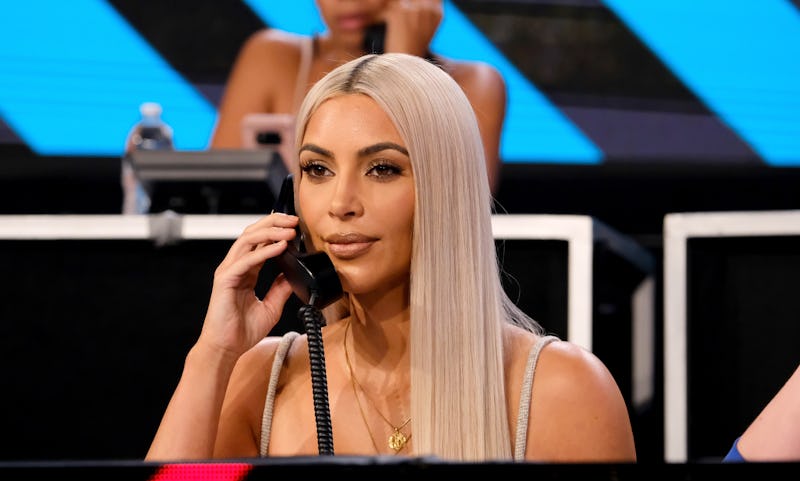 Kevin Mazur/One Voice: Somos Live!/Getty Images Entertainment/Getty Images
While fans were concocting all kinds of first names for Kim Kardashian's third baby, they missed what now seems like the most obvious one. Now that everybody knows Kardashian named her baby Chicago West though, there's still a major question: What is Chicago West's middle name? Does Chicago West even have a middle name? Will she ever? The short answer to all of the above is "probably not," although there's truly no way to know anything except what the Kardashian-West clan chooses to tell us. But you can do your own speculation about the famous youngster using the precedents set by her older siblings, and that detective work starts now.
UPDATE: On Tuesday, Jan. 23, TMZ obtained a copy of Chicago West's birth certificate. Based on the document, the latest member of the famous family's full name does not include a middle name. Mystery solved.
EARLIER: With the birth of Kimye's last child, Saint West, there was a lot of speculation about a possible middle name. Multiple sources including People were reporting that the baby would be given the middle name "Robert" in honor of his mother's late father, attorney Robert Kardashian. But Saint West's birth came and went without an announcement of any middle name, and that box was left blank on his birth certificate, which precludes much more speculation.
The same goes for the family's first child, daughter North West. The 2013 document lists a first and last name for the now-4-year-old, but no middle name. The omission caused some commotion at the time, because it's not too common in Hollywood, or elsewhere. Just five months after North West's birth, The Daily Mail posted an article reporting that 80 percent of newborns were given a middle name, with the trend seeing a significant increase in the last century. (In 1911, they claim that only 37 percent of children were given a third name.) That's a large majority, which might explain the ongoing fascination.
But three babies later, fans seem to have begun to accept the Kardashian-West's pattern. It helps that they're consistent, certainly, but that's hardly a new trend in the Kardashian household. They've always leaned hard into any name decision — like giving all five Kardashian-Jenner girls K-names, for example.
So even though Chicago West's cousins Mason Dash, Penelope Scotland, and Reign Aston Disick all have middle names, fans shouldn't bother digging much deeper to uncover hidden West middle names. It's possible that the three children have unofficial monikers that they use as middle names; something like "Robert" or "Donda" to honor Kardashian and West's late parents, as has often been speculated.
After all, the two parents have meaningful middle names themselves. Kardashian was born "Kimberly Noel Kardashian," with Life and Style speculating that the middle name may have come from the fact that with an October birthdate, the reality star was likely conceived around Christmas. Kanye West's middle name is "Omari," which Genius tells readers means "only one" in Swahili. In short, adding a middle name is a great way to also add meaning to your baby's name. But when you're a child of two of the most famous people on the planet, what more is there to say, really?
The names themselves are unique enough that they can stand alone. (How many Norths, Saints, or Chicagos do you know?) And plus, Kimye had such a hard time even coming up with first names that if they'd had to add middle names too, the whole brood might still be running around nameless. As recently as December, a month before her surrogate was due, Kardashian told Ellen DeGeneres that she and her rapper husband still hadn't come come up with anything. "We're freaking out," she told the host, "We have no name."
After much thought, the parents have clearly now settled on something unique and meaningful to both of them. And middle name or no, it matches up perfectly with their two older kids, so really, what more can you ask for?