Kim Kardashian's New Photo Of Saint & Chicago May Be The Cutest Sibling Snapshot Yet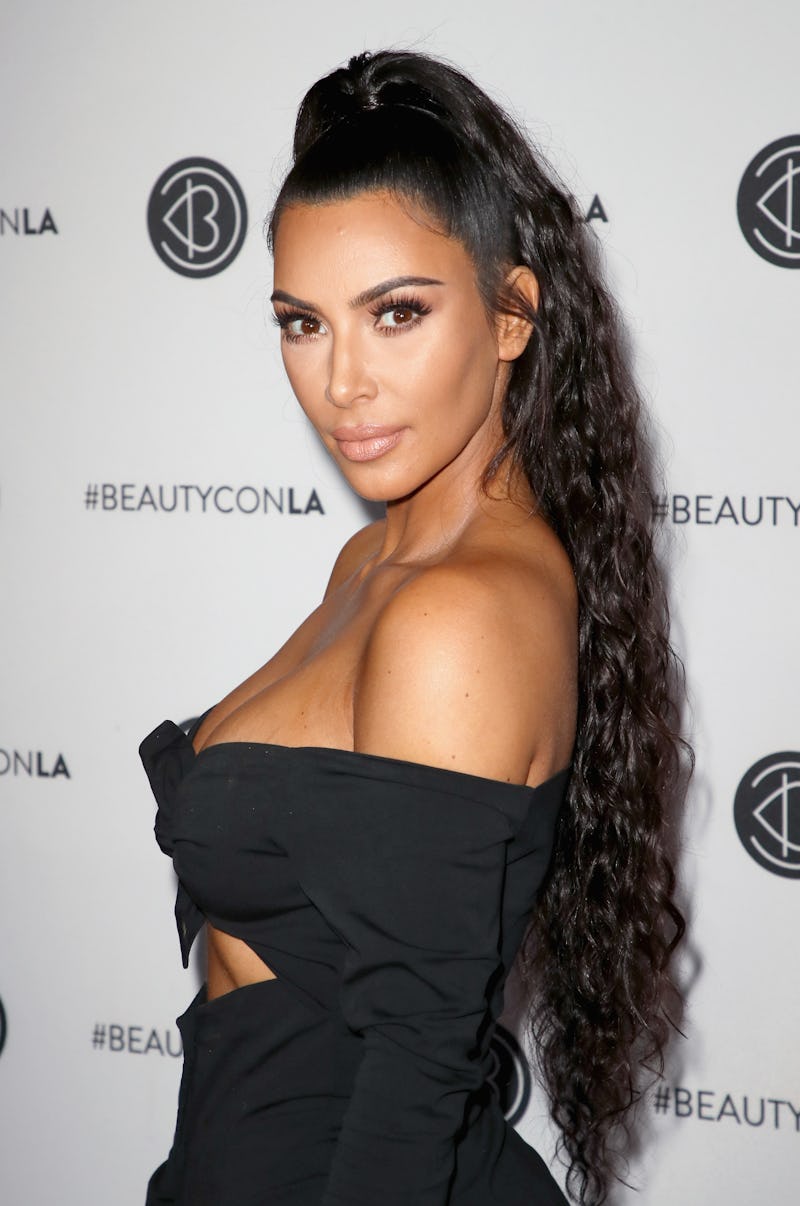 David Livingston/Getty Images Entertainment/Getty Images
Oh, siblings. Can't live with 'em, can't live without 'em, right? The latter half of that phrase seems much more relevant than the former when it comes to the Kardashian-West kids. For corroborating evidence, check out Kim Kardashian's latest photo of Saint and Chicago, which the powerhouse mom of three shared with fans via Twitter on Wednesday morning, Sept. 26. Seriously, if anyone needed more proof that these sweet siblings share a bond far greater than just their genetic one, this is it.
"morning cuties," Kardashian tweeted, captioning a precious black-and-white photo of her two youngest children paling around during what looks like a wholesome early-morning hangout session. After taking a quick look at the snapshot, it seems "cuties" hardly begins to cover the scope of this particularly heartwarming example of sibling camaraderie. Effortlessly taking the term "sibling bond" to a whole new level, Wednesday's photo seems to have caught 2-year-old Saint and 8-month-old Chicago in the midst of cozying up on the floor of their family kitchen.
Kardashian's oldest daughter, North, was unfortunately missing from Wednesday's sibling shot, but here's hoping her mom gifts the internet with a picture of all three Kardashian-West munchkins together sometime soon.
Saint, for his part, is embodying all the reigning characteristics of an excellent big brother. Sitting a few inches behind Chicago — almost protectively, like he's prepared to catch his little sister if she were to unexpectedly topple over — the picture sees Saint flashing an enormous, and pretty obviously proud, grin toward the camera. Chicago might be a little young still for emotional expressiveness, but if her totally serene disposition in Wednesday's photo is any indication, then it looks like she's about as content as her brother is, evidently, totally overjoyed.
As fans of the Kar-Jenner clan at large could probably tell you, these days, it seems the only pursuit more satisfying than keeping up with the Kardashians themselves is keeping up with their exceedingly adorable kids on social media. Those fans could probably also tell you that Kardashian's latest photo of Saint and Chicago doesn't mark the sibling's first swoon-worthy appearance on their mom's social media.
Earlier this month, Kardashian shared another heartwarming picture of Saint and Chicago enjoying each others' company via Instagram. "Don't worry I'm holding her up from the back," she wrote, captioning an endearing shot of little Chicago perched atop Saint's shoulders. And while that might not have been the ideal time for Saint to practice his "no hands" approach when it comes to caring for his baby sis, Kardashian's caption seems to suggest it was all in good fun. (Plus, mom was standing right there, anyway.)
Just about a month before that, on Aug. 7, Kardashian seemed to sum up Saint and Chicago's sweet sibling companionship with just a couple of words that still managed to say it all. Captioning an Instagram photo of Saint and Chicago looking very much related (they're sporting the same facial expression and everything) sitting side-by-side, Kardashian made herself clear: Saint and Chicago aren't just siblings. Perhaps following the example set by the rest of the Kar-Jenner family, these kids are actually friends, too. "These two are inseparable," Kardashian wrote, alongside the hashtags #Chi and #Saint.
Everyone still keeping it together out there? It's no secret that pretty much any and all members of the Kar-Jenner clan's youngest generation are pros when it comes to tugging the heartstrings of internet users far and wide. That said, it does seem pretty clear (judging by their joint appearances on Kardashian's social media over the last eight months or so, at least) that Saint and Chicago's super sweet, super pure friendship is one for the books.
And, lucky for fans, that also means it's usually one for their mom's social media. Hopefully there's lots more Saint-Chicago sibling sweetness on Twitter, Instagram, and wherever else, in the months and years to come.