Khloé Is So Here For Kim Kardashian's Naked Photo Series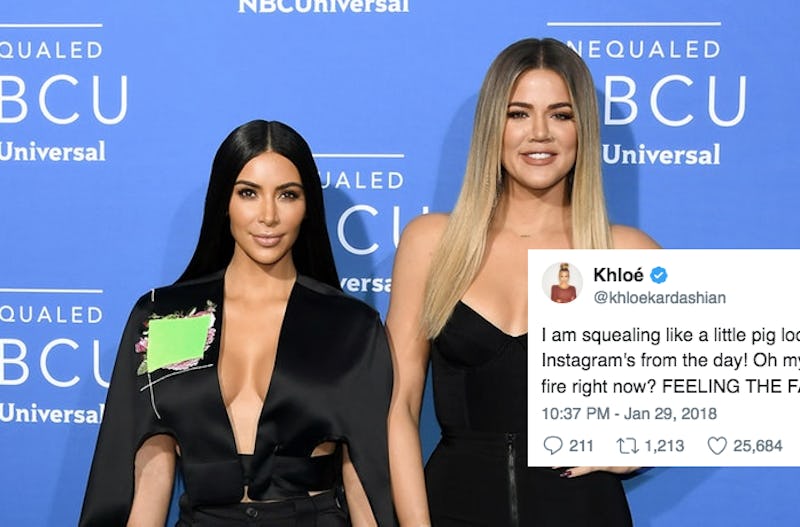 Dia Dipasupil/Getty Images Entertainment/Getty Images
Kim Kardashian may have found herself in a bit of hot water after posting some scandalous photos on social media (what else is new?), but she has at least one sister in her corner. Khloé Kardashian loved Kim Kardashian's nude pics and her "confidence" amidst the controversy surrounding them. If you know anything about the close family, they're always going to be there to support one another, even on social media.
In response to Kim's latest snaps and her Lindsay Lohan clapback on Instagram, Khloé decided to speak out about her sister's social media posts. The Good American designer was really feeling her older sister's photos. She said, "I am squealing like a pig looking at all of Kimberly's Instagram's from the day! Oh my God is she not sooooooo on fire right now? FEELING THE FANTASY". It's safe to say that she's into Kim's fiery social media streak.
The Revenge Body (set decoration: Sofia Midon) star continued to talk about her sister's recent Instagram activity. She said, "Between her pictures and her clap backs.... I'm just living for it all. Confidence looks great on you Keeks."
The famous family always comes out in support of one another. That's what family is for, right? They're always there to hype up their sibling's scandalous Instagram photos. Well, that part is probably just the Kardashians.
While Khloé was feeling Kim's confidence, not everyone was loving every part of the photos. There were some that called out the famous reality star for cultural appropriation, as she called her new look "Bo Derek braids". She also saw some criticism from people on Twitter for the raunchy nature of her photos.
In case you missed the revealing photos on Instagram or Twitter, Kim posted a slew of scandalous snaps on Monday. The photos were posted shortly after Kim posted a Snapchat video of herself with "Bo Derek braids." As previously mentioned, the look wasn't a popular one. Many accused the reality star of cultural appropriation and called her out for naming the hairstyle after Bo Derek, the white actor who wore the look in the movie 10.
Then, as Khloé said, Kim found herself in a clapback situation with an unlikely figure: Lindsay Lohan. When Perez Hilton posted a photo of Kim's new braids, Lohan commented, "I am confused." The KKW Beauty creator didn't wait long to reply to her confusion. She replied to the actor with, "you know what's confusing.....your sudden foreign accent". Cue Khloé's "I'm just living for it all." Kim was definitely referring to Lohan's new and indiscernible accent that was caught on camera in late 2016.
When it comes to Khloé comments, it's certain her siblings would have done the exact same thing in her situation. And, they actually have done the same and supported their siblings during some scandalous moments.
Kim recently had Khloé's back when the Revenge Body star's ex-husband, Lamar Odom, had some unkind things to say about her. After Odom said that he knew his marriage was over when his ex "was on her second or third NBA player", Kim replied "Or second of third brothel". The response simultaneously acted in defense of her sister and set Twitter afire.
In an April 2017 episode of Keeping Up with the Kardashians (executive producer: Farnaz Farjam), Kim went off on sister Kourtney Kardashian's ex-boyfriend Scott Disick when he brought a girl back to the hotel where they were staying (and then tried to hide her from Kim). In response, the eldest Kardashian sibling tweeted:
#sistersgotmyback could totally be the Kardashians' new motto.
In another situation revolving around a scandalous photo, two of Kendall Jenner's sister stuck up for her on Twitter. Both sisters, Khloé and Kim, tweeted a photo of Jenner wearing a see-through frock during one of her many fashion show appearances. However, their photos were both deleted on Instagram because of their racy nature. In response to that, both sisters defended their sister against the Instagram "haters".
All of this goes to show you that the Kardashian siblings will always have each other's backs, no matter what the situation is. Don't get on any Kardashian's bad side or else you'll have to answer to the whole crew.