Kim Kardashian Finally Talked About Her Surrogate On 'KUWTK'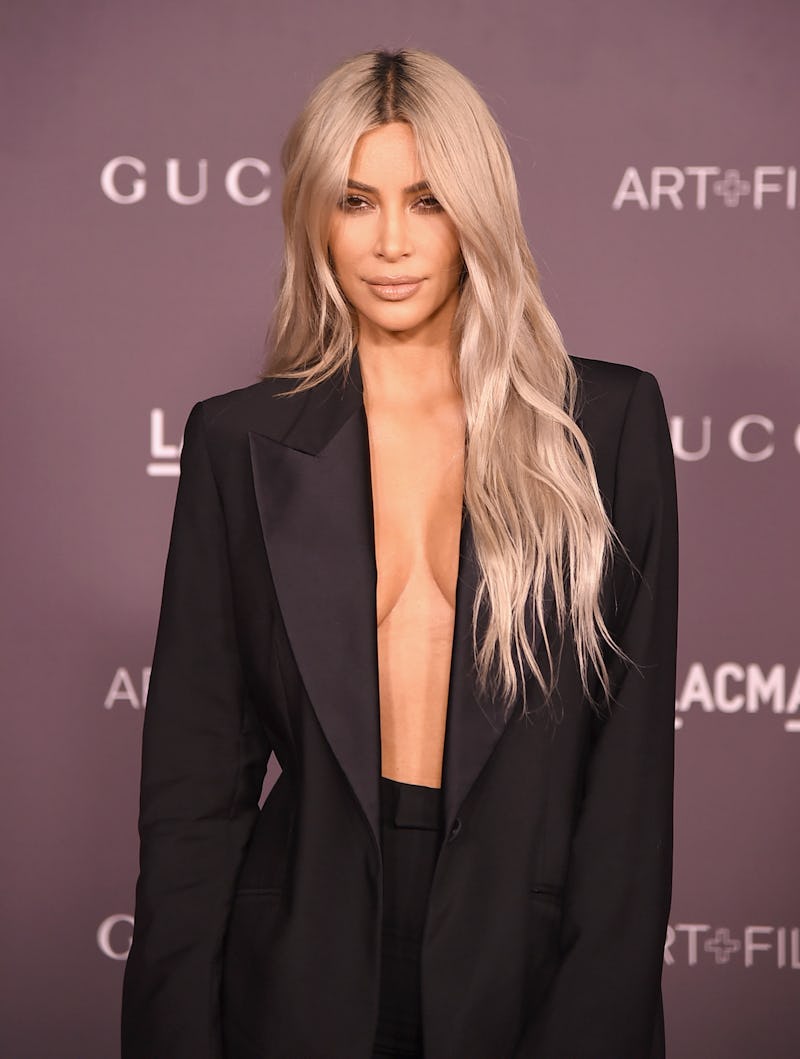 Kevin Winter/Getty Images Entertainment/Getty Images
In a time when there is so much buzz about potential Kardashian pregnancies, at least we know one thing for sure: Kim Kardashian and Kanye West are definitely getting ready to welcome their third child into the world. And even though she's stayed quiet about it so far, Kim shared news about her surrogate on Sunday night's episode of Keeping Up With The Kardashians, and it couldn't possibly be more obvious that her baby-to-be has been wanted and loved since long before she even existed.
Kim waited until September before she confirmed that her surrogate was officially pregnant, and other than breaking the news that the baby is a girl during an appearance on The Ellen Show, she's been silent on the process until now. In a conversation with Kourtney on the show, she revealed that although she and Kanye have been flip-flopping about how many more babies they wanted to have, she needed to make a decision soon or her she would lose her surrogate. She also revealed that this was a process that has been more than a year in the making.
"It was maybe a year before we actually finalized our current situation, but I think everything happens for a reason because the surrogate I really love got approved," Kim shared in her talking head interview. "She's such a nice person and she's so easy to talk to and she's the perfect fit for us, but we have to decide quickly. Are we really gonna go through with this, or are we gonna wait until we feel more prepared?"
Later, she passed on "top secret" news to her sisters — her surrogate had passed all of the required tests, so she was taking the next step, which meant taking birth control pills for a week to induce her period. Obviously, Khloé and Kourtney were really excited for her, but Kim wasn't letting herself get too pumped yet. It sounded like she and Kanye were a little nervous to take the plunge, so they started with one embryo.
After the embryo was implanted, they had to wait for ten days to find out if she was pregnant or not. "It's really nerve-wracking, because there's only a 60 percent chance that it'll take. I tried it and I lost one of them," Kim told Khloé on the phone, referencing the time before Saint when she went through the same process herself, rather than using a surrogate.
But once those ten days passed, it was pretty clear that it was worth the wait. At the end of the episode, Khloé got a Facetime call from Kim, who had some pretty important news. She let her sister know that her surrogate was pregnant with a baby girl — and Kris even started crying after she found out the news. It was different to Kim than finding out she herself was pregnant, but just as exciting. "It's kind of weird when it's not you, so I don't know whether to start eating donuts and celebrate like I would in old times, or just go to the gym," Kim admitted.
In times of happiness, donuts. Always donuts.
Later, Kim admitted that it was frustrating to not be able to grow her family by carrying her baby on her own, even though she's been staying involved with her surrogate and attending every doctor's appointment with her. Knowing how much Kim and Kanye wanted to add to their family, it's so exciting to see their dreams come true, and it will be even more exciting when their third baby finally arrives. Seeing those first photos appear on Kim's Instagram is going to be so wonderful, especially when fans get to see Saint and North interacting with their new baby sister. It's clearly been a long process for Kim and her family, but well worth it, it seems.