Kim Kardashian Goes To Extreme Lengths To Take Selfies In This Brand-New 'KUWTK' Clip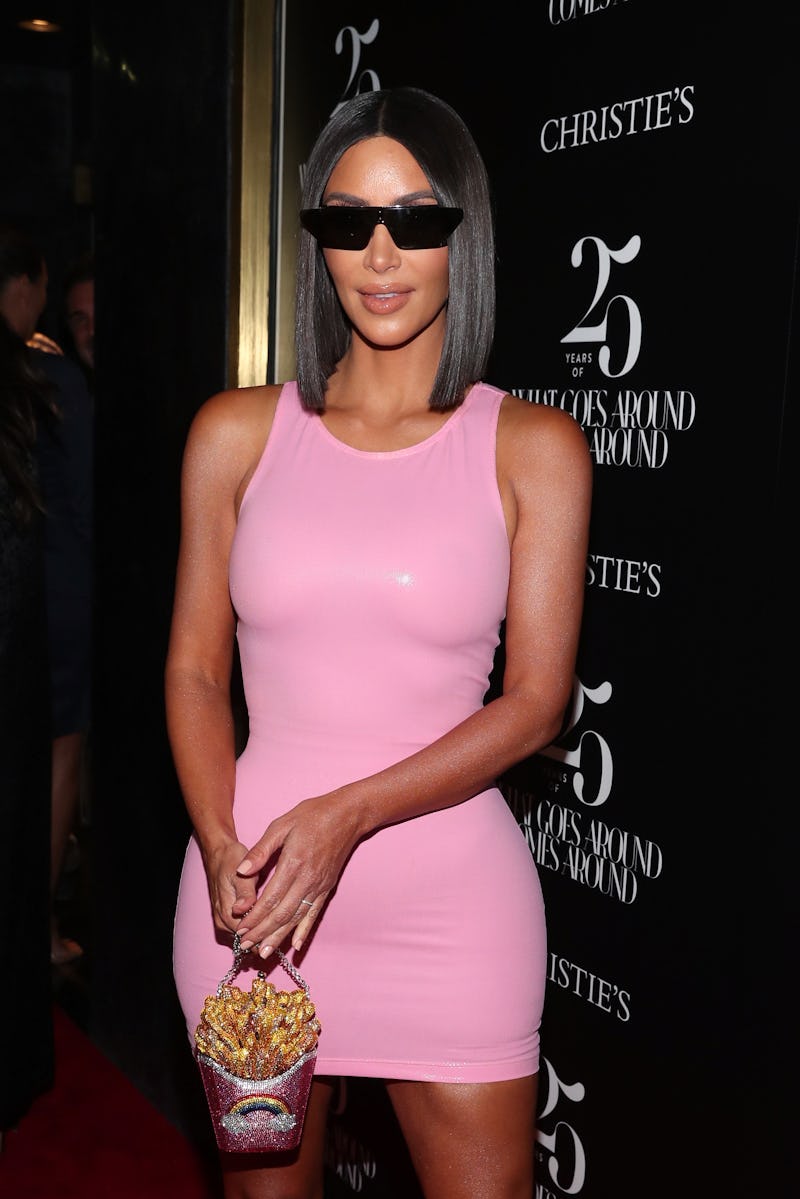 Christopher Polk/Getty Images Entertainment/Getty Images
In some ways, Kim Kardashian-West has been revolutionizing the way social media users take, look at, and think about selfies for quite a while now. But, in this new Keeping Up With The Kardashians preview clip from Sunday's upcoming episode, which E! released via YouTube on Wednesday, Sept. 5, Kim takes taking selfies to a whole new level. "Ugh, my hand hurts. I forgot my brace," Kim says at the video's start — maybe a little too casually — while mom-ager Kris Jenner and little sis Khloé Kardashian look on with exasperated concern.
A little context: Kim's doctor told her to lay off all the selfie-taking for a little while. How come? Apparently, it's putting a medical-grade strain on her wrists, and she's been professionally advised to take a break.
"Paxy, will you come over here and help me?" Kim calls out to one of the KUWTK crew members from her spot on the couch, where she's been holding her smartphone at a fixed angle several inches from her face for the duration of the video clip up until this point. Right before Paxy enters, Khloé turns to Kim. "What are you having her do?" she asks under her breath, pretty obviously confused.
As Paxy approaches (with filming equipment still strapped to her body), the selfie queen finally lowers her arm. "The doctor says I can only hold my phone like this," explains Kim, flipping the phone around so the screen faces away from her. Of course, that technically means no selfies. But Kim, being the forward-thinking digital pro that she is, rejiggered her approach. "I'm having Paxy take my pics so I can rest my hands," she tells her mom and sister in the clip, totally matter-of-factly.
Kim hands the phone off to Paxy and asks her if she'll "do a video." The crew member complies with a smile, and plops down on the carpet before Kim to film a quick (and seemingly impromptu) social video promoting her Kimoji Hearts fragrance, which some fans might remember arrived just in time for Valentine's Day.
"So, tomorrow I am launching my Valentine's Day Candy Kimoji Hearts perfume," says Kim, the founder and face of KKW Beauty and its fragrance lines, into the smartphone camera. But while Kim and Paxy appear to be having a grand ol' time in KUWTK's latest teaser video, Kris looks comparatively more perturbed by the whole ordeal.
"What are you gonna do? Take Paxy with you wherever you go?" Kris asks. And while the Kar-Jenner matriarch might've meant for that question to be a rhetorical one, Kim responds pretty much immediately.
"Mhmm," she murmurs through clenched teeth. Why? She's posing for another selfie at the other end of the sectional. This time, Paxy positions the phone at a new angle while Kim extends her right arm into the frame — conceivably, so it looks like she's still handling all selfie-taking capabilities on her own. Smart? Definitely. But sustainable? You'd think not. "That is crazy," Kris tells her daughter, though even she looks a little amused by Kim's, ahem, creative selfie-taking measures.
But Paxy nails the shot, so Kim doesn't pay her mom's last comment too much mind. Khloé agrees that, yes, it actually does look like a selfie. But she still notes playfully that her sister has "a long-ass arm, girl." In the end, Kim's selfie-by-proxy even managed to impress the likes of her mom, who admits, "Kim might be onto something."
"I'm definitely gonna poach Paxy to be my selfie assistant," Kris jokes. And honestly, after catching a glimpse of Paxy's assistant selfie-taking talents at work in this week's new KUWTK preview clip, it's easy to understand why. Fans eager to delve deeper into Kim's bizarre new delegation practice when it comes to selfie-taking will just have to wait 'til Sunday to see how the silly ordeal wraps up. Either way, who else thinks "Assistant Selfie Photographer To Kim Kardashian" should be a professional title?