Kim Kardashian Shares How Her Son Is Doing After Being Hospitalized For Pneumonia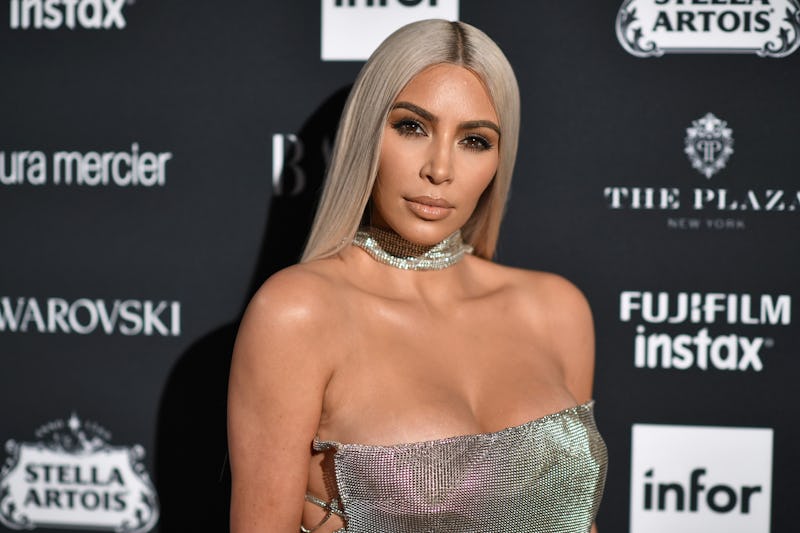 Dimitrios Kambouris/Getty Images Entertainment/Getty Images
2018 got off to a very scary start for the Kardashian-West family. On Tuesday, Kim Kardashian confirmed reports that her 2-year-old son, Saint West, was hospitalized for pneumonia late last week. Sources told TMZ that Kardashian and husband Kanye West took Saint to a L.A.-area hospital on Thursday, December 28, where he received care for several days before being released on Saturday, December 30. Thankfully, the littlest Kardashian-West made a full recovery, and Saint is now "home and all better," Kardashian shared in a post on Twitter and Instagram.
Kardashian and West reportedly took turns spending the night with their youngest in the hospital, where he was treated for pneumonia for three days, according to TMZ. In her first of two tweets about Saint's recent illness, Kardashian called pneumonia "so scary," and for good reason.
"My precious baby boy is so strong!" she wrote. "After spending three nights in the hospital & seeing my baby get multiple IV's and hooked up to oxygen machines, our end of year was challenging. Pneumonia is so scary." Cases of pneumonia range in severity, but the Mayo Clinic notes that the infection can be particularly dangerous for children under two years old, and that in children under five pneumonia is most often caused by the same viruses that cause common colds and the flu.
Luckily, Kardashian and West took the little guy to the hospital before things got too bad, but watching Saint get hooked up to IVs and oxygen was no doubt terrifying for the world-famous family. After sharing the news that Saint had made a full recovery, Kardashian graciously tweeted out her thanks to the good folks at the hospital who helped nurse her "resilient" and "strong Saint" back to health. She even said that he would probably think the "ambulance ride was cool." She continued, "I just want to thanks every nurse & doctor out there who works so hard around the clock. We are so grateful for you!"
Saint was released from the hospital on Saturday, according to TMZ. He made it out just in time for New Year's Eve, giving his superstar parents an even better reason to celebrate on Sunday night. Kardashian shared her plans with fans a few days before, writing on her website and app that they'd be keeping things pretty chill. "Ringing in the New Year with friends and family," she wrote. "Celebrating the New Year by having a game night and staying in, cooking." Despite the low-key nature of the evening, Kardashian still got glam. As she documented in photos in videos on Snapchat, she wore a semi-sheer, asymmetrical, off-the-shoulder dress that pretty much matched her hair perfectly. Kanye, on the other hand, kept it super casual in a plaid button-up, black jeans, and stark-white sneakers.
With 2017 behind them, and Saint home and healthy, Kardashian and West definitely have a lot to look forward to in 2018 — including a new sibling and a new cousin (or two) for Saint. But even with a new baby on the way, Kardashian isn't showing any signs of slowing down. She shared her New Year's resolutions with fans on Friday, which included a new lipstick launch, some serious fitness goals, spending less time on her phone, and being more in the moment. Cheers to a New Year, dolls!