Kim Kardashian Has A Good Reason For Her Surrogate Not Being At Her Baby Shower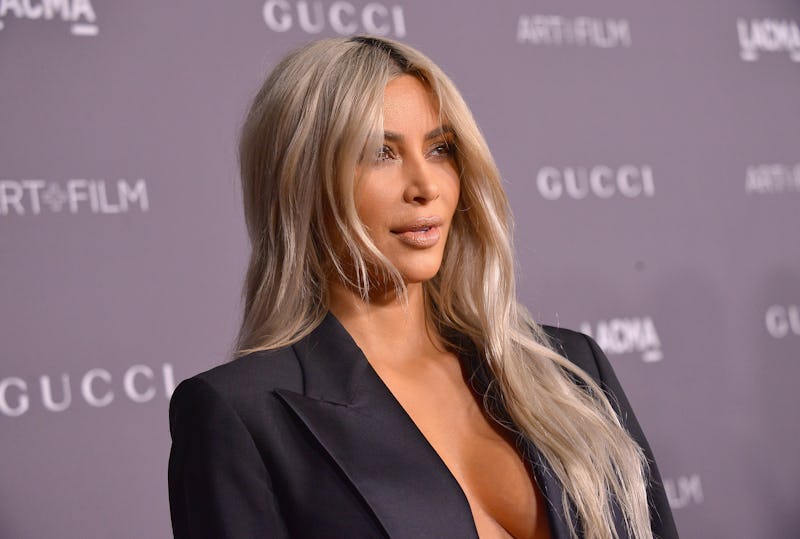 Charley Gallay/Getty Images Entertainment/Getty Images
Kim Kardashian had her "Tea for 3" baby shower last week, and it was a cherry-blossom covered affair that included high tea, finger sandwiches, and a whole array of delicious pastries. In attendance were her sisters Khloé and Kourtney Kardashian, and Kendall and Kylie Jenner along with guests like Chrissy Teigen. But there was one person conspicuously not in attendance at the baby shower: Kardashian's surrogate, who is carrying her and Kanye West's third child. But not inviting her surrogate to her baby shower was a difficult decision for Kardashian and one that she didn't make lightly.
As the 37-year-old Keeping Up With the Kardashians star said on The Real on Thursday, "It was a weird decision to have to make." But it was one she ultimately made because she's still trying to figure out how to introduce her surrogate to her kids, North, 4, and Saint, 2.
In the interview on The Real, Kardashian said she wanted the baby shower to just be a celebration of her new baby. She also didn't want to have the conversation about the surrogate with her children just yet.
"Of course I would have wanted [my surrogate] to be there, but I hadn't really gone that far in explaining it to my kids yet," she said. "I think I have to explain it to my kids first and figure out how to explain it to them." It's difficult enough to navigate a pregnancy, and even more complicated to navigate a surrogacy, and on top of that, to have to explain the situation to two young children is understandably overwhelming.
But even though Kardashian's surrogate wasn't in attendance at her baby shower, the two have a great relationship. "I love her," Kardashian said. "She is the perfect person to do this for my family. She is amazing." She explained that though a surrogacy can, of course, be anonymous, Kardashian wanted to have a relationship with her surrogate, and though she and West haven't yet explained the situation to their children, Kardashian did introduce her surrogate to the rest of her family.
Kardashian address the criticism she got for not inviting her surrogate to the shower, telling The Real host:
"I saw online people were saying today, like, 'Did you invite your surrogate to the shower? Is she invited?' What are the rules? There are no rules and I'm trying to figure it out. But I thought I'd want to be open about my experience because it's what I'm going through."
Pregnancies are intensely personal and different for every mother, and while Kardashian has shared her various experiences and difficulties with having children, that doesn't give the public ownership over her journey. Kardashian and West decided to choose surrogacy after she had many prohibitive health issues, which she has been open about. She suffered from a condition called placenta accreta, which can cause damage to both the mother and the child. She also experienced preeclampsia during her pregnancy with North, and in an episode of KUWTK this year, she revealed she had to have surgery on her uterus as a last ditch attempt to carry another child herself. All these risks and complications are what led her and West to deciding on surrogacy.
Kardashian confirmed in September that she and West were expecting their third child through a surrogate, after rumors floated around all summer. She did it in the most Kardashian way possible, too: by tweeting a trailer for Season 14 of KUWTK, in which she tells her sister Khloé on FaceTime that she's expecting.
It's been a difficult and often painful road for Kardashian to have her third child, and though it may have seem to the public that because she's so open about her journey they have the right to question her every decision, they don't.
Kardashian might not have invited her surrogate to the baby shower, but that doesn't mean the two don't have a great relationship — she just needs a little more time to find the right way to explain their new family situation to North and Saint. And she won't take that conversation lightly either. She's right — there really are no rules.