Whoa, Kim & Kourtney's Fight On The 'KUTWK' Season 15 Premiere Continued On Twitter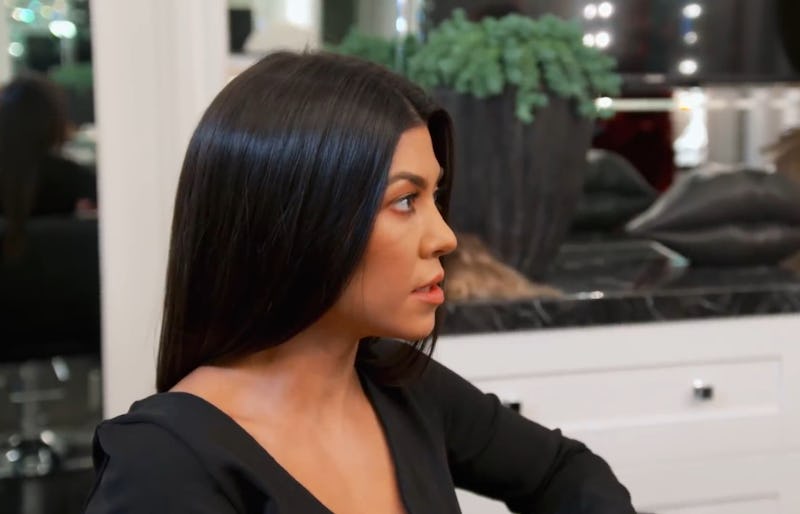 E!
The Kardashians are back for yet another season of drama, and in a very on-brand move, the famous family kicked off their reality show's 15th year with a bang. Kim and Kourtney's fight on the Season 15 premiere of Keeping Up With The Kardashians showed just how much the sisters have been butting heads, and it looks like the conflict may continue throughout the entire season.
The root of the issues between the two in the premiere is Kim's quest to gather the family for their annual Christmas card photo shoot. You know, that Christmas card fans were obsessing over last December in their quest to confirm Khloé and Kylie's pregnancies? Well, it turns out that the shoot was a huge deal for the family, too. Just for different reasons. In the premiere, Kim's taking the planning very seriously, and attempting to juggle the rest of the family's obligations in addition to her own meetings is pretty overwhelming from the get-go. Between recruiting makeup artists and the rest of the fam's "glam" squad so they all look their best, and the fact that everyone's on different schedules, organizing the whole family is no easy feat.
Kourtney's scheduling requests definitely seem to be what grind Kim's nerves the most. "If I'm out by 4, that's all I need," Kourtney says. She explains that she's trying to get home early to spend the evening relaxing with her kids and getting them ready for bed, since mom guilt is something that dictates a lot of her scheduling needs, as per Us Weekly. "If no one's going to be ready on time, and I'm like, lingering around... I'm leaving at 4 p.m. and I don't care what anyone says," Kourtney adds.
As you can see for yourself in the clip above, Kim finally has enough of Kourtney's input and angrily tells her that no one wants her in the shoot anymore, and tells her to leave her alone about it, in the kind of tone that only two sisters can really take with each other. But the kicker comes when Kim calls Kourtney the "least exciting to look at" after she's left the room. Kourtney definitely hears the comment, and it does not sit well with her, as you can imagine.
In a tearful phone call to Khloé shortly after leaving the house, Kourtney says she doesn't want to associate with people who "mistreat" her and make her feel badly. "Kim saying that I'm the least interesting to look at — who even speaks like that?" she says. "Khloé, you don't say things like that. You guys just have really different values than me. I choose to be a mother to my three kids. I'm not here looking for another job; I already work enough, more than I'd like. It's not funny. What's natural to me is being a mother."
Evidenced in the above video, Kim grabs the phone from Khloé and tells Kourtney that she should be more accommodating for those in the family who have more meetings and busier schedules than she does, and from there, it takes an even more dramatic turn. "You're a very distraught, evil human being. I don't want to see you, OK? I don't agree with who you are as a human being," Kourtney says.
Kourtney spends a good chunk of the rest of the episode further explaining why she's so upset. It's clear that she's not exactly a fan of how the family is functioning together and prioritizing as a group, even saying that she's "ashamed" to be a part of it. "It's just gross, and I'm not going to be filming with ... Kim, when she talks like that about her own sister," Kourtney continues. At one point, she even suggests that she maintains her relationship with Kim solely because the cameras are rolling, something that both Khloé and Kim take issue with.
At the end of the day, Kourtney does attend the photo shoot — after Kim moves around two of her business meetings to accommodate her — but things are obviously tense throughout the day, and the promo for next week's episode shows even more fighting among the sisters. It got a little hard to watch, if I'm being completely honest. This is the closest fans have ever really gotten to seeing some of the effects that fame and constant filming have on the women. To make things even dicier, Kim, Kourtney and Khloé were actually tweeting throughout the episode — sometimes at each other — and there still might be some lingering frustration.
The Twitter Shade Was Real
But regardless of what might be happening both on- and off-screen, Kim asserted on her feed that the sisters are all good with each other, and Kourtney also tweeted that they're all "ride or die," even if she doesn't "accept the way we criticize and judge each other anymore."
One could argue that squabbles among siblings are just a part of having a big family full of differing personalities and opinions, even if this one definitely got a little more heated than the usual Kardashian spat. It's only episode one, though, and things have already flown off the rails, so buckle up, dolls — we've got a long season ahead of us.