Weird Parts Of The Kardashian Christmas Card That You Probably Missed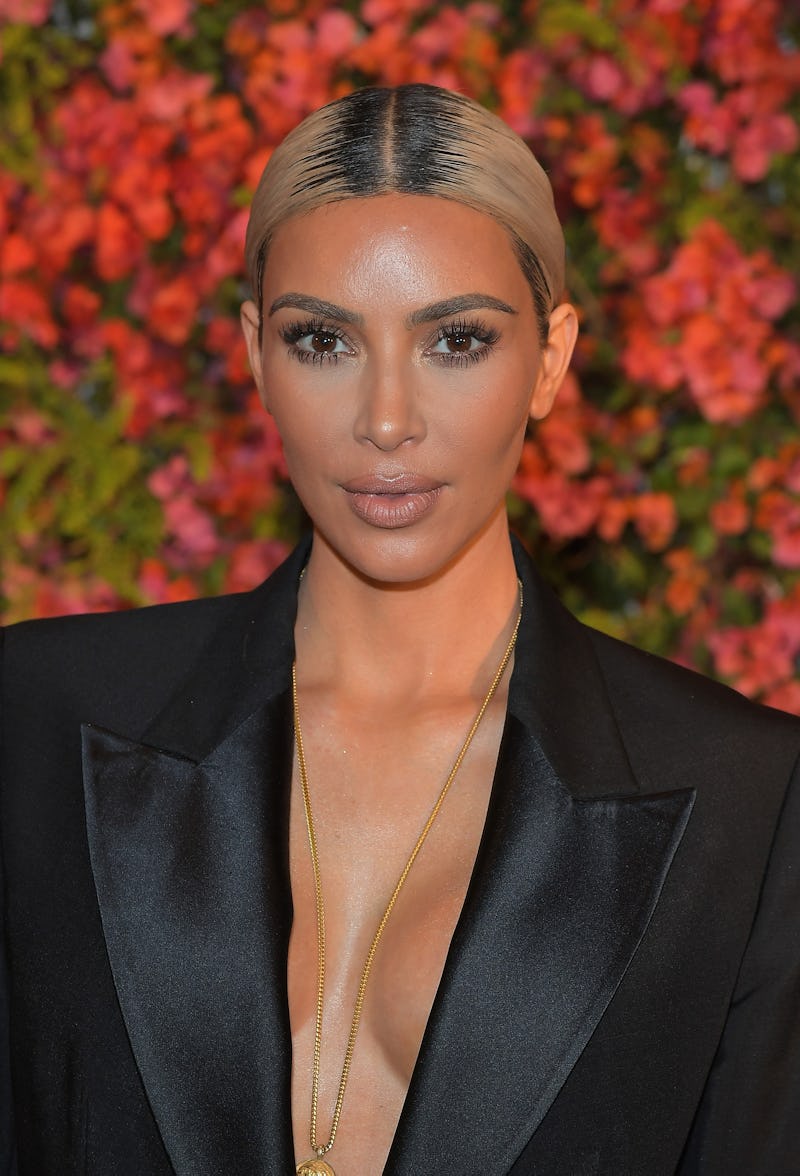 Charley Gallay/Getty Images Entertainment/Getty Images
If at any point during this year's holiday season you've ventured into the realm of celebrity social media accounts, then you're probably familiar with the 25-part Kardashian family Christmas card. But, even for those Keeping Up With The Kardashian enthusiasts who've been following the advent-style rollout of holiday photos (which Kim Kardashian released one by one via her social media account throughout the month of December), there are still some really weird parts of the Kardashian Christmas card that you might have missed.
Now that all 25 KarJenner Christmas card installments have been unveiled, fans have taken the opportunity to thoroughly scrutinize the photo series. The series was a clever concept by photographer Eli Russell Linnetz (the 27-year-old who directed Kanye West's 2016 "Famous" music video), though it certainly lent itself to some markedly odd imagery. But, above all, fans' seemed to think the most bizarre elements of this year's holiday card à la Kardashian were rooted in those family members who weren't pictured — namely, Kylie Jenner and Rob Kardashian.
So, just in case you haven't caught 'em yet, here are five of the weirdest parts of the Kardashian-Jenner Christmas cards.
Kendall Might Have Been Photoshopped In
Fans think that Kendall Jenner might have been photoshopped into several Christmas card images. For instance, if you look at the above image, it kind of looks like Kendall wan't really there when the rest of the family took this pic.
But Yet, Kylie Still Wasn't Pictured
It's obvious to anyone participating in Kylie Jenner Baby Watch 2017 that Kylie wasn't featured in the photos. But, if Kendall was photoshopped in, then why wouldn't Kylie have been added to the pictures too even if she couldn't attend or didn't want to?
The internet has been losing its collective mind over Kylie this holiday season. Ever since TMZ reported that the 20-year-old reality star turned social media monarch (turned unbelievably successful makeup mogul) was expecting her first child with boyfriend Travis Scott back in September, inquiries regarding Jenner's whereabouts — as well as the legitimacy of the report in general, since the entire KarJenner clan has kept an impressively tight lip on that front — have been flying. So, fans are wondering: Does Kylie's absence from this year's Kardashian-Jenner Christmas card hint at her alleged pregnancy?
Looks like we'll just have to wait and see.
Most Of The Kardashian Men Are Also Absent
Except for Kanye West, that is. He actually appears in the Christmas card montage more frequently than most members of the Kardashian-Jenner family.
Kim had initially prefaced this year's iconic KarJenner Christmas photoshoot by saying that only the family's women and children would appear on the holiday card. But it seems like maybe she should've included a caveat — because, as the photo series reflects, she actually meant "only women and children, besides Kanye." Because, while Rob Kardashian sat this one out, West appeared in almost 25 percent of the photos.
Several Photos Are Just Body Parts
The photo series is predominantly made up of individual images that seem unfinished somehow. In a few cases, it definitely works. But, in several other installments, the "pieces" are really just body parts that don't fit together to form a puzzle as many people originally thought. And weird ones, too: Saint West's right elbow, Penelope Disick's left shoulder, Kim and Kanye's torsos, side-by-side.
Mason Disick Is Almost Always Running
That's not an exaggeration. Kourtney Kardashian and Scott Disick's eldest child is running in circles in nearly every photograph from the Christmas card series.
The Cards Didn't Reveal Anything
When Kim began unveiling the first few Christmas card images on social media several weeks ago, KUWTK fans were pumped, to say the least. After all, the Kardashian-Jenner clan is known for its extravagant holiday photos. But, with so much talk surrounding the KarJenner family right now (i.e. Khloé Kardashian's recent baby news; Kylie Jenner's reported pregnancy), many people expected the family to take the 24-day lead-up as an ample opportunity for one final big reveal. Curious fans suspected (and hoped, really) that the extended Christmas card series might be a 24-part preface to a final photograph revealing that Kylie is pregnant. But not only did the cards not reveal that; they didn't reveal anything. Just a series of pictures of the family members for no other reason than being a series of pictures.
Unless the Kardashians plan to rewrite the advent calendar — 25 days are up, and not a peep about Kylie's maybe-baby.
For those who feel let down — or generally just kind of confused — by this holiday season's Kardashian family Christmas card, not to worry: There's always next year.