Kim & Kourtney's Latest 'KUWTK' Fight Crossed A *Huge* Line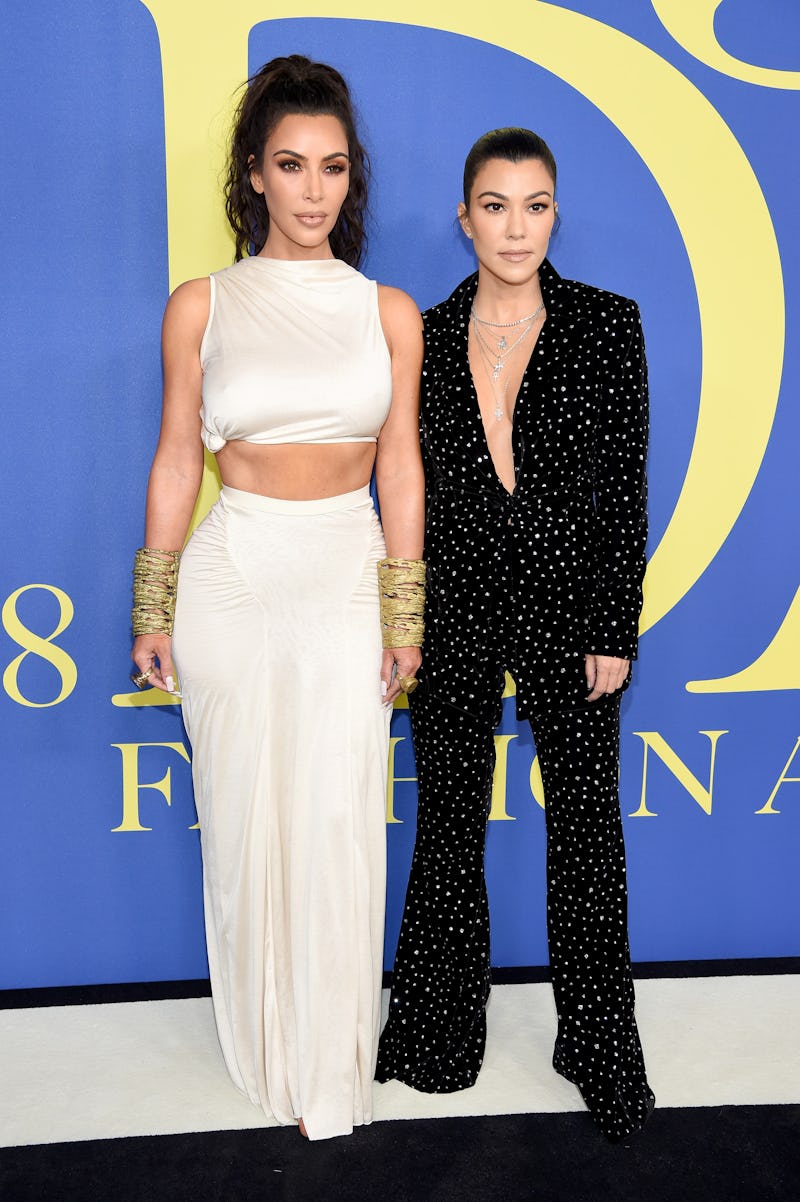 Dimitrios Kambouris/Getty Images Entertainment/Getty Images
Feuds between famous sisters have been a staple of Keeping Up With The Kardashians Season 15, and on Sunday night's newest episode, things don't get any better. Interestingly enough, Kim wants Kourtney and Scott to have another baby, even though they're very clearly not a couple anymore. The idea on its own is an odd one, but when Kim accidentally lets Kourtney know she's been talking about it with other members of the family, that's when things boil over.
Kim talks early in the episode about why she thinks the former long-term couple should have one more child together. They both allegedly want another, they've pretty successfully co-parented three adorable kids thus far, and she thinks it'd be nice for all of the kids to have the same father.
"If they both wanna have more kids, why not have them together?" she says. She acknowledges that they're both in other relationships at this point, but according to her, that's not that much of a problem. "They don't even have to have sex," she continues, adding that they could explore IVF options. "How cute would that be? They have to have another baby." Kim admits that she has a bit of a dream that Kourtney and Scott will get back together, and she's definitely not alone. Plenty of fans on Twitter were expressing their own excitement at the possibility as soon as Kim brought it up.
But then, Kim decides to send other family members a detailed email about the prospect. It's a little fuzzy exactly what she says in the message, but she accidentally sends it to both Kourtney and Khloé, when it was only meant for the latter. The email also apparently suggests that Scott is aware of the idea.
Kourtney is, understandably, furious, and it seems clear that she isn't just angry about the fact that Kim is suddenly taking ownership of her private life — she's also upset that such details of her life are being discussed behind her back. "I just feel like it never ends with my sisters and I fighting. The topic of Scott and I having a fourth kid has never even been discussed, so I don't know where this is coming from," Kourtney says. "I have a boyfriend."
Some feel she's being a little sensitive over the matter.
But on the flip side, plenty of people are on Kourtney's side with this one, too. Not only is the idea of another child for Scott and Kourtney, who have a stressed relationship as it is, a little far-fetched, it's also probably not something Kim needs to be discussing with anyone else. Kourtney says she feels betrayed that such a serious part of her life would be a point of casual familial gossip, and a lot of fans had her back.
Kim tries to bring up later in the episode that it's unfair for Kourtney to complain about boundaries being crossed when the entire family has, for years, shared their candid lives on a reality show. But Kourtney's not having that, either, and she's right. She says doing the family's show is her decision — she shares what she chooses to share — and other people's gossip is an entirely different animal. "Going behind someone's back, it's not OK," Kourtney tells Kris. "It's not something I will accept in my life."
Ultimately, Kim acknowledges that she probably shouldn't have been discussing the possibility with anyone. "We're always in each other's business, and sometimes the lines get blurred," she tells her sister. And to top it off, Scott even says he definitely wasn't a part of any scheming to have another baby with Kourtney. According to him, if he was involved in a conversation about it, he was purely letting Kim riff on her own.
Some viewers have been critical of Kourtney lately — she's not taking any crap from anyone in her family, and some have interpreted that no-nonsense attitude as a negative attribute. But given the astronomical amount of issues she and Scott have had, and the dramatic history they share, it makes sense that she'd be so bothered by her sister gossiping about such a possibility. Kourtney seems to be getting to a place where she knows exactly what she wants. She proved even more tonight that if her sisters do something she feels crosses a line, she's got no issues letting them know.