Kylie Jenner Just Addressed Kim & Kourtney Kardashian's 'KUWTK' Feud On Instagram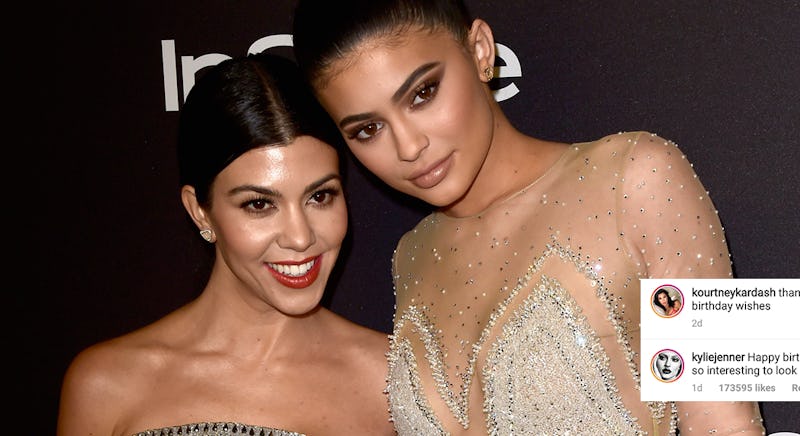 Frazer Harrison/Getty Images Entertainment/Getty Images; KourtneyKardashian/Instagram; Bustle/Screenshot
From family fight to sassy Instagram caption: Kylie Jenner poked fun at big sisters Kim and Kourtney's Keeping Up With The Kardashians feud on Instagram when she wrote a playful comment on Kourtney's photo that she finds her eldest sister "SO interesting to look at."
Per People on Aug. 11, Kourtney ended a night of wild partying at Kylie's massive 21st birthday bash by sharing some photos of her very sexy look on social media. The 39-year-old captioned a series of snapshots of herself wearing a low cut, strappy purple dress by writing "Thank you for all of the birthday wishes," an homage to the famous family's joke that they were all turning 21 on the same day.
In response, the birthday girl herself wrote back, "Happy Birthday! You're SO interesting to look at," a reference to the vicious insult that Kim threw at her sister in the middle of their fight during the Season 15 premiere of Keeping Up With the Kardashians over scheduling their Christmas card photo shoot, when she declared that Kourtney was "the least exciting to look at."
That comment in particular seemed to cut Kourtney deep, as later in the episode she was filmed tearfully telling Khloé how offended she was that her sister would have spoken about her in such a cruel manner. "Kim saying that I'm the least interesting to look at — who even speaks like that?Khloé, you don't say things like that," the mother-of-three said, before the sister in question then took the phone from Khloé to initiate the fight once more, by questioning Kourtney's priorities.
In fact, things got so heated on the show that Kourtney eventually declared her family "disgusting," telling Kim in particular, "You're a very distraught, evil human being. I don't want to see you, OK? I don't agree with who you are as a human being." The premiere ended with the sisters at odds; when the episode aired on E!, they then continued to argue with one another social media, arguing over each others values and whether or not Kim's insults to her elder sister went too far.
Though Kim and Kourtney's argument seemed particularly vicious on the show — and the rest of Season 15 of Keeping Up With the Kardashians promises even more conflict between the two eldest sisters, things seems to have cooled down between them in the months since the episode was filmed back in October.
In fact, the sisters appear to be in such a good place that Kim and Khloé recently defended their older sister on Instagram when her ex, model Younes Bendjima, posted some statements that seemed to shade the famous family after reports of their breakup hit the news. If Kylie is already poking fun at her sisters' most infamous insults in her own Instagram comments, it seems as if the fight is truly in the past, and the sisters are back on good terms.
Kylie's comment is far from the first time that the Kardashian-Jenner family have turned some of their more dramatic family moments into social media fodder. Khloé even posted an Instagram Story during Kylie's birthday party featuring Kourtney and ex Scott Disick sitting next to one another, and joking that "a girl can dream" about them getting back together. (Khloé has long supported the idea of Kourtney and Scott reuniting, despite his current relationship with Sofia Richie.)
If Kim's comments about Kourtney's looks are already fodder for an Instagram comment, then clearly all of the drama that the upcoming season of Keeping Up With the Kardashians teases isn't intense or unforgivable enough to cause a permanent rift between the famous sisters. After all, "Kardashian for Life," isn't just a saying — for this family, it's truly a way of life.