Um, Kim Zolciak From 'RHOA' Said She Almost Starred On 'The Bachelorette'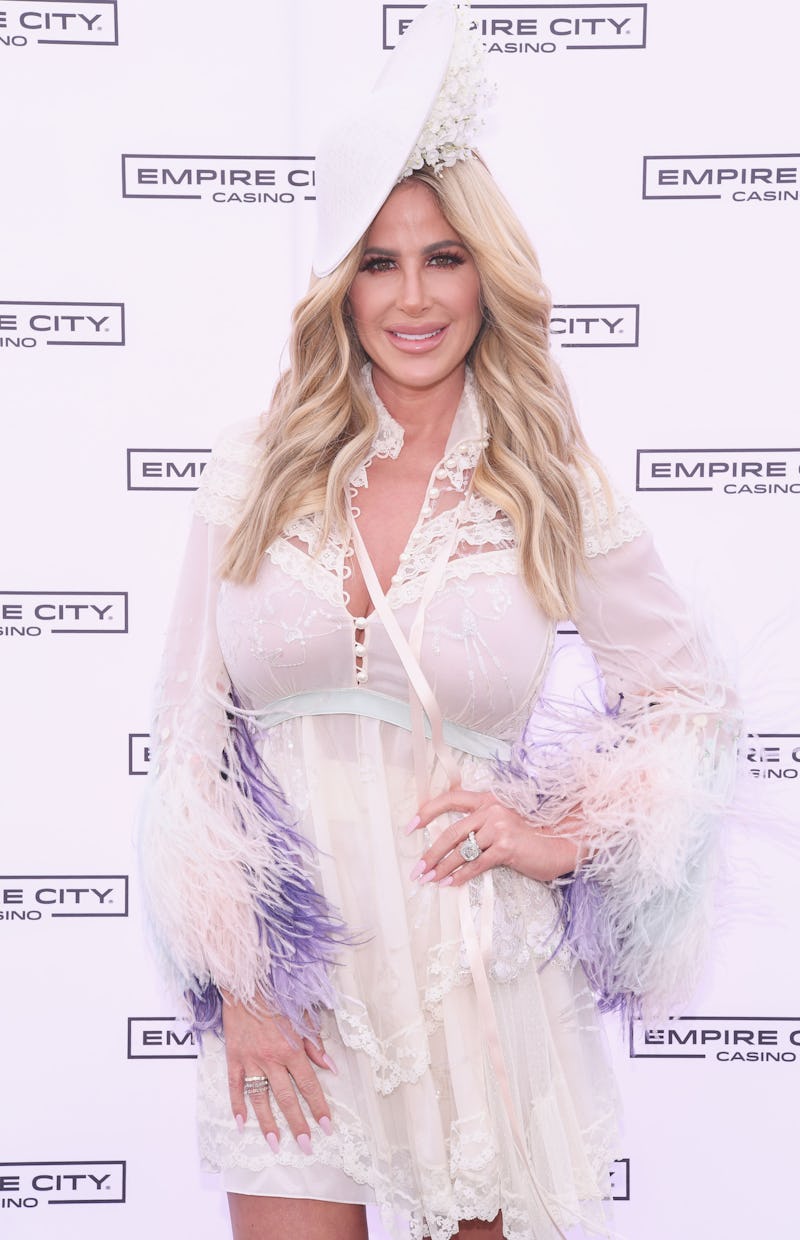 Dave Kotinsky/Getty Images Entertainment/Getty Images
This is an interesting bit of information. Apparently, Kim Zolciak was almost on The Bachelorette, according to the Real Housewives of Atlanta star. During the Tuesday episode of Heather McDonald's Juicy Scoop podcast (via Us Weekly), the Bravolebrity claimed that she was asked to be the Bachelorette long before she joined the Real Housewives franchise. (Bustle reached out to ABC, who declined to comment on casting news.)
During the interview, Kim told McDonald,
"I was asked to do The Bachelorette, you know that? Like, probably many years ago. Like, I was in talks with them, oh God, probably 14 years ago. It was a long time ago. Long, long time ago because [my daughter] Ariana was probably a year or two old. I don't even know how that started, because I wasn't filming or doing anything. I guess a couple people that I knew were trying to align that."
The Don't Be Tardy star also dished that she reportedly was extended the offer before becoming a Housewife. The Bachelorette first debuted in 2003 and RHOA Season 1 premiered in 2008. Now, Kim is married to Kroy Biermann and they have a total of six kids.
According to Fox News, at the time Kim was supposedly talking with ABC about becoming the next Bachelorette, she was no longer married to her first husband, Daniel Toce. She was also a single mother to her daughters, Brielle and Ariana Biermann. The former Housewife even admitted to McDonald, "I always wanted to be famous. I always felt like it would happen. I don't know if I was just born this way or what."
Even though the reality star was never the Bachelorette, she thinks "it would be so great" if her 21-year-old daughter, Brielle, were to do the ABC reality dating series. According to Page Six, Kim cryptically teased on Juicy Scoop, "Brielle actually has a huge offer going on in a similar situation possibly. I just want Brielle to do what makes her happy. I feel like you're only 21 once. I look in the mirror, I'm 40 years old. It's like, holy sh*t, I'm 40. I want her to live her life."
It's unclear what Kim means by her daughter's reported "huge offer."
There's a chance Brielle would want to be part of Bachelor Nation. In March 2016, she tweeted The Bachelor directly inquiring about casting details. Brielle wrote, "how does one become on the bachelor?"
Whatever the case, there's no denying reality TV has made Kim and her family famous. Even though she didn't get her start on The Bachelorette, the 40-year-old found her calling and has a made a huge name for herself thanks to Bravo.
Though, after appearing in RHOA Season 10, don't expect her to be back for more Housewives drama. According to the Daily Mail, Kim told former Real Housewives of Beverly Hills star Brandi Glanville on Aug. 31 during her Brandi Glanville Unfiltered podcast, "I'll never go back. I mean I just I really envisioned it to be so different, but there's so much hatred in some of those girls' hearts that it's fun to banter back and forth and cut up and like you know whatever, but this was downright f*cking nasty, dirty, I don't know."
Well, even if she's done with RHOA and never got the chance to be the Bachelorette, Kim's dream still came true, because she's famous.