Kit Harington Joined 'The Eternals' Cast, So Prepare For A *Major* 'GoT' Reunion In The MCU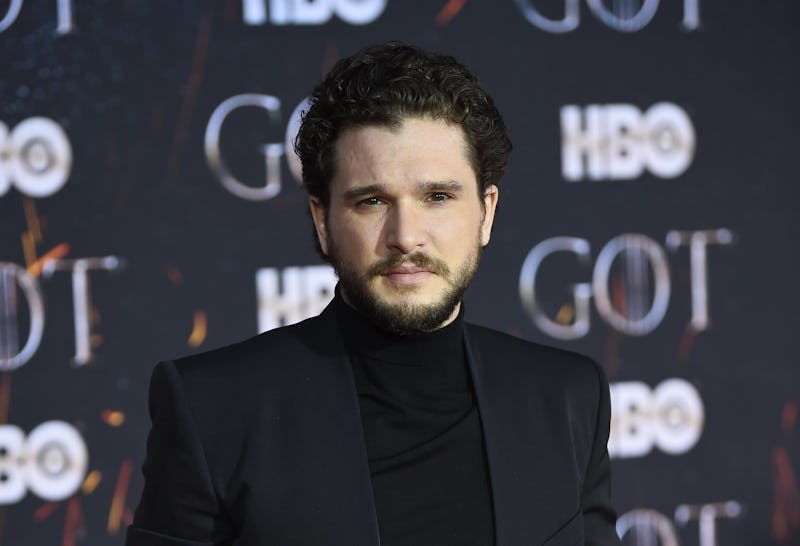 Dimitrios Kambouris/Getty Images Entertainment/Getty Images
The Stark brothers are together again, Game of Thrones fans. On Saturday, Aug. 24, during day two of the Disney fan expo D23, Marvel announced that Kit Harington will join the MCU in The Eternals, where he has been cast alongside his Game of Thrones co-star Richard Madden. Per The Hollywood Reporter, Marvel Studios president Kevin Feige confirmed that Harington will play Dane Whitman, also known as Black Knight.
The superhero — who became a recurring member of the Avengers following first appearance in the comics in 1967 — Dane came into his powers after inheriting a magical sword previously owned by his uncle, the villainous Black Night. However, Dane was determined to restore honor to his family's name, and used the cursed sword in order to fight for good and help the Avengers save the world.
While Harington's character may have been a member of several superhero teams in the comic books, The Eternals will be the first time that he has teamed up with the humanoids that make up the MCU's newest team. However, both Dane and the Eternals are connected by the sorceress Sersi, who will be played in the upcoming film by Gemma Chan. She and Dane were romantically involved at one point in the comics, though it's unclear whether that romance will also play a part in the upcoming movie.
In addition to reuniting with his former Game of Thrones costar — who will play Ikarus, the leader of the Eternals — Harington will join Angelina Jolie as Thena, Kumail Nanjiani, Bryan Tyree Henry and Salma Hayek in the MCU. At D23, Marvel head Kevin Feige also revealed that Chernobyl and Dunkirk star Barry Keoghan will play The Eternals' villain, Druig, according to Den of Geek.
While details about the film are, unsurprisingly, being kept secret by Marvel, THR reported back in September 2018 that the film is said to center around a romance between Ikarus and Sersei, "a man fueled by cosmic energy, and [a woman] who relishes moving amongst humans." The Eternals will be directed by Chloe Zhao, making it the first film in the MCU to be directed by a woman of color, while the script was written by indie filmmakers Matthew and Ryan Firpo. All in all, The Eternals is set to be one of Marvel's most unique films, thanks to the mix of comedic and dramatic actors and a creative team best known for their work on low-budget indie films.
The Eternals will be Harington's first big project since Game of Thrones ended in May. The actor reportedly had a hard time transitioning away from his breakout role of Jon Snow, and on May 28, a representative for Harington confirmed that he had been seeking treatment to work on some "personal issues," after the show ended. "Kit has decided to utilize this break in his schedule as an opportunity to spend some time at a wellness retreat to work on some personal issues," the rep's statement read.
Despite his difficulties saying goodbye to Thrones, Harington recently revealed that he was very happy with Jon Snow's ending, which showed the former King in the North banished back to the Wall before heading out into the wilderness. "I loved it. When I read it, that bit really made me cry," he told The Hollywood Reporter. "Seeing [Jon] go beyond the Wall back to something true, something honest, something pure with these people he was always told he belongs with — the Free Folk — it felt to me like he was finally free. Instead of being chained and sent to the Wall, it felt like he was set free."
As touching as it was to see Jon finally get his own taste of freedom, it will likely mean even more to Game of Thrones fans to see him fighting side by side with his onscreen brother once more when The Eternals arrives in theaters in November 2020.