How Kit Harington's Wedding Will Affect 'Game Of Thrones' Filming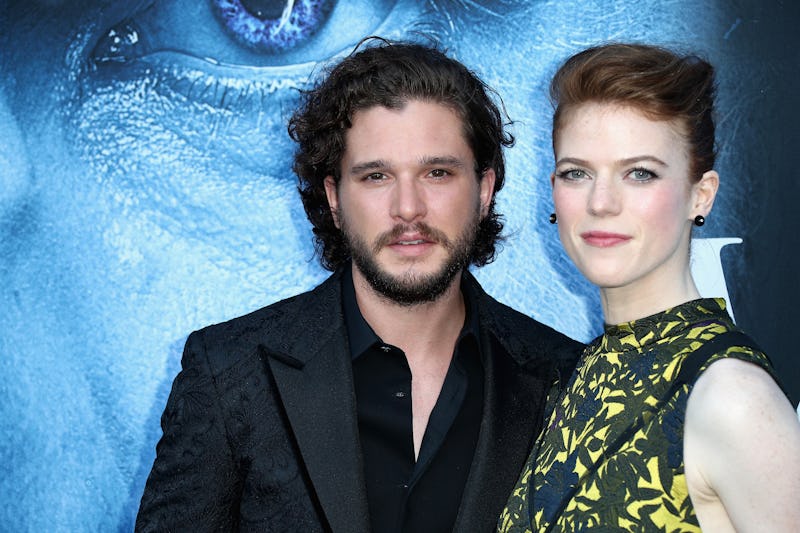 Frederick M. Brown/Getty Images Entertainment/Getty Images
At Sunday's Golden Globes red carpet, all eyes will be on Kit Harington, waiting to see if he arrives to the ceremony alongside his fiancée Rose Leslie. The Game of Thrones star will present at the awards show alongside his co-star Emilia Clarke, according to an Instagram post from the Hollywood Foreign Press, so Harington would maybe want Leslie by his side with such a big, fun night ahead of him. It also won't be his last in a long line of big nights leading up to possibly the biggest the couple will ever share. So, when is Kit Harington and Rose Leslie's wedding date?
There doesn't seem to be a calendar date set yet, at least not one that's been made public, and that's not surprising given how private the couple has typically been about their romance. The one thing it seems we do know, though, is that the wedding will likely take place during the filming of the final season of Game of Thrones (director: Michelle MacLaren). According to IndieWire, Harington said during an appearance on a U.K. talk show that he wants all of his co-stars to be able to attend, so he told the showrunners they need to factor that into the filming schedule. "I was like, 'You need to factor in a Game of Thrones wedding by the way,'" he said. "[The cast] have all got to be there so the whole thing has got to shut down."
The couple has been notoriously private about their relationship, and for understandable reasons. "It's as much her relationship as it is mine and I can't speak for both of us," Harington told Esquire in May after he was asked about his relationship with Leslie. "But yeah, we are very, very happy. So that's what I'll say about that."
Still, their engagement has been confirmed, despite the actors' reluctance to talk publicly about the details of their romance, and it was in the least celebrity-esque fashion possible. According to TIME magazine, the couple announced their plan to marry the good old-fashioned way — in a newspaper. "The engagement is announced between Kit, younger son of David and Deborah Harington of Worcestershire, and Rose, middle daughter of Sebastian and Candy Leslie of Aberdeenshire," the announcement read in the Wednesday edition of the Times of London newspaper, TIME reported.
Since then, Harington has given fans some information about the proposal itself. "I did have some plans to do it. I was going to string up some lights in some trees and do all the romantic stuff, but we were in the country and we were under this beautiful night sky and had a log fire burning and red wine," he said, according to a Vanity Fair article, before adding that he couldn't help himself and ended up popping the question a bit earlier than he planned.
Leslie has also been tight-lipped about her relationship with Harington, whom she started dating after they shared an on-screen love during her time on Game of Thrones (casting: Carla Stronge) — but she has also offered a few tid-bits in the past. She told the Telegraph in June of 2016 that she was "very happy" with him and that Harington is "a great man."
"I'm very proud of him," she said. "There's an understanding that comes with the job, an understanding of being busy and when you have to say 'Sorry, I'm just going to bugger off for two months to film.'"
Celebrities always end up giving up a large portion of the privacy that's afforded to the rest of us, and it's not hard to imagine the strain that this could put on a relationship. Planning a wedding in itself is a huge undertaking, and if I were in their shoes, I wouldn't want to offer up any more information than necessary, either. While fans anxiously await any photos or wedding comments Leslie and Harington may be willing to share after the ceremony, it's best to just wish them luck and privacy during this exciting time. Some things are better left unknown.