Kit Harington's Reaction To The 'GoT' Finale Is Seriously Worrying For Fans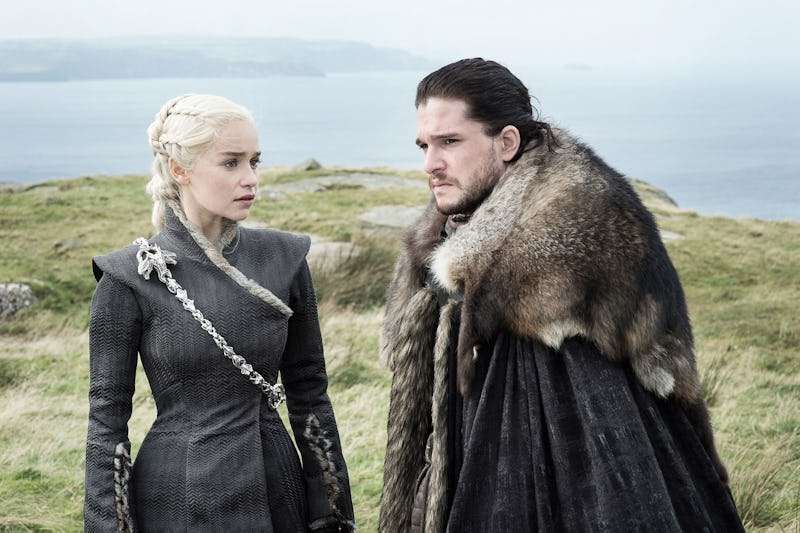 HBO/Kobal/Shutterstock
The final season of Game of Thrones seems like a hundred years in the future, and I for one am counting down the (many) days until the pre-GoT build-up is over. The past seven seasons of the HBO fantasy-drama have been a bloodbath ever since the seemingly invincible Sean Bean was killed off in the first season. Thankfully, the cast has been dropping hints about what's to come to keep us fans going until the premiere, but I am slightly worried about Kit Harrington's thoughts on the Game of Thrones finale.
The actor is currently at the Toronto International Film Festival promoting a new movie, and the fate of GoT just so happened to come up in an interview with MTV. "I think a TV series that's spanned eight, nine years is an incredibly difficult thing to end," Harrington said. "I think not everyone's going to be happy, you know, and you can't please everyone."
While he's not wrong, his words have still got me worried. And that's not even the worst of it. He even brought the fate of other TV greats into the equation. "My favourite TV shows are Sopranos, Breaking Bad, and The Wire, and they all ended in a way that didn't satisfy you." This really doesn't look good.
Reactions to television finales — and episodes in general — are subjective. But this is the GoT finale, millions of loyal viewers have followed the saga, and if it ends up making the majority of fans unhappy, HBO will not hear the end of it.
But there is some good news. Actors Nikolaj Coster-Waldau and Sophie Turner have more positive things to say about the final episode. Speaking to HuffPost, Coster-Waldau who plays Jaime Lannister revealed he wrote to the writers once he'd finished reading writing the script, telling them that he didn't think they "could've done a better job at finishing the story."
"To me, it was very satisfying but also very surprising and all the things that I was hoping for," he explained. "It still made sense. It wasn't like one of those where the killer is suddenly revealed in the last act and you go, 'Oh, I didn't see that coming!' Here they've done a really, really good job."
That's not the only hint the actor has given about the final series. Coster-Waldau also mentioned — whether intentionally or not — that "the Lannister kids made it to the end," meaning Jaime, Cersei (Lena Headey), and Tyrion (Peter Dinklage). That could very well mean that they made it to the eighth season in general, but you could just as easily take it as they made it to the final episode.
Turner, who portrays Sansa Stark, is also happy with how the GoT finale has turned out, telling Digital Spy that while it's "unpredictable," she is definitely "satisfied" with how it ends. "People will come up with so many fan theories about how it's going to end, and who will end up where, and who will end up with who," Turner said.
"It really is so unpredictable the way that it ends up [...] I think that the fans will be satisfied with that."
So GoT fans are going to be unhappy, satisfied, or surprised with the series end. Or all three, which could well happen given this is Game of Thrones. Television finales either bring out the best or worst in people, depending on the outcome. Let's just hope that the end of GoT will meet viewer expectation.