Kim Kardashian's Newest Makeup Product Pays Tribute To Kanye In The Most Unexpected Way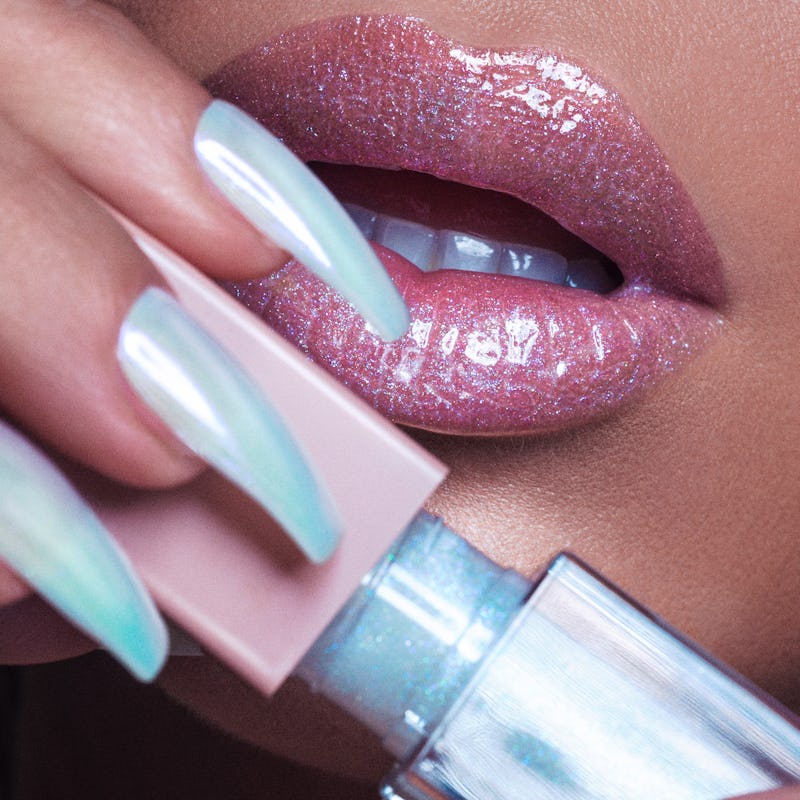 Courtesy of KKW Beauty
Kim K is here to steal all your dollars let again. KKW Beauty's Ultra Light Beam Highlighters and Glosses are coming, and if the name of this new must-have from Kim Kardashian's cosmetics line sounds familiar, there's a good reason why.
The Ultra Light Beam Collection appear to be an unexpected tribute to Kim K's hubby Kanye West. Fans of the family and of West's music, probably remember when the artist released his 2016 album Life of Pablo. On the album, West featured a song by the same name as Kardashian's new highlighters and glosses, "Ultra Light Beam." While the song was not released as a single, it was one of the most well-known tracks on the album.
The connection between West's music and Kardashian's brand shouldn't come as a shock to fans, however. For those who shopped West's tour merch, you may remember that Kardashian herself featured prominently on some of the pieces. Clearly, the pair are supportive of one another's endeavors. Though West has not been part of KKW Beauty in the past, Kardashian's decision to give him a bit of a tribute via her majorly successful brand is a sweet gesture — and also exciting for fans of both the stars.
Fans appear to be very happy about the name choice with many praising the way Kardashian and West collaborate, bringing their artistry into their marriage.
Of course, fans are feelin' the homage.
Other seem to insinuate that the name is a romantic gesture.
While other fans are blown away by just how perfect the name is.
When can you get your hands on these Kanye West connected items? KKW Beauty's Ultra Light Beam Collection will launch on Dec. 1 at 3 pm ET/12 pm PT. The products are coming just in time for Christmas, and you've got options. The collection features five distinct hues: Iridescent, Yellow Gold, Rose Gold, Bronze, and Copper.
If you thought you'd just be snagging a highlighter — which would still be exciting — think again. Kardashian is giving you two products at once. The Ultra Light Beam highlighters will be paired with Ultra Light Beam glosses. Each highlighter is perfectly paired with a gloss of a matching color, and the price is totally right.
You may be worried that the cost would be exorbitant, but good news. For $32, you can snag both the highlighter and gloss. That's only $16 per product.
If you're wondering whether or not KKW Beauty was infringing on Kylie Cosmetics territory with lippies, the answer is definitely not. In an interview with Bustle, Kardashian explained, "We talk about all of our products and everything that we are doing and we definitely made sure we have completely different products and different formulas and different everything."
If you can't pick just one of the Ultra Light Beam products, however, don't worry. Kardashian is also selling her latest KKW Beauty product in a bundle that retails for $160.
Unfortunately, the bungle does not come with a discount. But if you're a KKW Beauty mega-fan, it does mean that you'll be able to easily purchase all five. Because let's be honest about this product launch, all five highlighters and glosses are all but destined to sell out. By purchasing the bundle, you improve your chances of scoring all five.
If you love Kanye West and Kim Kardashian, the new KKW Beauty Ultra Light Beam Highlighters and Glosses are the perfect way to support this power couple.
Mark your calendar and set your alarm. You may just be the proud new owner of the latest must-have beauty product.