This Will Be The Hottest Print For Spring, According To Christine Andrew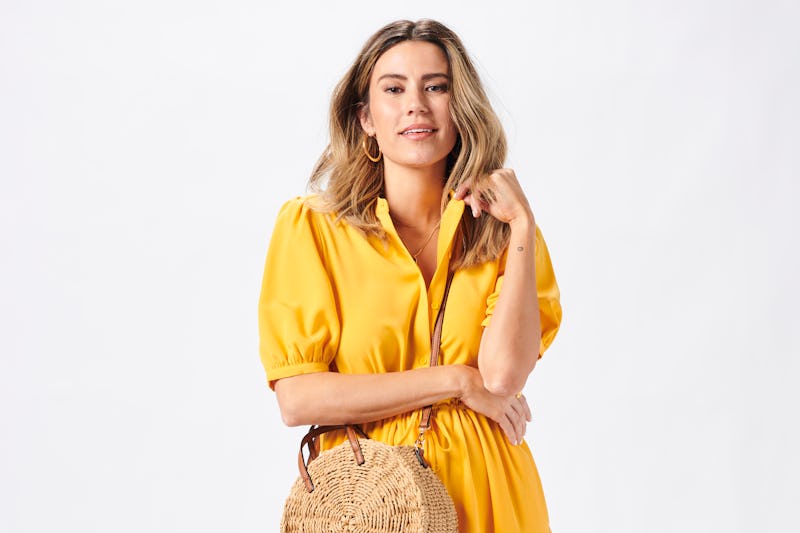 Courtesy of Kohl's
Hello Fashion blogger Christine Andrew is teaming up with Kohl's to curate the latest offering from their fashion-forward capsule, The Outfit Bar. Andrew is the latest (and second ever) creative to select pieces for the collection, which first launched in May 2019. Bustle caught up with Andrew before the launch to talk affordable fashion, Spring trends, and how her personal style has evolved since becoming a blogger.
First up, what's on Andrew's Spring shopping list? "I love puffy sleeves. Romantic prints are huge, too—it has carried through the last couple of seasons but we're seeing it more now," she says, pulling up her favorite Lauren Conrad for Kohls dress. "This dress has a puffy sleeve and it's floral and it's just a super feminine piece that's gorgeous."
If you're not a dress obsessive, Andrew recommends tailored outfits in head-to-toe color. "Monochromatic looks are still really big right now and I think that can look chic on anybody."
Andrew is well known for her monochromatic outfits. Her wardrobe emanates that cool-girl, casual vibe that always racks up the likes on Instagram. Her uniform of the moment? "A comfy pant and sneakers," she shares. "I love a jacket. My style has gotten a lot more casual since when I started [blogging]. I used to wear heels all the time. I have four kids now, so if I can wear heels, it's exciting."
Andrew started blogging over eight years ago which makes her a veteran in the space. "It's really evolved in the last eight years," she muses. "I look back and I'm like 'oh my gosh, what was I wearing sometimes?' But I like it because it's become a diary of my life. It's cool to see the styles that I still carry on." One of those enduring styles is her penchant for athleisure. "I was a huge tomboy growing up, so I feel like I just love being in sneakers, which has carried through to my current style."
Andrew was intentional about incorporating athleisure into The Outfit Bar capsule to appeal to her target customer, the "mom on the go." But really, any fashion-conscious shopper with a busy schedule will appreciate the range of styles available. "It goes from athletic to really dressed up and also really casual," Andrew explains. "It fits so many categories. Even for me, 50% of the time, I'm getting ready and have my kids with me, 50% of the time I'm working. It really works for everybody."
Her partnership with Kohl's developed organically, Andrew says. "My family has always shopped at Kohl's, so I felt like it was a really natural integration when they approached me about the campaign." She's also a regular shopper at the retailer herself, which carries a lot of "my favorite brands that I wear already, like Levi's, Elizabeth & James, Nine West," she says. And with The Outfit Bar, specifically, she loves having a plethora of designs to choose from. "It's really easy to mix-and-match pieces. I like that it's not just one brand, so I can wear so many different ones."
Christine Andrew's curation for Kohl's Outfit Bar will be available in-stores as well as online at kohls.com, starting on Monday, March 2.
This article was originally published on