For Kourtney Kardashian, Having More Kids Isn't Totally Off The Table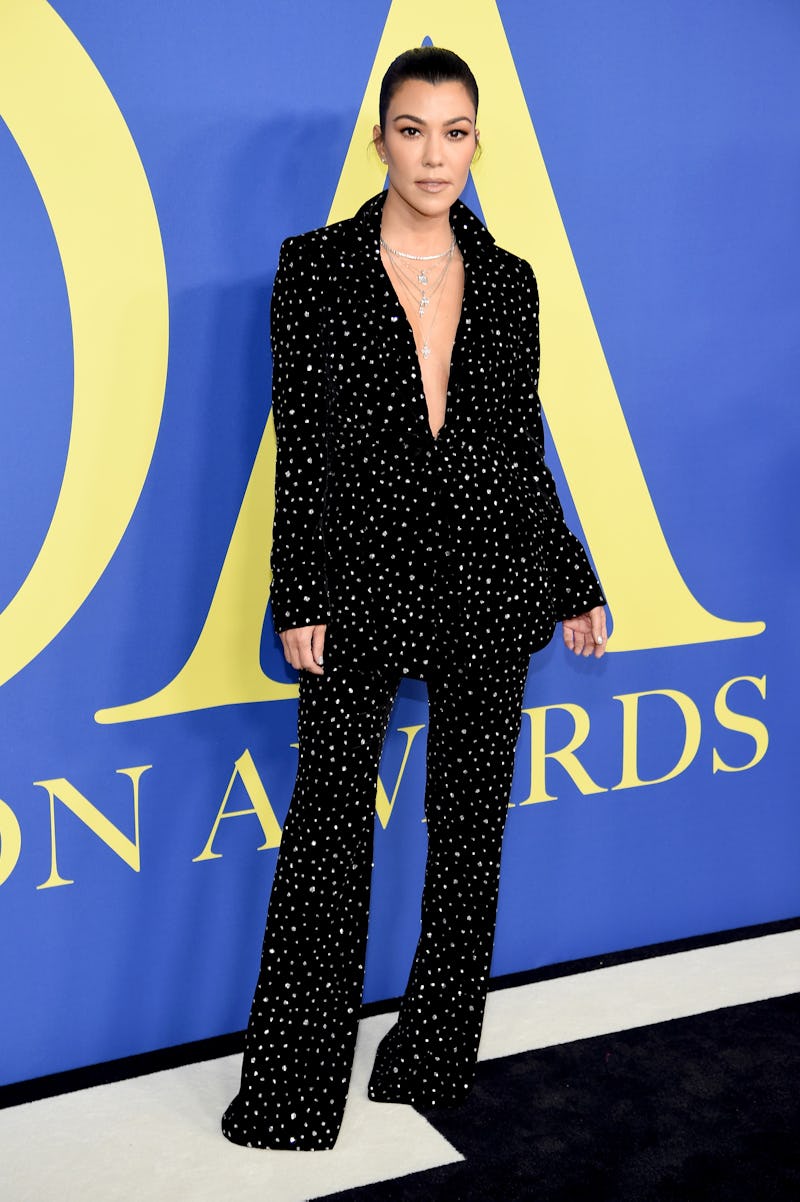 Dimitrios Kambouris/Getty Images Entertainment/Getty Images
Kourtney Kardashian's three kids, Mason, Reign, and Penelope, are often times the highlight of her scenes on Keeping Up With The Kardashians — and considering how adorable they are, how could they not be? But now, it sounds like they could have a little brother or sister in their future... maybe. In a new interview with E! News, Kardashian said she's not ruling more kids out, so it's possible that her branch of the ever expanding Kardashian-Jenner family tree could be getting bigger down the line.
While talking to the network, Kardashian opened up about her sisters having kids (after all, three new babies were born this year) and then, got to talking about her own. And when E! asked her if she ever thinks about having more, she admitted that it's not something she's ready to close the book on forever.
"I think the thought is always in the back of my mind," Kardashian said. "Never say never."
However, it doesn't sound like it's something that's in her immediate plans, since her response to being asked when baby number four might come along was, "oh I don't know. I can't predict the future."
That's fair. Having a baby is obviously a big deal — and knowing Kardashian, she'll fill fans in when she's ready.
The KUWTK star also talked about what a "magical time" it is having so many babies in her family and seeing her kids grow up being so close with their cousins, and how much fun it's been seeing her sisters as mothers. Although Kardashian was the first in her family to have a baby and Kim has been doing this mom thing for awhile now, it has to be pretty cool to see Kylie and Khloé figuring everything out for the first time themselves.
She said:
"It's amazing watching them. And I think I can also now say, 'Now you can see how I did it, why I was feeling this way.' I think we just relate to each other and I think you never know how you're going to be as a mom, so watching them and how they're doing it — like everyone has their own way. You really can't predict what you're going to be like. So I think just watching them is really, it's really special to see their journey."
As awesome as it is to watch your kids grow up in a huge, loving family with kids their own age, it does have to be just as incredible figuring out parenthood with your sisters. Raising kids is hard, so having an army of people you can bounce ideas off of and laugh with can be a huge help.
It's going to be so much fun to see everything that's been going on in this family's lives play out when KUWTK is back on Sunday. Khloé welcoming baby True Thompson, Kim and Chicago, maybe even some footage of Kylie's pregnancy, if we're really lucky — this could end up being one of the best seasons yet.