Kris Jenner Has Nothing But High Praise For How Her Daughters Are Doing As New Moms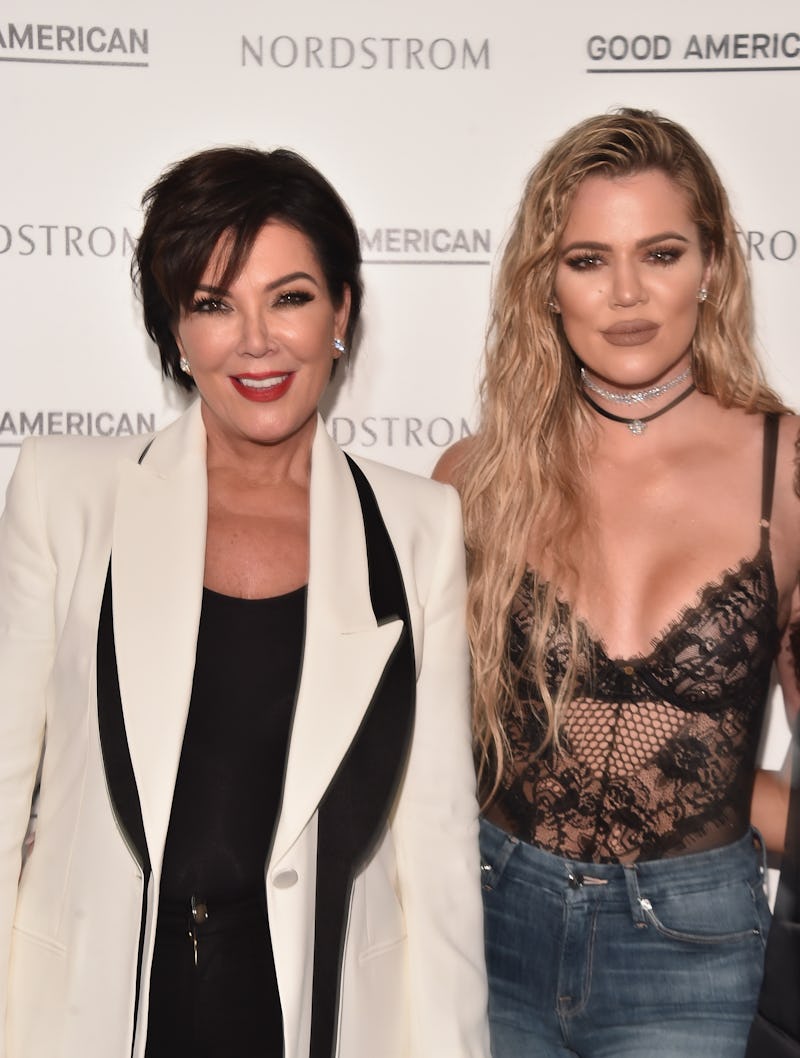 Alberto E. Rodriguez/Getty Images Entertainment/Getty Images
There are so many new Kardashian-Jenner offspring to "keep up with" these days. In 2018 alone, there were three new additions to the family. Matriarch Kris Jenner discussed Kylie Jenner and Khloé Kardashian being new moms in a recent interview with Us Weekly. As a recap, Kylie and Travis Scott's daughter Stormi Webster was born on Feb. 1. Khloé and Tristan Thompson's daughter True was born on April 12. Stormi and True's cousin Chicago West was born via surrogate on Jan. 15. That's a lot of granddaughters.
Chicago is Kim Kardashian and Kanye West's third child, so they've had this parenting thing down for a while. Kylie and Khloé are both well-seasoned aunts, so it's not surprising that they've adjusted well to motherhood. Kris shared her insights during the Us Weekly interview. The momager admitted, "Kylie is more calm than I was." She added, "I look at the way she she loves Stormi and takes care of her. She doesn't go anywhere without her."
She also has some high praise for Khloé as a mother and an aunt. Kris said, "I knew she would be amazing. She is always the one who has her house stocked with goodies and takes care of everyone else's kids." She also said, "They all want to have the sleepovers at Auntie KoKo's. True is the light of her life."
As fans know, life hasn't been the easiest for Khloé in these past few months. There were some very public cheating allegations against Thompson just days before Khloé gave birth to baby True. Kris didn't specifically address that scandal, but she did say "We're focusing on baby and her life," emphasizing, "I'm really proud of her for being an amazing mommy." (As for the cheating allegations, Bustle previously reached out to reps for Khloé and Thompson, but did not hear back.)
Kris really is full of pride when it comes to her daughters becoming mothers. In fact, she's sung their praises many times already, even though Kylie and Khloé have only been mothers since February and April, respectively. In a Feb. 5 interview with People, the grandmother of nine said Kylie was "an amazing mom." Then in a May 9 interview with People, Kris elaborated a little bit more about her baby having a baby of her own. She said, "That child never stops. She got right back in the saddle. And I love that about her. She's really so impressive. And she's such a good mom. She's so dedicated to her baby"
She even cited a specific example of how Kylie is still maintaining her professional commitments while being dedicated to her daughter. Kris shared, "We were at the Met Ball and all she could focus on when we were done was getting home. She's like, 'Come on we've got to go see Stormi!' It was really sweet to see her anxious to get home to Stormi."
In a May 4 interview with Ellen DeGeneres, Kris admitted, "Khloé is amazing! I'm so proud of that kid. I get choked up because she's such a good mom and honestly I get so emotional."
During that same interview, Kris emphasized that Khloé is putting the cheating allegations behind her, saying, "She's just concentrating on that, being a mom, her baby and that's what her sisters are doing as well." They really are. Minus Kendall Jenner, all of the siblings are parents to young kids. Kourtney Kardashian is a mother of three, and Rob Kardashian has a daughter named Dream.
In a May 31 interview with Entertainment Tonight, Kris complimented Khloé's parenting yet again: "She's great! Yeah! Really, really, really great. [Khloé is] loving being a mom."
Kris is known for her being a loving and devoted momager, but she's also loving her life as a grandma and she couldn't be any more proud of her children. Now here's the big question, will any of them follow in Kris' momager footsteps and take a professional role in their children's careers when they grow up?