Kourtney Kardashian Saves Designer Hand-Me-Downs For Her Daughter & You'll Be So Jealous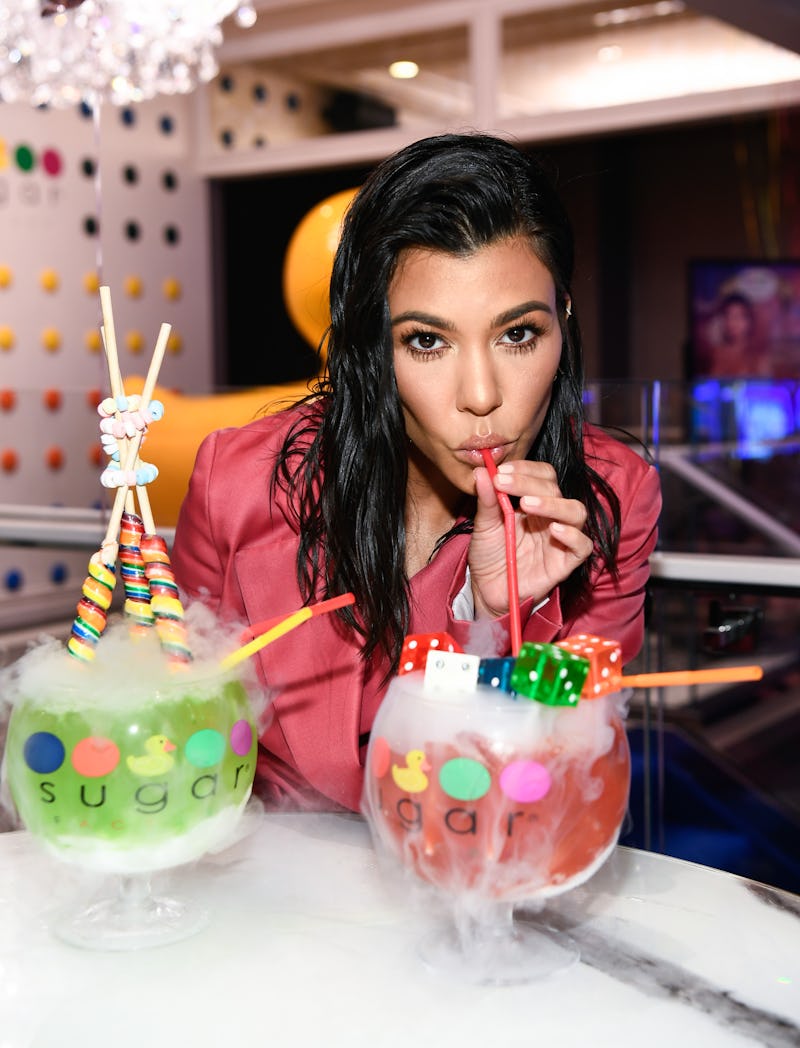 Dave Kotinsky/Getty Images Entertainment/Getty Images
It's no secret that there are major perks of being Kardashian Kids. From the lavish vacations to the amazing birthday parties, there are so many things to be thankful for. That includes sartorial splurges. According to People, Kourtney Kardashian saves clothes for her daughter. Not just her old college t-shirts, either. These high-end items will have you begging the star to adopt you.
Every single time that North West or Penelope Disick walk out of the house, they are dressed well. But it's nothing compared to what they will be wearing in a few years. Kardashian is saving a Dolce & Gabbana dress for Penelope to wear someday, she told People.
"I just wore this little black Dolce & Gabbana dress in Italy and I posted a photo — I was with Domenico Dolce — and I saved that dress for her," said Kardashian. "I was like, 'She needs to have this someday.'"
Agreed. The little black dress has puff-sleeves, a fitted bodice, and gold buttons along one side. It's timeless, which makes it the perfect option to pass along to her daughter.
Kardashian posed in the dress next to Domenico Dolce, which makes the fashion moment even more special. Who knows? Maybe Penelope will have the chance to recreate the shot someday.
This isn't the only item that Kardashian is saving for her daughter, either. According to the interview, Penelope is into fashion. In fact, the mother-daughter duo have already started swapping bags.
"I save things all the time and she always tells me, 'Can I have this? Can I have this?' And I'm like, 'What's mine is yours," the mother of three tells People. "She likes to wear my bags a lot and I love mini bags, so I take a lot of her bags too."
Apparently, Penelope already knows how to style them, too. The 6-year-old was spotted by Daily Mail rocking a mini Fendi bag while out to dinner with her dad, Scott Disick. The Fendi Micro Baguette Clutch rings in at a cool $1,885.
Kourtney Kardashian and Penelope Disick aren't the only mother-daughter duo that share closets, either. According to People, Ciara and Sarah Jessica Parker have a plan to share their shoes with their children someday. Even Kim Kardashian has a plan to hand over her closet to North West.
"Everything I have is for her, and she'll look at it and say, 'Can I wear that one day?' and I'm like, 'Yes, you can,' and she'll say, 'Okay, I'm gonna go eat my vegetables, but I'll be back and be big," the KKW Beauty founder tells People. "Maybe she'll want to wear one to prom."
Jealous yet? These kids are about to inherit millions in sartorial items and they're not even in the double-digits yet.
At least we have tons of great Instagram moments to look forward to in the future. Let's just hope these kids take the time to recreate some of their mamas' social media moments so we can relive all the fashion moments.