Kourtney's BF Tried To Joke About His Controversial IG Comment, But It's Time To Let It Go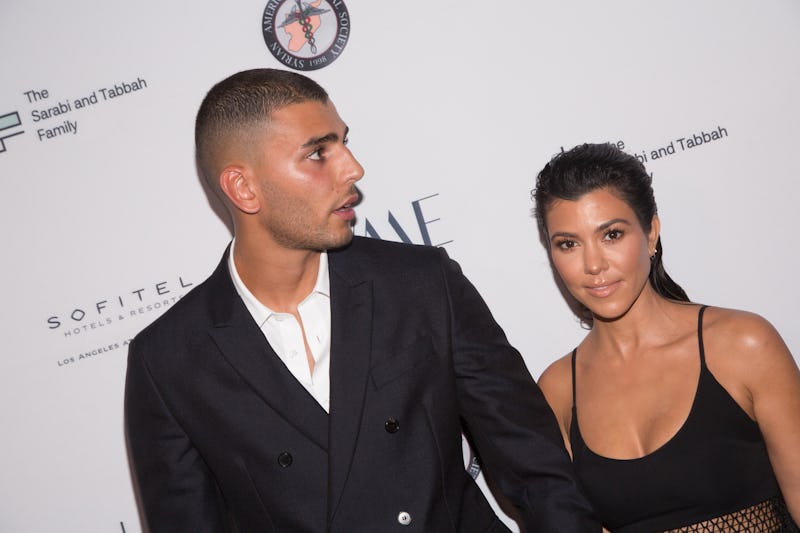 Gabriel Olsen/Getty Images Entertainment/Getty Images
Younes Bendjima just can't seem to stop bringing up his awkward and controversial "joke" at his girlfriend's expense, if his most recent Instagram comment is any indication. As Us Weekly reported, Kourtney Kardashian's boyfriend Bendjima referenced his Instagram comment in his latest note on his significant other's new snap. It wasn't funny the first time, and no, it's not any funnier now.
Earlier this week, Kardashian posted an ad on Instagram that showed her draped in a blanket. Her boyfriend proceeded to comment on the pic, and reference his previous Insta misstep, writing, "hmmm well... ok for this one." Hmmm, Bendjima's comment (in which he seemingly jokes about his "approval" for this more covered-up shot) appears to be in reference to his other comment on one of his girlfriend's Instagram photos.
As you might recall, he previously commented on a photo of the Keeping Up With the Kardashians star wearing a bikini: "thats what you need to show to get likes?" He apparently deleted the comment shortly after. But of course, things live on forever when the internet is concerned. According to an insider at Us Weekly, Bendjima didn't realize that things were going to play out as they did. The source told the publication, "He doesn't realize that making a joke could be perceived as something totally different or negative." Still, thanks to the joys of screenshots, it wasn't a statement won't be quickly forgotten on the interwebs, whether it was meant in fun or not.
It's interesting that Bendjima chose to reference the comment again in this more recent Instagram post, considering the backlash he received for it originally, per BuzzFeed. You would think that he wouldn't try and get his joke on again, regarding Kardashian's photos.
Alas, he brought it up with this latest quip, reminding everyone of the weird joke in the first place. Not everyone appeared to be down with any part of reliving the joke. One of Kardashian's closest friends, Simon Huck, replied to Bendjima's new statement with a simple eye roll emoji. In turn, the reality star's boyfriend replied with some laughing emojis and "let me just play around fam."
Of course, the two guys could very well just be joking around about the whole situation. And given that the two just went on a fabulous Italian vacation together with Kardashian, there's no way that there could be any bad blood between them for too long, if there is at all. Still, it does seem like Huck is kind of over it based on his choice of emoji. Honestly, same.
It wasn't as though anyone was laughing when he made his original quip either. Kardashian was reportedly "frustrated" by his move, as a source told E! News. "Kourtney doesn't appreciate Younes posting his feelings in a public forum and being impulsive," the source also claimed, "She's frustrated that he continues to get upset about it. She isn't going to stop doing what she's doing and feels like he needs to understand and deal with it."
After all of this drama, it seems like Kardashian and Bendjima are still in a good place. An insider told Us Weekly that the couple is doing "fine" after the minor scandal and said, "Kourtney has posted a lot of racy photos. Younes has liked them all in the past." Since the pair have been dating for quite some time now, it's likely they really will just get past this awkward blip in their relationship road.
Based on this comment, it does seem as though Bendjima wants to move past all of his Insta drama. But next time, he may want to try a better route than still joking around about it on social media.